Alistair Helm says a law change will effect the reporting of auction sales data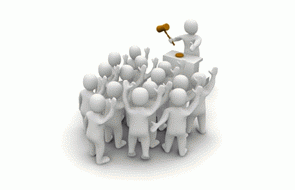 Auctions continue to be favoured by the real estate industry as an effective and efficient method of sale.
In the past 12 months according to REINZ data a total of 15,865 properties were sold by auction representing over 1 in 5 of all property sales.
In Auckland the numbers are far higher with over that same period 38% of all sales being by auction.
However underlying this data may be a correction "waiting in the wings" which may well have a significant impact on these numbers.
With effect from the 17th June 2014 an amendment to the Fair Trading Act as it applies to Buying and Selling at Auction comes into effect.
The specific amendment that most interested me was this:
"The Fair Trading Act auction rules treat the property as being sold at auction if it is unsold at the end of the auction but the auctioneer accepts within one working day of the auction an offer from a consumer who attended the auction."
— Fair Trading Act : Auctions in Action
I have long held the view that an auction sale should be defined only by the sale occurring on the fall of a the hammer, however the real estate industry continues to hold the view that a property brought to market as an auction and subsequently sold irrespective of when it sells - sometimes up to 7 days later is considered an auction sale.
It was only last week when Peter Thompson of Barfoot & Thompson made this statement in the monthly report of sales for May:
"Vendors are still choosing auction as their preferred method to go to market. The success rate at auction is around 80 percent within a seven day period. This is because we are experiencing a trend towards properties that are passed in at auction either selling later the same day or within seven days of the auction"
Next month such a comment would be judged to be misleading and inaccurate under the terms of reference of the Fair Trading Act.
This advert for April auction results might well present a somewhat different picture.
This move will bring the reporting of auction results much more in line with Australia which publishes 'clearance rates' weekly within 24 hrs and judges an auction solely by the fall of the hammer.
A further implication of the amendment is that once the working day period has passed then the transaction will no longer be considered an auction and therefore the use of the Auction Sale & Purchase Agreement will cease to be appropriate as the property becomes open for offers by private treaty between the vendors agent and the prospective buyer.
This is of importance for buyers to appreciate as the purchase terms and conditions need to be re-stated on a new S&P Agreement.
---------------------------------------------------------------------------------------
The above article was written by Alistair Helm, and is republished with his approval. The article was originally published on Properazzi here