Shoebox apartments are rising in price but are still achieving reasonable yields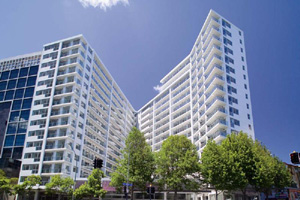 Love them or loathe them, there's still money to made by investing in Auckland's shoebox apartments.
And judging by the turnout at a couple of auctions this week there's still plenty of people prepared to put their money into them.
The first auction was held at City Sales Karangahape Road rooms where four properties went under the hammer.
On offer was two bedroom apartment in The Volt building on the corner of Mayoral Drive and Queen St, a handy location for students because of its proximity to the university and various other educational facilities in the immediate vicinity and on the very doorstep of the CBD and all its attractions.
With a floor area of just 36sq m plus a compact balcony this was definitely shoebox material, but these are popular with students and young people working in the city and it was rented out at $395 a week until next January.
Several bidders were chasing the property and it sold for $237,500, providing a gross rental yield of 8.7%.
Deducting rates of $905 a year and body corporate levies of $3490 would bring the yield back to 6.8%, which is still well above what you can get from the banks at the moment, although you'd need to allow for some vacancy and maintenance costs as well.
Gearing would boost the returns and if you borrowed 50% of the purchase price on an interest only loan the fortnightly repayments would be $291, which would bring the return on the purchase price to 3.6%, but the return on the $118,750 of the investor's own money that was put into it would be 7.2% (before allowing for vacancy and maintenance).
Quotable Value records show that the same apartment was last sold in August 2012 for $215,000, which would have given the previous owner a capital gain of $22,500 (10.5%) in less than two years, although selling costs would have eaten in to that.
Other properties offered by City Sales at the same auction were:
Apartment 4L, The Amora building, 100 Greys Ave.



A 60sq m one bedroom unit with a car park, sold with a management agreement in place to the Amora Hotel, producing rental income of $16,364 plus gst a year, with the hotel paying body corporate levies and rates. It sold for $257,000 plus gst, giving a rental yield of 6.4%.
Apartment 11H, Harvard on Hobson building, 147 Hobson St.



A 38sq m, two bedroom, furnished apartment offered with vacant possession. Although there were two bidders chasing this property it was passed in to be sold by negotiation with a highest bid of $180,000.
Apartment 2F, Washington Apartments building, 20 Charlotte St, Eden Terrace.



The property required building remediation work and although it was advertised as "seriously for sale" it received no bids and was passed in.
There was also a good crowd at the Ray White City Apartments auction held at their Lorne St rooms in the CBD the next day.
This produced the following results:
22 Fisher Point Drive, Beaumont Quarter complex, Freemans Bay.



A 60sq m one bedroom freehold apartment, rented at $440 a week, offered for sale fully furnished. It had a rateable value of $275,000 and received an opening bid of $280,000 but was passed in for sale by negotiation with a highest bid of $394,000.
 Apartment 501, The Heritage building, 35 Hobson St.



A 61sq m one bedroom, fully furnished unit, with rental income estimated at $550-$600 a week, rates $1293 a year and body corporate levies of $9341 a year. Sold for $290,000.
Apartment 17E, Harbour City building, 16 Gore St.



A 38sq m one bedroom unit with an estimated rent of $350-$370, body corporate levies of $3138 a year and rates of $952.  Passed in for sale by negotiation with a highest bid of $196,000.
Apartment 1910, Quadrant Hotel, 10 Waterloo Quadrant.



Managed as part of the Quadrant Hotel's pool of rooms,this 32sq m unit provided current income of $16,720 and was passed in for sale by negotiation with a highest bid of $212,500.
Units 3 and 8, 372 Rosedale Rd,  Albany.



Each of these one bedroom units in the same block had a floor area of 42sq m plus a 16sq m balcony. Rent on each was appraised at $360 a week, and each had rates of $1120 a year and body corporate levies of just over $1400 a year.
They were at first offered for sale separately and then together as a package, but none of the offerings received any bids.