Paula Bennett launches Taskforce to stamp out 'loopy' council rules; calls on developers and ratepayers to submit red tape complaints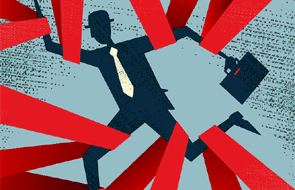 By Lynn Grieveson
Local Government Minister Paula Bennett has created a Rules Reduction Taskforce to stamp out "loopy" rules and regulations set by local governments that frustrate property owners and councils alike.
"We've seen rules and regulations brought in over decades that were well intentioned but end up being confusing, onerous and costly while failing to deliver any real benefit for the property owner or the wider public," Bennett said in announcing the creation of the taskforce, which would be up and running by October and include specialists from the building and trades sector.
"Anyone doing building work knows just how frustrating and costly the bureaucracy can get.  We want to hear from property owners, builders, tradespeople and businesses on rules and regulations that are crying out for sensible change," she said.
"There will be a website where people can send us examples of loopy rules and the Taskforce will hear submissions from the public on areas ripe for change," she said.
"We have rules dictating all sorts of weird and wonderful things from signage over cake stalls to where your shower curtains need to be positioned. In another example, a property owner trying to replace a 130 year old fence discovered some of it was on a scenic reserve and they faced having to buy or lease the land."
The Taskforce would identify what rules should stay or go so people could get on with building, renovating or event planning "without have to wade through a morass of unnecessary rules."
Ranch sliders and paddling pools
Bennett later told reporters before National's Parliamentary Caucus meeting that she had heard of unnecessary bureaucracy as a new Local Government Minister "and it just makes sense that we cut through some of this rubbish." "It's not local government, it's not central government, it's a combination of both over a decade I reckon where it's all accumulated to a point where there's just some pretty nonsensical stuff that needs to be cut through," she said.
"Just niggly things that seem absolutely ridiculous. One where I heard of someone who was putting in a ranch slider and was told they also needed to put in windows because there needed to be light coming into the room and the ranch sliders weren't considered. Another where someone was building on another room, and privacy issues because there was a fire escape in the building next door. Issues around paddling pools and how safe they are."
"I would put a couple of tradies on it, I reckon they are the ones that know exactly where the rubbish really is and getting us cutting through it."
English accepts Productivity Commission recommendations
Meanwhile, Regulatory Reform Minister Bill English said he had accepted all of the Productivity Commission's recommendations to improve the local regulatory system, except for two.
English said he had asked the Commission to advise on how functions are allocated at a local level and ensure there was adequate resourcing and clear directions on the local and national management of regulations.
"The Department of Internal Affairs will work with other government agencies whose policies and legislation impact on local government to improve consultation and minimise any unintended negative impacts. Treasury will work with key agencies to consider how the regulatory planning process can be used to provide better information about future regulatory proposals affecting local government," English said.
Here's the Government's full response.
Here's the Productivity Commission's final report into Local Government Regulation released in May last year.
Here's our earlier article on the Productivity Commission's final report into regulatory reform.
What it didn't accept
The Government decided not to accept the Commission's recommendation for a "Partners in Regulation Protocol" between central and Local Government.
It also decided not to accept one that Councils should make publicly available on council websites, using a standardised template format, the key components of any analysis and information underpinning regulatory decisions to improve transparency. The Government said the standardisation of such information would be too difficult, given the breadth and depth of such information.
(Updated with link to Productivity Commission's May 2013 final report into Local Government Regulation)