QV property values are up in most parts of Auckland, but down in Wellington and some provincial centres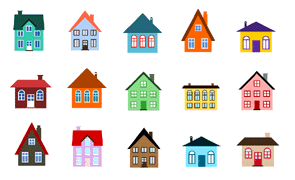 Residential property values have continued to rise in most parts of the country over the last three months, according to Quotable Value, but the rate of increase is starting to slowdown in many centres.
The QV Residential Price Movement Index increased by 2.3% in the three months to the end of July, with the average New Zealand house valued at $479,193.
For the year to July, the Index increased by 7.6%.
Nationally QV says values are now 15.6% above the previous market peak of late 2007. But when adjusted for inflation, the nationwide annual increase is 5.9% and values remain below the 2007 peak by 0.9%.
"We are starting to see a slowdown in the rate of value increases in many of the main centres following on from the slowdown in sales volumes over the past few months," QV national spokeswoman Andrea Rush said.
"Sales volumes are between 15% and 25% lower than they were this time in 2012 and 2013 in most places around the country."
Rush suggested the slowdown was most likely due to the Reserve Bank enforced restrictions on bank's high loan-to-value ratio (LVR) residential mortgage lending, and interest rate rises, plus the winter seasonal downturn.
"However, the Reserve Bank has now said it will take a break in rate rises for the moment, and banks are advertising that they will negotiate on lending to those with deposits of less than 20%," said Rush.
Values ease in central Auckland
Housing values in the Auckland region were up 2.1% for the three months to July and 11.7% for the year, although there was a slight easing in values in the central suburbs within the former Auckland City Council boundaries, which include Ponsonby, Grey Lynn, Mt Eden and Epsom, where values were down 1.2% in the three months to July.
"The Auckland region as a whole has seen values rise over the past three months but some areas of the super city are now showing a slight decline in values," QV spokesperson Andrea Rush said.
On Auckland QV said values are up 31.8% since 2007. But when adjusted for inflation, Auckland values are up 9.9% over the past year and are 12.9% above the 2007 peak.
QV valuer Bruce Wiggins suggested some vendors' price expectations could be getting ahead of what the market thought their properties were worth.
"Some properties are sitting around for several weeks with no offers, or below market expectation offers, which could be due to a disconnect between buyer and seller expectations, especially when the property requires some form of maintenance or upgrading."Wiggins said.
Around the country housing values increased in Christchurch, Tauranga and Dunedin but were down in Hamilton and Wellington.
QV Average Property Values at July 31 and % change over three months

| | | |
| --- | --- | --- |
| Whangarei | $335,044 | -1.1% |
| Rodney | $678,208 | 2.5% |
| North Shore | $857,239 | 2.7% |
| Waitakere | $564,875 | 2.6% |
| Auckland Central | $844,957 | 1.0% |
| Manukau | $598,838 | 2.2% |
| Papakura | $431,444 | 0.2% |
| Franklin | $465,090 | 1.2% |
| Hamilton | $363,118 | -0.2% |
| Tauranga | $454,570 | 1.2% |
| Rotorua | $270,592 | -1.6% |
| Taupo | $342,312 | 1.2% |
| Napier | $323,775 | -0.4% |
| Hastings | $297,796 | -1.0% |
| New Plymouth | $349,480 | -0.2% |
| Wanganui | $177,919 | -3.5% |
| Palmerston North | $284,963 | -0.9% |
| Kapiti | $374,454 | 0.6% |
| Porirua | $376,399 | -0.1% |
| Upper Hutt | $333,513 | -0.3% |
| Lower Hutt | $370,566 | -2.3% |
| Wellington | $535,559 | -0.8% |
| Nelson | $401,579 | -0.4% |
| Christchurch | $461,176 | 2.1% |
| Timaru | $281,282 | 1.7% |
| Dunedin | $290,658 | 0.3% |
| Queenstown Lakes | $676,230 | 1.2% |
| Invercargill | $207,492 | 0.5% |
|    Total NZ | $479,193 | 2.3% |