Is a transportable home unit in Kaikoura a building? The local council says it is, the government says it isn't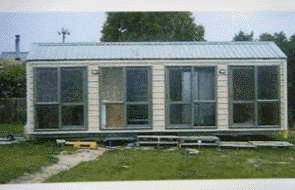 A transportable building with a bedroom, bathroom and kitchen that was connected to electricity, water and sewerage services was not a building at all, according to a determination involving two government agencies and a district council.
A dispute over whether the structure (pictured) was a building or not began when it appeared on a vacant section in the crayfish capital of New Zealand, Kaikoura.
The Kaikoura District Council had issued a consent for the site to be excavated and for it to be connected to drainage, plumbing and electrical services. 
But when the transportable unit appeared on the property, the council wrote to the owner saying the unit required a building consent.
Not so, said the owner who maintained that because the unit had wheels it was a caravan, which was registered, warranted and had been towed to the site without the need of a special permit.
It had been placed on the site temporarily, until he built a new house on the property.
In the meantime it was occupied occasionally during weekends and holidays, he said.
Because it was a caravan it did require a consent, he maintained.
So the council referred the matter to the NZ Transport Agency, to see if the unit did qualify as a caravan.
The agency noted that structure was eight metres long and 3.1 metres wide, which meant it was too wide to be legally driven or towed on the road.
To be moved on public roads it would have to be transported on the back of a truck.
It would also be unable to get a Warrant of Fitness.
Caravan owner one, Kaikoura District Council nil
That sent the council and the owner back to square one, with the owner maintaining it was caravan that did not require a consent and the council maintaining it was a building that did.
So it was referred to MBIE for a determination.
In its application for the determination, the council said it considered the unit to be a building that had wheels added to it, and was concerned at the precedent that could be set if other buildings were placed on axles and wheels in an endeavour to avoid the requirements of the Building Act and Building Code.
MBIE noted that although the structure had wheels, it was stabilised by four galvanised steel uprights and could not easily be disconnected from its utility services.
But because it was not being occupied on a permanent or long term basis, MBIE found in favour of the owner and determined that it was not a building.
So caravan owner one, Kaikoura District Council nil.
However the determination did not consider whether the unit would need to be fitted with window wipers or seat belts, or whether the owner would need a driver's licence to make the bed.