Len Brown, Nick Smith unveil 17 new special housing areas with potential for 8,000 new homes in Auckland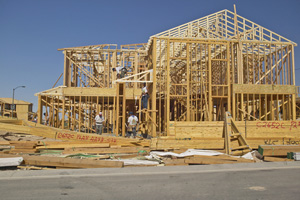 Seventeen new special housing areas for Auckland have been announced by Auckland Mayor Len Brown and Housing Minister Nick Smith.
Designating a location as a special housing area allows development of new homes within it to be fast tracked and the latest areas to be added could eventually have 8,000 new home built within them.
Since the Auckland Housing Accord between the Auckland Council and the Government was agreed 11 months ago, 80 special housing areas have been created, potentially allowing  for the development of 41,500 homes to be fast tracked.
"This is the momentum we need to to improve housing affordability and supply in our largest city," Smith said.
However, Labour housing spokesman Phil Twyford said it was a "desperate pre-election announcement of more ghost houses" from the Government that wouldn't fool Aucklanders.
"The fact is that after six years in office, and 15 months after National announced the Housing Accord, they are now scrambling to move the first family into a completed home in one of the special housing areas before the election," said Twyford.
"Nick Smith doesn't like to admit it but only about 20 building consents have been issued in the special housing areas, and most of them at Weymouth."
Twyford said Labour would build 100,000 "real affordable homes."
"We will also reform the planning rules, crack down on speculators and reform monetary policy to bring interest rates down," Twyford said.
The new special housing areas are in the following locations, with the potential number of new homes to be built in each in brackets: And full details, including maps, are available here.
Akoranga Drive, Northcote (31).
Barrack Rd, Mt Wellington (40).
Bellfield Rd, Papakura (265-365).
Bunnythorpe Rd, Papakura (10).
Coates Ave, Orakei (14).
East Coast Rd, Pine Hill (39).
Enfield St, Mt Eden (92).
Corner Great North Rd and Walsall St, Avondale (36).
Harbourside Drive, Hingaia (200-300).
Mokoia Rd, Birkenhead (31).
Morrin St, Ellerslie (138).
Racecourse Parade, Avondale (15-80).
Redhills stage 1. (3392-4207).
St Lukes Rd, Mt Albert (107).
Takapuna strategic area (350).
Tamaki regeneration area (1200-1500).
West Hoe Heights, Orewa (400-800). 
---------------------------------------------------------------------------------------------------------------------------------------

Our new free Property email newsletter brings you all the stories about residential and commercial property and the forces that move these huge markets. Sign up here.
To subscribe to our Property newsletter, enter your email address here. It's free.
---------------------------------------------------------------------------------------------------------------------------------------