A Weymouth house in need of TLC gets plenty of bids at mortgagee auction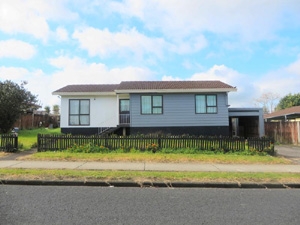 Just a single property was offered for sale at the latest mortgagee auction held by Barfoot & Thompson, with the auction of another postponed until next week and a third scheduled for auction withdrawn from sale.
Its location in investor friendly Weymouth in south Auckland meant there was no shortage of bidders for the three bedroom house with garage (pictured) at 3/31 Taitimu Drive that was put up for mortgagee sale by Westpac.
The fact that it would benefit from a spruce up didn't deter potential buyers and after some determined bidding it eventually sold under the hammer for $295,000.
According to QV.co.nz it was previously sold in July last year for $290,000.
MBIE's bond centre data shows that the average rent for  a three bedroom house in Weymouth is $395 a week.
If the house that sold was rented for that amount it would provide its new owner with a gross rental yield of 7%.
---------------------------------------------

Our new free Property email newsletter brings you all the stories about residential and commercial property and the forces that move these huge markets. Sign up here.
To subscribe to our Property newsletter, enter your email address here. It's free.
------------------------------------------------