Competitive bidding for Auckland CBD apartments but not enough to clinch deals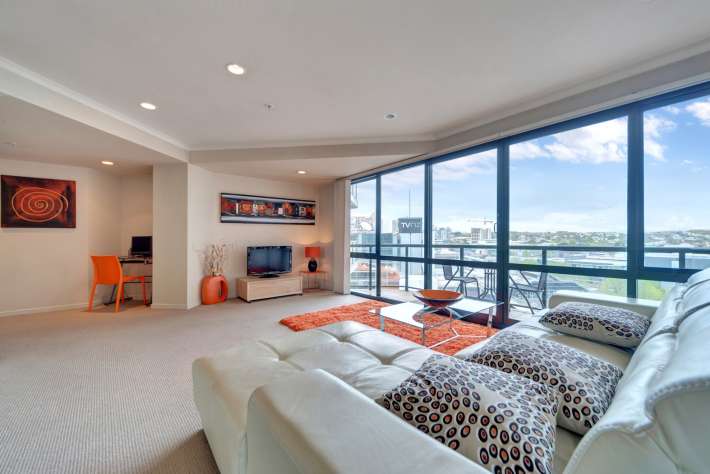 There were only two apartments on offer at this week's Ray White City Apartments auction and neither of them sold under the hammer, but in some ways that was a reflection of how buoyant Auckland's apartment market has become.
The two apartments concerned could not have been more different.
Space in one was so tight it would probably squeak, a shoe box with two bedrooms, a bathroom and kitchen/dining/living space all crammed in to 37 square metres in the Zest building, at the top end of Nelson Street.
The other was a spacious 143 square metre pad with three bedrooms, two bathrooms and a double lock up garage, in  The Peaks, a prestigious complex on Victoria St West with just 57 apartments in the entire building.
So it's no surprise that the Zest has long been the domain of investors while The Peaks is owner-occupier territory.
There was competitive bidding on both and normally that would have resulted in a sure sale under the hammer.
According to QV.co.nz the apartment in the Zest building was originally purchased for $185,500 in 2004 and then resold for $130,000 in 2010 following the collapse in values that occurred after the GFC.
Since then, values have steadily improved and the top price offered for the same apartment at this week's auction was $210,000, even though it was vacant.
Last year vendors would have been falling over themselves to get that sort of price.
However they will also have noticed the strong rise in prices recently and the fact they are holding out for more at auction may be sign that their expectations are now starting to test the limits of what buyers are currently prepared to pay.
According to QV.co.nz, the apartment in The Peaks building was previously purchased for $560,000 in 2007.
Bidding went to $840,000 before it was passed in at this week's auction although the auctioneer was confident a deal would be done behind closed doors.
While investors and owner-occupiers alike may mourn the lack of bargains in the market, the high prices are likely to be attracting the attention of developers, and just importantly, their financial backers.
That is likely to spur a fresh round of apartment development in the city over the next few years, which will lift supply and add even more depth to the market.
I also wonder how long it will be before banks, who are struggling to find enough people willing or able to take on mortgages to buy houses in the suburbs, will start to ease the restrictions they have in place on lending against apartments under 50 square metres, which make up a huge proportion of Auckland's apartment market.