Building consultants recommended residents of a leaky apartment building be banned from using their balconies because they were in such poor condition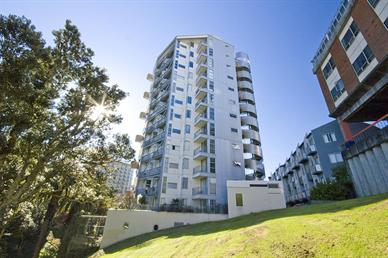 An Auckland apartment building has such severe weathertightness issues that a building consultant's report recommended some residents be banned from using their balconies in case the balustrades gave way risking people falling up to 12 floors to the ground. 
The consultants employed to assess the weathertightness issues of the Scotia Tower, a 12 level apartment building at 8 Scotia Place off the top end of Queen St in the CBD, also found black mould on the internal sides of some apartments' wall linings, and there was a concern that mould spores from this could become airborne, posing a health risk to residents.
News of this building's problems follows revelations that the landmark Heritage Farmers building on Wyndham St, which is now home to the Heritage Auckland Hotel and a number of privately occupied apartments but was previously the iconic Farmers department store, will likely need to be reclad on at least two sides and have its windows repaired, due to damage from water entering its exterior wall cavities.
That suggests the leaky building crisis is far from over, as watertightness issues become apparent in buildings that were previously believed to be sound.
The Scotia Tower is a 12 level tower with 84 apartments, many of which overlook Myers Park.
Construction of the building was completed in 2002.
Although most of the apartments are small, they have attractive features such as polished wooden floors and that combined with the building's location down a quiet side street and pleasant outlook has made it popular with investors and tenants.
The building also has a distinctive design, with an exposed structural steel frame on the outside and an exterior spiral staircase.
However those design features also appear to have complicated its weathertightness issues.
A report on the tower's problems by building consultants Maynard Marks,  says the exposed steel frame on the outside of the building, which penetrates its wall claddings, complicates the problems it faces.
"There are many details that lack longevity in terms of weathertightness that have resulted in moisture ingress and visible decay damage to timber framing and corrosion elements," the report said.
Among the problems identified in the report were:
Inadequately weatherproofed window and door joinery.
Inadequately weatherproofed horizontal cladding control joints.
An inadequately weatherproofed podium.
Inadequate basement waterproofing.
Inadequately weatherproofed balcony to wall cladding junctions.
Inadequate support of balcony balustrades.
Inadequately weatherproofed balcony cap flashings.
"The wall claddings (that include fibre cement sheet, plywood sheet/weatherboards) have failed to be weathertight and are not capable of managing water that penetrates behind them," the report said.
The report also noted that balcony handrails on some units were potentially unsafe and recommended that balcony usage be banned in some units "due to the potential of balustrade failure and the risk of falling from height."
The owners of apartments in the building are likely to be hit with a substantial bill to fix the problems.
"Based purely upon the scale of this development it is clear that the remedial works shall be substantial in terms of cost," the Maynard Marks report said.
The building's body corporate is unlikely to seek compensation from any parties involved in its construction, because it was completed more than 10 years ago.
That means it's likely that individual apartment owners will have to bear the entire of the remediation work.
---------------------------------------------------------------------------------------------------------------------------------------

Our free Property email newsletter brings you all the stories about residential and commercial property and the forces that move these huge markets. Sign up here.
To subscribe to our Property newsletter, enter your email address here. It's free.
----------------------------------------------------------------------------------------------------------------------------------------