Owners blame high ground rents rather than weathertightness issues for the dramatic slide in prices at the Scene One apartment block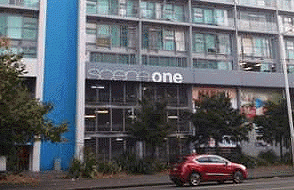 The owners of apartments in the Scene One apartment complex in downtown Auckland are blaming the high ground rents they have to pay on their leasehold units for a dramatic plunge in their resale prices, rather than the weathertightness issues the building is facing.
Last week interest.co.nz reported a luxury apartment in the Scene One complex, that had been purchased for $700,400 in 2005, was sold at auction for $160,000, less than a quarter of its previous purchase price, and that the owners would have been prepared to accept a price of $132,000 for the unit.
Scene One Owners Committee spokesman Rick Mirkin said the slide in prices was not due to the weathertightness issues the building is facing.
"The weathertightness issues in Scene One are very limited and are not even centred in the main Scene One building," Mirkin said.
"The central weathertightness issue affecting Scene One concerns two leaky decks in the annex block that connects Scenes One and Two," [Scene Two is a neighbouring apartment building that was part of the same development].
Although the problem had existed for several years, it was being remedied and was not the cause of the poor sale prices achieved at auction, Mirkin said.
Instead he blamed stiff increases in the ground rent owners must pay for the slide in prices.
The ground rent on the two bedroom apartment that sold last week for $160,000 was $14,179 a year, while operating expenses added another $7665 and rates were $2057, taking the total outgoing the owner has to pay to $23,901.
And because the ground rent increases had been delayed until the amount of the increase could be settled by arbitration, the owners of apartments in the building were faced with paying what Mirkin described as "large sums of retrospective rent" backdated to August 2011, as well as the larger quarterly payments going forward.
"Sadly, there will be some owners who are unable to meet these costs and are forced to sell," Mirkin said, and he believes the problem will not be limited to the Scene One building, with owners of apartments in all three buildings in the Scene development facing similar issues.
"There will be a number of such cases amongst the three Scene buildings before the market for these high quality apartments returns to normal," he said.
"Even with high ground rent payments and along with rates and building upkeep, the high rentals achieved make these units sound investments."
----------------------------------------------------------------------------------------------------------------------------------------

Our free Property email newsletter brings you all the stories about residential and commercial property and the forces that move these huge markets. Sign up here.
To subscribe to our Property newsletter, enter your email address here. It's free.
----------------------------------------------------------------------------------------------------------------------------------------