Chris Parker calls for building industry revamp, road user charges, targeted rates and more to curb Auckland's housing woes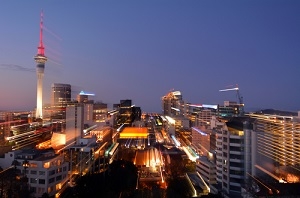 Auckland Council's chief economist is calling for authorities to make renting more attractive, implement road user charges, relax some building restrictions and shut the NIMBYs ('not in my back yarders') up, to help solve Auckland's housing problems.
In his 'Housing supply, choice and affordability' report, Chris Parker has released a bold set of recommendations he believes local and central government should adopt to make Auckland housing more affordable.
He notes the median house price in metropolitan Auckland is about 10 times greater than the median household income (ratio of 10:1).
While this should ideally not exceed a ratio of 3:1, Parker says it's realistic to aim for reduction in the ratio that would see prices exceed incomes by just five-fold by 2030 (ratio of 5:1).
"This would be achieved primarily by reducing costs to deliver housing and increasing the scale and breadth of housing options (including attached dwellings) for the bottom half of the market," Parker says.
"Compounding income increases over time will assist too. Note that such a target does not mean trying to sharply reduce people's wealth; intensification can potentially allow for land values to actually increase at the same time that house prices decrease."
Parker provided the below graphic representation of the elements that would contribute to the lowering of the ratio.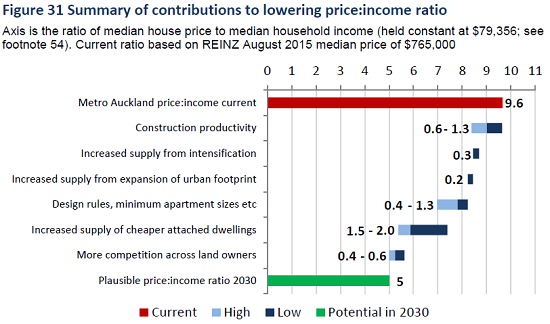 This is what he recommends local and central governments do to achieve this goal:
Increase land for development
- Increase greenfield land supply, enabling more rural subdivisions.
- Permit more intensification in the Unitary Plan, targeting the inner-city suburbs the NIMBYs are trying to keep their villas on.
Infrastructure and services: funding, financing and planning
- Enable ratepayers to profit from economic activity in their region. Parker suggests local and central governments work together, so that some of the tax take from increased regional economic growth may be returned to ratepayers for example. OECD and Productivity Commission research backs up this idea that could incentivise growth, help fund infrastructure, lower rates, and mitigate opposition to expansion and intensification
- Target rates to fund infrastructure growth through the Council expanding its beneficiary pays approach. Parker says this is a more robust and appropriate way to incentivise development than a land tax.
- Charge users of roads a higher fee if travelling during congested periods to curtail excessive use. Parker says the existing transport network can cope with the transport demands from more land supplied for housing if it is managed more efficiently through pricing.
Make design and construction easier
- Get rid of any design requirements in plans that relate to the interior functioning of homes, and rely on the Building Act to regulate for safe healthy homes. These include things like lighting, minimum dwelling sizes, floor to ceiling heights, outdoor space, sustainability requirements. Parker suggests the Council work with the Government to instead focus on managing external impacts like stormwater runoff and water quality.
Residential construction productivity and supply
- Revamp the structure of the building sector, so productivity increases by 25% by 2030. Parker believes this is doable, and will reduce the cost to construct an average 200m2 house to about $300,000, down from about $400,000. He says there's been little if any measured productivity growth in the residential construction sector for over 25 years. Watch this interview with Auckland Council's building control manager for more on this. 
- Replace 'joint and several liability' (JSL) with 'proportionate liability'. Parker explains: "NZ has a policy of using JSL to distribute liability among multiple defendants who are found to have caused the same damage. This means that if two or more people are found to have caused the same damage, each defendant can be obliged to pay up to the full amount of the loss suffered by the plaintiff. The option is to move to proportionate liability, whereby each defendant is liable for no more than their relative share of fault." The Productivity Commission says JSL is partly to blame to poor performance in the building industry, as it encourages builders and regulators to be excessively risk averse when it comes to innovation in design, materials and construction techniques.
Make renting more attractive
- Amend the Tenancy Act to provide more favourable terms for renters. These could include longer notice periods for both landlords and renters, and the requirement for landlords to give tenants good reason when giving them notice. Parker supports Shamubeel and Selena Eaqub's reasoning that it's important to make renting a better option for the increasing large portion of society that can't afford to buy – Generation Rent.