Auckland Council commits to helping halve the 'median house price to median household income' ratio in 15 years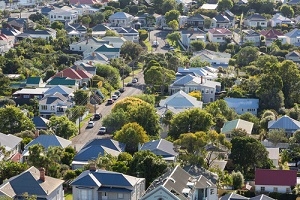 It is official: the Auckland Council wants to see the city's median house price to median household income ratio halved to 5:1 by 2030.
The council's endorsing its chief economist, Chris Parker's, recommendation to adopt this target, introduced in his 'Housing supply, choice and affordability; Trends, economic drivers, and possible policy interventions' report released at the end of September.
Its Auckland Development Committee yesterday agreed in principle to include the target in the forthcoming refresh of the Auckland Plan, noting it would need Government support to achieve the goal.
With the median house price in Auckland currently sitting at $771,000, and the median household income at around $80,000, house prices exceed incomes by nearly 10 times.
Parker has reviewed 34, mostly supply-side tools, local and central governments could use over the next 15 years to bring house prices down to the point they only exceed incomes five-fold.
If annual earnings before tax increase by an average of 3.4% over the next 15 years, as they have over the past 15 years, the median household income will be $132,100 by 2030.
Accordingly, the median house price will need to drop by 14% to $660,500 for this target to be reached.
Put in context, Auckland's median house price increased by a whopping 25% over the year to September.
The Auckland Development Committee explains how the 5:1 target was reached: "Five multiples of household income was established by a combination of bottom-up analysis from a literature review, and an overall intuitive judgement.
"The judgement was that Auckland could, over the space of 15 years, potentially close in on other world cities (in the USA in particular) that have kept house prices close to three multiples of household income. Indeed, New Zealand sustained a price to income ratio of 3:1 for many decades before 1990.
"Fifteen years was chosen rather than 10, because it may take some two to five years for some policy changes to be made, especially relating to construction regulation and infrastructure provision."
Parker says including the target in the Auckland Plan is a positive step forward.
"It will help shape and focus our thinking moving forward. It will provide us with a tangible, achievable goal to frame up the decisions the council needs to make to create the world's most liveable city including affordable housing," he says.  
See this story for more on what Parker says local and central governments need to do to improve housing affordability in Auckland.