Prices of commercial properties ranged from $450,000 to $2.8m at latest Bayleys auction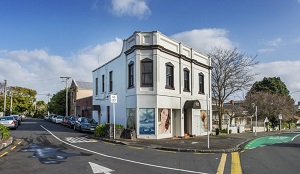 Bayleys sold nearly two thirds of the Auckland commercial properties they took to auction last week, with prices starting at $450,000 for a 2,904 square metre commercial development site with a house on it at Tuakau.
Twenty six properties were marketed for auction, one was withdrawn, 16 were sold and nine were passed in, giving a clearance rate of 64%.
The yields went as low as 2.61% for a partly tenanted character building at the city end of Mt Eden Rd (pictured) which sold for $1.34 million.
The most expensive sale was a property on Great South Rd at Papakura that was leased to the Wendy's hamburger chain which fetched $2.803 million, providing a  yield of 5.72%.
See below for the full results of last week's commercial property auction, with photos and details of all properties, including those that didn't sell:
If you are interested in buying commercial property, interest.co.nz's commercial property database link has details of nearly 6,000 commercial properties that are listed for sale throughout the country.
To search the database, click on the property tab at the top of this page and then click on "Commercial properties for sale" from the drop down menu, or you can click on the link below:
---

You can find almost all commercial property for sale in our comprehensive nationwide listings which are searchable across any major type.
Find this free resource here.