Commissioner for the Environment warns more homes in NZ lie less than 50cm above the spring tide level, than those red zoned after the Canterbury quakes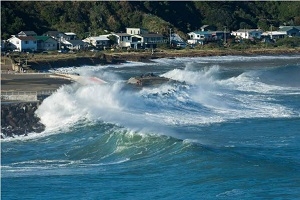 The Commissioner for the Environment is calling for an "overhaul" of the way we prepare for rising sea levels, identifying at least 9,000 homes that lie within only a half a metre of spring tide levels.
Dr Jan Wright warns this is a larger number of homes than were red zoned after the Canterbury earthquakes.
In her report released today, 'Preparing New Zealand for rising seas: Certainty and Uncertainty', Wright provides maps showing elevation levels above spring tide levels, of coastal parts of New Zealand.
While low lying areas can't be identified as "hazardous", as they don't take into account local characteristics like exposure to large waves or protection from a sand dune, they provide a starting point for assessing the risk of rising sea levels.
Wright pinpoints Dunedin as being the town or city with the largest number of homes (2,683) in areas less than 50 centimetres above spring tide levels, followed by Napier (1,321), Christchurch (901) and Whakatane (276).
She identifies 108 Auckland homes in these very low-lying areas, 103 in Wellington and 77 in Tauranga.
There are also 116 Dunedin businesses less than 50 centimetres above spring tide levels and 35 to 40 kilometres of roads within this zone in Dunedin, Christchurch and Napier.
Pushing the boundary out, Wright says there are nearly 10,000 homes 0-150 centimetres above spring tide levels in Christchurch, nearly 8,000 in Napier and around 5,000 in Wellington.
The Insurance Council of New Zealand puts the replacement cost of assets located between 50 and 150 centimetres from average high tide levels between $3 billion and $20 billion. 
Wright accordingly says, "Rising sea levels will have major impacts in many places. In time, some coastal land will become uninhabitable.
"We must plan for sea level rise, but there is time to do it carefully. There are a few cases where action is required soon, but in most cases it is more important to do it well than to rush."
Properties and roads close to spring high tide marks
 
0-50cm above spring high tide mark
Total 0-150cm above spring high tide mark

Homes

 Businesses 

Roads (km) 

Homes
 Businesses 
Roads (km)
Auckland
108
4
9
1,360
60
56
Wellington 
103
1
2
5,008
160
58
Christchurch 
901
5
40
9,957
193
201
Dunedin
2,683
116
35
3,604
185
72
Napier
1,321
12
37
7,973
76
145
Tauranga 
77
4
3
1,231
107
35
Whakatane
276
4
9
1,309
106
38
Nelson
64
4
6
1,043
117
41
Motueka
45
0
4
1,053
3
19
How much are sea levels rising by?
Wright says sea levels in New Zealand have largely been rising in line with the global average of 20 centimetres since around 1900.
While the rate at which levels will continue to rise is unknown, it's been projected they'll increase by 30 centimetres between now and 2065.
For this to happen, a "one in 100 year" coastal flooding event would be expected to occur about every four years at the port of Auckland, every year at the Wellington and Christchurch ports, and every two years at the port of Dunedin.
Wright explains the rate of rise will depend on a number of factors including whether land is rising or falling – something that can occur slowly or quickly in an earthquake.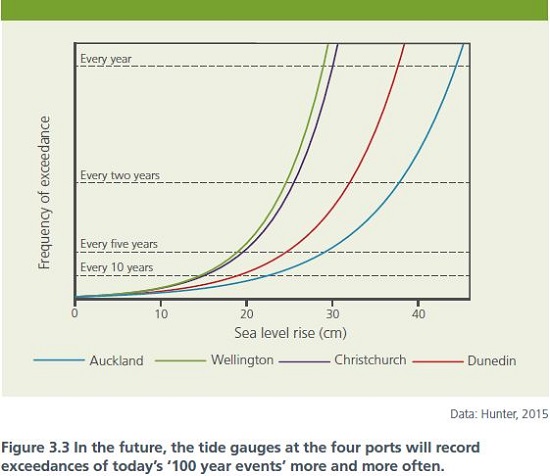 Wright's recommendations 
Referring to the graph above, Wright says, "There is a period of time for each location before exceedances become common. But after this 'grace period', exceedances rise very rapidly."
She says authorities have time to develop good policy and planning for sea level rises, yet stresses there are aspects of planning that should be done with some urgency.
"One is concerned with the granting of consents for greenfields development. New suburbs and the expensive infrastructure they require should be viewed as long-term investments," Wright says.
"We now see building new suburbs on land prone to liquefaction in much of the country as foolish. We should see allowing new subdivisions on vulnerable coastal land as equally foolish.
"Another is the need to establish much more extensive monitoring systems. This is required before we can develop better models of shoreline erosion and accretion.
"It is not too soon to begin to consider the fiscal implications of sea level rise. Both central and local government will face increasing pleas for financial assistance – whether it be for building a seawall, maintaining an eroding coastal road, or, as will eventually happen, moving entire communities further inland."
Wright says the highest costs will come from "large scale managed retreat".
"Both the 2008 Ministry for the Environment Guidance Manual and the 2010 New Zealand Coastal Policy Statement encourage managed retreat – moving homes and infrastructure to higher ground away from the coast – in preference to building bigger and bigger hard defences.
"However, little thinking has been done on how to implement a managed retreat strategy. The critical factor is scale – with scale will come the uprooting of entire communities and the associated financial cost. But the alternative to managing an inevitable retreat will be leaving people living in homes that become uninsurable and then uninhabitable.
"New Zealanders have an expectation that central government will provide financial assistance for those affected by natural disasters. Local Government New Zealand has suggested that a financial mechanism similar to the Earthquake Commission fund could be created to assist with managed retreat."
Wright says including the forward liability of rising sea levels into the government's planning and investment decisions will require input from local government, coastal residents and landowners, the insurance and banking industries, and infrastructure providers.
She recognises local and regional councils, which have largely taken responsibility for planning for the effects of a rising sea, have often clashed heads with those affected.
Therefore she says there needs to be better direction and guidance when it comes to scientific assessments of the hazards caused by rising seas, the process of engaging with the community, and the planning and management decisions that follow.
In her report Wright makes seven recommendations to the Minister for the Environment and one to the Minister of Finance, around these issues.
How are different parts of New Zealand being affected?
Wright has identified low-lying areas throughout the country, but warns they do not represent coastal hazard zones, so are not suitable for including in Land Information Memoranda (LIMs).
Auckland
Wright says a relatively small proportion of Auckland is low-lying, with the majorly low-lying areas not having been densely built on – the Devonport golf course, the Onepoto Domain in Northcote and farmland in Mangere.
"There are pockets of low-lying land in the city, including parts of the Central Business District, Mission Bay, Kohimarama, St Heliers, Onehunga, Mangere Bridge, and Devonport. About half of the low-lying homes in Auckland are situated along the coast in the north of the city," she says.
The Northern Motorway north of the Harbour Bridge, the causeway on the Northwestern Mortorway at Waterview, Tamaki Drive and the western end of Auckland Airport also sit on low-lying or reclaimed land.
Wellington
"Most low-lying areas in Wellington are on the floodplain of the Hutt River – in Petone, Seaview, and Waiwhetū. The more pressing issue for this area is river and stream flooding. However, rising sea level will exacerbate such river floods by reducing the fall to the sea," says Wright.
"There are also small pockets of low-lying land in the Wellington Central Business District, Kilbirnie, Eastbourne, and around Porirua Harbour. Some of these areas have been reclaimed from the sea, so are generally more vulnerable to sea level rise."
Parts of State Highway 1 near Porirua Harbour, Cobham Drive and Marine Drive have also been identified as low-lying.
The rail line that runs around the top of the harbour is two to three metres above the spring high tide mark, but has been damaged by high seas in the past (ie June 2013). Wellington's airport has been built on reclaimed land that is more than three metres above the spring high tide mark.
Christchurch
With the quakes causing land to sink by as much as a metre in certain parts of Christchurch – particularly along the low reaches of the Avon River – Wright says the area's become particularly prone to flooding.
She says a considerable number of low-lying homes are in the Residential Red Zone, which has been largely cleared of buildings. These homes haven't been included in the tally of homes in low lying areas in the table above.
Main Road to Sumner and the New Brighton coastline have been identified as particularly low-lying, but are protected by a seawall and sand dunes respectively.
Other low-lying parts of Christchurch in Burwood and Travis Wetland aren't built up.
Dunedin
Having been built on land reclaimed from a coastal wetland, South Dunedin is prone to flooding after heavy rain, particularly when tides are high.
Wright says the seawall protecting the St Clair esplanade has required considerable maintenance in the wake of heavy seas over the last two years.
"Beyond South Dunedin, some areas of the waterfront and Central Business District are low-lying. These include sections of State Highway 1 and Portsmouth Drive," she says.
The roads that run along either side of the harbour also have low-lying sections, as does the rail line to Port Chalmers and the Dunedin Airport.
Napier, Whakatane, Tauranga, Nelson
With much of Napier having been built on land that rose out of the sea during the 1931 earthquake, or has been reclaimed since that time, it has some very low lying areas, protected by the gravel banks on Marine Parade.
"Nearly 8,000 homes are less than 150 centimetres above the spring high tide mark, and a considerable area of the city, including the airport, is less than 50 centimetres above the spring high tide mark," says Wright.
She identifies Whakatane as being increasing vulnerable to river flooding as sea levels rise, despite much of the area being protected by stopbanks.
Mount Maunganui and the Tauranga suburbs of Matua and Otumoetai have been recognised as low-lying, even though the harbour provides some protection from the full force of the sea.
About a third of homes in Motueka lie less than 150 centimetres above the spring tide mark, with a sandbar protecting the town from big waves.
As for Nelson, the industrial area around the port, the airport and some suburbs are low-lying, with waves sometimes crashing over the seawall along Rocks Road.