Augusta syndicates a new Countdown supermarket in Hamilton, forecasts 7.5% pre-tax cash return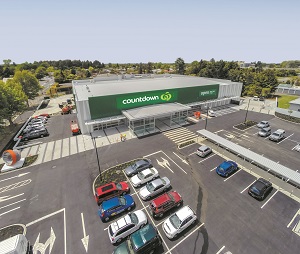 Augusta Funds Management (part of NZX-listed Augusta Capital) is syndicating a new Countdown supermarket that is forecast to provide investors with a pre-tax cash return of 7.5% a year.
The property is located at Peachgrove Rd in Hamilton East and is being acquired under a sale and leaseback arrangement with General Distributors, which is ultimately owned by Australian supermarket giant Woolworths, owner of the Countdown chain in this country.
General Distributors has developed the supermarket on the site which is due to open next week and the syndicate will acquire it for $18 million. General Distributors will continue to occupy the property under a lease which will run for 15 years, with six rights of renewal of five years each.
The syndicate is being structured as a limited partnership (LP), the minimum investment is $50,000 and the cash distributions to investors are to be paid monthly.
Syndicates such as this appeal mainly to investors such as retired folk who are looking for a reasonably reliable income stream and a better rate of return than bank deposits are currently providing, and who may be wary of sharemarket volatility.
Like most New Zealand syndicates, the Peachgrove LP does not have a termination date and will be wound up when a Special Resolution to do so is approved by investors, so anyone putting money into the scheme should be prepared to have their money tied up in it for the long term.
There have been several new commercial property syndicates that have come on to the market in the last couple of weeks and one of the points potential investors will need to think about when considering Peachgrove is that it is unlikely to provide any increase in rental income for at least five years.
The lease provides a multi-tiered rental structure, with a base rent of $1.316 million (plus GST), plus 2% of the store's annual turnover between $61.6 million and $66.6 million, plus 1.75% of turnover above $66.6 million.
However the prospectus states that the scheme's manager, "...does not expect there would be any significant turnover rental payable in the initial 15 year term of the lease."
That means it is likely that the syndicate will only receive the base rent, which is fixed at $1.386 million for the next five years, at which point it will be increased by 5%.
The purchase of the property and the syndicate's set up costs are being funded by $11 million of investor subscriptions (220 partnership interests @ $50,000 each) and an $8,428,500 interest-only mortgage from ASB.
The mortgage is fully hedged via an interest rate swap and this gives the mortgage an effective interest rate of 4.7%.
See the table below for Peachgrove's key financials, and for investors unfamiliar with such schemes, here's a general explanation of the way property syndicates work.
To read the Investment Statement for the Peachgrove Limited Partnership click on the following link:
Augusta61PeachgroveRdLP.pdf