Rents on Trade Me Property flat in Auckland and Christchurch, down in Wellington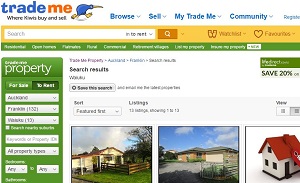 Landlords will find little to cheer about in the latest dwelling rent figures from Trade Me Property.
The median asking rent for properties advertised on the website dropped to $430 a week in February from $435 in January, with rents dropping in Wellington and remaining flat in Auckland and Christchurch.
However February's national median asking rent of $430 a week was still up 4.9% compared to the same month last year.
The median asking rent in Auckland was $500 a week, unchanged form January but up 5.3% compared to February last year.
In the Wellington Region the median asking rent dropped from $450 a week in January to $440 a a week in February, up 4.8% compared to February last year.
In Christchurch the median asking rent has been unchanged for five months in a row at $420 a week, down 6.7% compared to February last year, suggesting the rental market in the city has stabilised.
However rents appear to be falling at a faster rate in the Canterbury towns outside of Christchurch, with the median rent for the whole Canterbury region down 8.9% compared to February last year.
The biggest annual increase in asking rents have occurred in the Bay of Plenty where they were up 17.6% in February compared to a year earlier, followed by Manawatu/Whanganui up 17%, Otago up 10% and Waikato up 9.1%. 
"February has seen rents settle after the January spike but it's still pretty difficult for renters at the moment," Trade Me's Head of Property Nigel Jeffries said.
"Rents are easily outstripping inflation, which was up just 0.1% in the final quarter of last year."
You can receive all of our property articles automatically by subscribing to our free email Property Newsletter. This will deliver all of our property-related articles, including auction results and interest rate updates, directly to your in-box 3-5 times a week. We don't share your details with third parties and you can unsubscribe at any time. To subscribe just click on this link, scroll down to "Property email newsletter"and enter your email address.