Plenty of buyers but more apartments being passed in at auction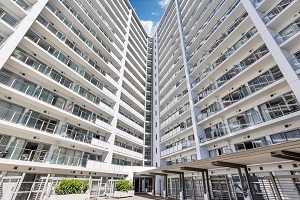 Things have been a bit quieter at the Auckland apartment auctions in the last couple of weeks.
Although there has been plenty of buyer interest and often competitive bidding from investors and potential owner-occupiers, fewer are selling under the hammer and more are being passed in for sale by negotiation.
This may be a result of the tougher new loan to valuation ratio restrictions that have been introduced for mortgages on investment properties, which are predominant in Auckland's CBD.
Or it may just be investors having a breather before the traditional start of the spring sales surge.
At Barfoot & Thompson's apartment auction this week, five apartments were offered and two were sold under the hammer and the other three were passed in. 
One of those, a two bedroom apartment with an adjacent studio, each with their own entrance and balcony but able to be combined into a single apartment, did not attract a single bid.
Two other apartments which were due to be offered at the same auction were withdrawn from sale prior to the auction commencing.
Just up the road Ray White City Apartments had just one apartment on offer at their weekly auction.
It was a 48 square metre, fully furnished, one bedroom apartment in the City Life building on Queen St.
There were multiple bidders for the property but it was passed in with a highest bid of $420,000.
To see the results of the latest Auckland  apartment auctions conducted by Barfoot & Thompson, Ray White City Apartments, Bayleys, City Sales, and Harcourts, go to our Auction/Sales Results page  or click on this link.
You can receive all of our property articles automatically by subscribing to our free email Property Newsletter. This will deliver all of our property-related articles, including auction results and interest rate updates, directly to your in-box 3-5 times a week. We don't share your details with third parties and you can unsubscribe at any time. To subscribe just click on this link, scroll down to "Property email newsletter"and enter your email address.