Bayleys latest auction sales included a 103 year old Waikato church that sold for $141,000 and a starter home in Pt Chevalier that fetched $1.017m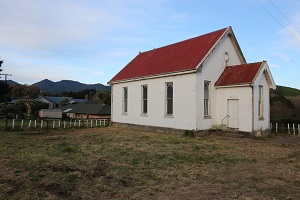 Bayleys had a busy week in their Auckland and Hamilton auction rooms last week, with 50 homes auctioned in Auckland of which 32 were sold, giving a clearance rate of 64%.
In Hamilton 33 properties were offered, including properties in Hamilton, Matamata, Te Aroha, Raglan and Te Awamutu, of which 18 were sold, giving a clearance rate of 55%.
The auction sales included a former church building (pictured) on a 1053 square metre section at Puriri on the road between Kopu and Paeroa, which sold for $141,000 (see more photos below).
Some of the highlights of the Auckland auctions included a three bedroom villa on a 565 square metre section at Devonport that sold for $2.35 million, a three bedroom townhouse in Remuera that fetched $885,000, a Mt Wellington house that sold for $720,000 and what was described as an entry level house on 356 square metre section at Pt Chevalier that went for $1.017 million.
You can see the full results of Bayleys latest auctions in Auckland and Hamilton, as well as auction results from several other agencies including Barfoot & Thompson, Harcourts, City Sales and Ray White City Apartments, on our Auctions/Sales Results page.
Below: The Church at Puriri that sold for $141,000.
Below:The exterior of the Church at Puriri.
Below: The interior of the church at Puriri.
Below: The ornate ceiling of the Church at Puriri.
You can receive all of our property articles automatically by subscribing to our free email Property Newsletter. This will deliver all of our property-related articles, including auction results and interest rate updates, directly to your in-box 3-5 times a week. We don't share your details with third parties and you can unsubscribe at any time. To subscribe just click on this link, scroll down to "Property email newsletter"and enter your email address.