Barfoots' December sales -9.4% lower than a year ago; average price falls -$20,000 from November; increasing inventory takes steam out of price growth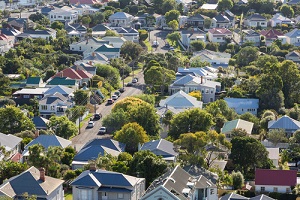 Auckland house prices fell for the second month in a row in December, while the number of houses sold slumped 9.4% from December the previous year.
New Barfoot and Thompson data shows the average sale price in the super city was $913,703 last month - down from $933,130 in November. The median price was $840,000 - down from $850,000 in November.
"While prices definitely eased there was certainly no suggestion that current prices are under any great downward pressure and normal sales numbers are being achieved," Barfoots' managing director Peter Thompson says.
However, year-on-year, the average sales price only increased by 8.6% (to $886,816) - the lowest in four years.
The median sales price increased by 8.9% (to $821,666), compared to 17.4% in 2015, 11.1% in 2014 and 12.6% in 2013.
The number of residential properties sold also fell to 721 - a 9.4% drop from 796 in December 2015.
The number of houses sold was the lowest since 2011.
Increasing inventory taking steam out of price growth
ASB economist Kim Mundy says: "December is typically a quiet time in the housing market as both buyers and sellers tend to take a step back during the holiday period.
"However, recent trends of lifting inventory remained evident over December, as new listings continue to outpace sales following the most recent Loan-to-Value ratio (LVR) changes. 
"Seasonally-adjusted inventory in Auckland has now been rising for eight consecutive months and is 34.5% higher than in December 2015."
At 776, the number of new listings made last month were the highest in a December in five years.
Thompson says: "At year end we had 3,270 properties on our books. While this number is down on those at the end of October and November, it is the highest number at year end for four years, and more than a third higher than it was at the same time last year."
It would take 23.3 weeks for all the properties listed in December to sell, if the December sales rate was maintained. This is the greatest length of time since 2012, as shown in the graph below.
Mundy concludes: "It appears increasing inventory levels could be taking some pressure off Auckland house prices."
A 'typical December' or not?
Thompson says: "It was a typical December trading period with sales numbers and new listings in line with those for the previous year, and prices being not far off the record prices of October and November.
"Signs that the rate at which prices were increasing was declining has been there since mid-year, and that decline showed in the prices achieved at year end. 
"In December the average price declined by 2% when compared to the average price for the previous three months.
"December's modest price retreat is similar to that which occurred last December and it took until March for the upward price trend to re-appear."
However, since 2001, average Auckland house prices haven't fallen in both November and December. During this time, they have only fallen five times in December.
Higher portion of sales worth $1m+
As for the values of Auckland houses sold, more than half (52.9%), went for over a million dollars in December.
There has only ever been one other month (November 2016), when a higher portion of sales were worth more than a million dollars.
Over the year, 49.4% of houses were sold for over a million dollars. This is up from 45.3% in 2015, 31.9% in 2014, 26.6% in 2013 and 19.9% in 2012.
Meanwhile throughout the year, only 11.1% of properties were sold for under $500,000. In December alone, 52, or 7.2% of houses were sold for under $500,000.