Mixed results at latest apartment auctions as buyers play hardball over price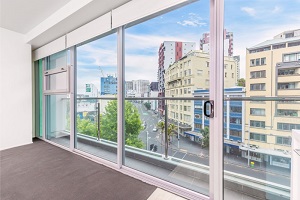 An apartment in an upmarket block in Auckland's Central Business District was sold for $117,000 at a mortgagee auction this week.
The 58 square metre, one bedroom apartment came with a car park and had a balcony overlooking the trees lining Beach Road in the CBD.
It was was located in the Scene One building which has facilities such as a swimming pool, tennis court, gymnasium and outdoor barbecue area for its residents' use.
However the building is one of several in the area on leasehold titles, which considerably reduces their capital values compared to similar properties on freehold titles.
The ground rent on the apartment that was sold was $5778 a year, which was on top of operating expenses (similar to body corporate fees) of $3275 a year and council rates of $1278, taking total annual outgoings to $10,331 a year.
Even so, the $117,000 price achieved at the mortgagee sale conducted by Ray White City Apartments seems like a bargain and there was keen competition for it from several bidders at the auction.
A mixed picture
There were three major Auckland apartment auctions this week and results were mixed, with buyers generally remaining cautious and often digging their toes in over price. The larger, better quality apartments that often appeal to baby boomers selling up their suburban houses, tended to sell more readily than the smaller apartments favoured by investors.
City Sales kicked things off, auctioning four apartments from their smart new auction room on Karangahape Rd.
Although all of them attracted bids, buyers played hardball over price and all were passed in.
The most vigorous bidding was for a 119 square metre, leasehold, harbour side apartment with a 55 square metre balcony on Princes Wharf, which had ground rent of $15,327 and operating expenses of $18,259, which took total outgoings including rates to just over $37,000 a year.
Although several bidders were keen on the property, the top bid of $415,000 wasn't enough to get it across the line and it was passed in for sale by negotiation.
At Barfoot & Thompson's weekly auction six apartments were offered, (another was postponed) and three were sold and three passed in.
At Ray White City Apartments, seven apartments were offered including the mortgagee sale, five were sold with three being passed in.
The full results from all three auctions, with the prices achieved on the apartments that sold and details of those that didn't sell, are available on our Auction/Sales Results page. 
You can receive all of our property articles automatically by subscribing to our free email Property Newsletter. This will deliver all of our property-related articles, including auction results and interest rate updates, directly to your in-box 3-5 times a week. We don't share your details with third parties and you can unsubscribe at any time. To subscribe just click on this link, scroll down to "Property email newsletter"and enter your email address.