Barfoot auctions achieve sales rates of up to two thirds for central Auckland properties, one third on the North Shore and just over a quarter in South Auckland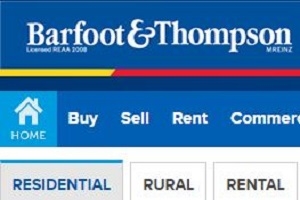 Barfoot & Thompson sold 40% of the properties they marketed for sale by auction last week, with 85 of 212 auction properties finding new owners by 5pm the day after the auction.
Homes in the central Auckland suburbs continue to sell most readily at auction, with the sales rate hitting two thirds at Barfoot's auction in their Shortland St rooms on 4 April, where a selection of homes form suburbs including Epsom, Mt Albert, Mt Eden Mt Roskill and Avondale were offered, with sales edging past 50% at the Shortland St auction on 5 April, where homes from suburbs including Remuera, St Heliers, Greenlane, Mt Eden and Mt Albert were offered.
However the auctions were slower in Manukau and on the North Shore, with a sales rate of 28% at the Manukau auction and 33% on the North Shore.
At the affordable/investment end of the market, the highlights included a one bedroom apartment with a car park in Grafton that sold for $300,000 and a one bedroom apartment in the Waldorf building on Bankside St in the CBD that went for $288,000.
At the North Shore auction a two bedroom, brick home unit with a single garage in the heart of Birkenhead sold for $555,000, while a traditional brick and tile one bedroom unit at Milford sold for $590,000.
To see the full results go to our Auction Results page.
Barfoot & Thompson Auction Results: Week ending 7 April 2017
Venue
 Sold*
Not Sold*
Total
On site.
13
13
26
Manukau, 4 April. 
7
18
25
Shortland St, 4 April.
8
4
12
Whangarei, 5 April
3
4
7
Shortland St, 5 April.
22
21
43
Pukekohe. 5 April.
1
3
4
Takapuna. 6 April.
17
35
52
Shortland St, 6 April
8
15
23
Shortland St, 7 April.
6
14
20
Total
85
127
212
*

Sold includes properties sold under the hammer or by 5pm the following day. Not sold includes properties that remained unsold by 5pm the day after the auction and those properties that were withdrawn from sale or had their auction date postponed.