Migration continues its upward trend, likely adding around 65,000 new residents to Auckland's population in the year to March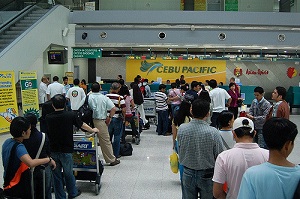 Migration continues its seemingly unstoppable upward climb, boosting this country's population with a record net gain of 71,932 in the year to March, according to Statistics NZ.
That compares with net gains of 67,619 in the year to March 2016, 56,275 in the year to March 2015, 31,914 in the year to March 2014 and 2542 in the year to March 2013.
Statistics NZ population statistics manager Peter Dolan said this was mainly due to the rising number of migrant arrivals in New Zealand, with fewer people leaving the country.
A record 129,518 migrants arrived in this country in the year to March, while 57,586 departed on a permanent or long term basis, giving a net gain of 71,932.
There was a net loss of 1341 New Zealand citizens over the 12 months, with 31,995 New Zealanders arriving back on the country after long term stays overseas, while 33,336 departed long term.
Over the same period 97,523 citizens of other countries arrived permanently or long term, while 24,250 departed permanently or long term, giving a net gain of 73,273 non-New Zealand citizens.
The biggest source of migrants was Asia, with a net gain of 33,789 from the region in the year to March, which included 11,030 from China and Hong Kong, 7999 from India and 4459 from the Philippines.
That was followed by 16,771 from Europe which included 6416 from the UK, 3427 from Germany and 3365 from France.
There was a net gain of 1018 people from Australia.
By visa type, the biggest group of were the 43,700 people who arrived on work visas, followed by 31,995 New Zealand citizens (who do not need visas to enter the country), 23,900 on student visas and 16,800 on residency visas.
The latest numbers will add further pressure to Auckland's already stretched resources such as housing, transport and other infrastructure, with the region remaining the most popular destination by far with 57,710  migrants saying they intended to live in the region, followed by 12,719 in Canterbury and 10,080 in Wellington.
However those numbers are a bit on the light side because another 19,076 migrants did not state where they intended to live, which probably pushed the actual number of arrivals in Auckland closer to 65,000 in the year to March.