Overall sales clearance rate of 43% at the latest apartment auctions - welcome to the new normal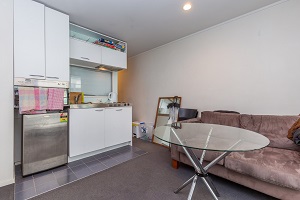 It was business as usual at the main Auckland apartment auctions this week, with a relatively low number of properties on offer and a sales clearance rate of 43%, which is pretty much the new normal.
At Barfoot & Thompson's CBD auction rooms three apartments were on offer. First up was a spacious (75 square metre) two bedroom apartment in the Sugar Tree Prima building on the Union Street ridge.
This is a new complex and several of its units have come up for resale recently with the vendors mostly investors who purchased off the plans.
There were multiple bidders for the unit, but they remained cautious and it was passed in for sale by negotiation.
The next unit offered fared better.
It was a two bedroom unit in the Federal building on the southern leg of Federal St. It sold under the hammer.
The final offering was a one bedroom unit in the Fiore 2 building on Hobson St.
There was just a single bidder for this property. Although he increased his bid several times as Barfoot's sales team negotiated back and forth between potential buyer and vendor, the final bid was not enough to get a sale across the line and it was also passed in.
Up at Ray White City Apartments, four units were on offer this week, starting with a studio unit under management contract to the Cintra serviced apartment hotel on Whitaker Place, which attracted multiple bidders and was sold under the hammer.
A 40 square metre, two bedroom unit in the Altitude building on Kingston St also attracted multiple bidders and was sold under the hammer.
A  studio unit in The Whitaker building on Whitaker Place, which has some maintenance issues, attracted multiple bids but was passed in with a top bid of $200,000.
The final unit on offer was a spacious (58 square metre) one bedroom unit with a car park in the Scene 2 building on Beach Rd.
This is a leasehold complex so a high price wasn't expected and bidding started at just $50,000. But with several bidders chasing it that soon rose to $125,000.
After discussions with the vendor the auctioneer declared the reserve of $155,000, but the top bidder wasn't prepared to budge and it was passed in.
Details of all the properties offered and the prices of those that sold, are available on our Residential Auction Results page.
You can receive all of our property articles automatically by subscribing to our free email Property Newsletter. This will deliver all of our property-related articles, including auction results and interest rate updates, directly to your in-box 3-5 times a week. We don't share your details with third parties and you can unsubscribe at any time. To subscribe just click on this link, scroll down to "Property email newsletter"and enter your email address.