Auckland property prices slowly deflating following a big fall in the volume of homes being sold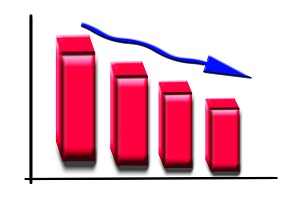 The average value of homes is continuing to decline in Auckland, Wellington and Christchurch as the housing market continues to cool.
According to Quotable Value, the average value of all homes in the Auckland region was $1,041,957 in August, down from $1,044,303 in July and $1,045,059 in June.
That suggests Auckland property prices are slowly deflating following the substantial reduction in the volume of homes being sold since late last year. The latest Real Estate Institute of New Zealand figures showed Auckland sales volumes down 30.6% in July.
The decline is affecting most parts of Auckland, with the average value of homes falling for at least two months in a row in Rodney, North Shore, Waitakere, Papakura, and Franklin.
In Central Auckland the average value rose in July compared to June but dropped back in August. In Manukau it rose in August compared to July, but remained below where it was in June.
However the average value in Auckland is still up 2.8% compared to August last year.
Average values in Wellington and Christchurch are also slowly declining.
In the Wellington region the average value of all homes has fallen for two months in a row, down from $609,552 in June to $605,435 in August.
The average value of Christchurch homes is also slowly falling, dropping from $496,378 in June to $493,069 in August.
However average values are still rising in many other centres, including Hamilton; Tauranga, Napier, New Plymouth, Nelson, Timaru, Dunedin and Queenstown.
That pushed the average values of all homes throughout New Zealand up marginally to $641,648 in August from $641,280 in July.
"Quarterly value growth has dropped across the Auckland and Wellington regions but values rose in most other parts of the North Island including Hamilton and Tauranga," QV national spokesperson Andrea Rush said.
"Value growth is particularly strong in the Hawke's Bay, South Wairarapa and Masterton markets, which continue to benefit from those moving out of Auckland and Wellington looking for more affordable housing and better lifestyles.
"Values are flat or decreasing in most parts of Christchurch, while Dunedin value growth has slowed to 0.5% over the past quarter," Rush said.
Here are the regional summaries:
Auckland
Strong sales for well maintained homes in good locations are still being achieved, however sale prices have dropped in some areas compared to what was being achieved during 2016, particularly in outer suburbs," QV Auckland registered valuer James Steele said.
"Lower demand for new builds in larger subdivisions in areas such as Flat Bush and Albany has seen asking prices discounted, particularly in areas where speculators were previously active.
"in the first home market, homes under $750,000 are in high demand and buyers appear not so concerned with the location of the property, as long as it's in their price range."
Hamilton
The Hamilton market has remained relatively subdued over the past month with listings staying on the market for a longer period of time and fewer properties going to auction," QV Hamilton valuer Stephen Hare said.
"We are now starting to see some properties sell for under the listing price, indicating less demand and more opportunities to negotiate.
"We are also starting to see a a dip in sale prices for mid-to-high priced properties, mainly in the Flagstaff area.
"However there's still evidence that desirable and well presented homes are continuing to sell above asking prices.
"The market continues to be void of investment buyers, which is freeing up space for first home buyers who were previously struggling to compete with investors.
"This is resulting in a good supply of low to mid-range price bracketed properties on the market.
Tauranga
"The market in Tauranga and Western Bay of Plenty is currently stable, with the panic buying of 2015/16 now having given way to a more subdued approach from buyers,"  QV Tauranga registered valuer David Hume said.
"Investors are definitely much less active in the market than they were during the previous two years."
Wellington
"Property values in Wellington City have largely flat lined over the last three months while Porirua and the Hutt Valley have seen only modest value growth," QV Wellington registered valuer David Cornford said.
"A lack of homes for sale has resulted in strong competition for well presented properties, particularly in desirable locations and these are achieving good prices.
"Overall, we are seeing a relatively stable market across the board in Wellington, which is very under supplied.
Christchurch
Christchurch City values continue to plateau, rising just 0.1% year on year, and they decreased slightly by 0.4% over the past three months, QV said in its August report.
"This is because there is less demand in the market currently.
"Spring is traditionally a good time to sell property, so moving into the season it's possible that there may be increased activity.
"However this is unlikely to spur increased value growth."
Dunedin
"Dunedin residential property values continue to rise but at a slower rate than earlier in the year with quarterly growth having slowed to 0.5% over the winter months," QV Dunedin registered valuer Aidan Young said.
"For those properties on the market there is strong demand with multi-offer scenarios still common."
Click on the link below to download QV's average residential property values throughout the country:
QV House Price Index 31AUG2017-cced7d799c6e86033e79d9699f973ecf210437d4 (1).xlsx