QV's latest figures show housing values in Auckland are almost back to where they were a year ago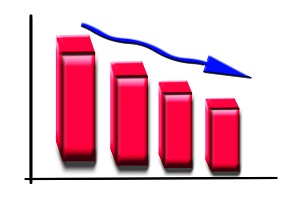 Average housing values in Auckland have fallen for the last four months in a row and are now virtually back where they were 12 months ago, according to Quotable Value.
QV's rolling three month Auckland average House Price Index has declined in each of the last three months in a slow but steady slide, falling from $1,045,059 in June to $1,039,066 in September.
The average value of homes in Auckland is now up just 0.8% compared to September last year, meaning the last 12 months of capital gains in the region have been all but wiped out.
In June the average value in Auckland was up 7.2% compared to a year earlier.
The slide in property values has affected all parts of the city except Pukekohe in the south.
In Rodney the average dwelling value has slipped from $955,814 in June to $939,955 in September, on the North Shore it's fallen from $1,203,775 to $1,195,052, in Waitakere from $823,630 to $816,408, in central Auckland from $1,228,005 to $1,226,375, in Manukau from $900,766 to $897,957, and in Franklin it has dropped from $666,845 to $663,080.
Papakura was the only area where the average value was above where it was four months ago, at $679,072 in September compared to $677,340 in June..
In the main centres, average property values in September were also down compared to June in Tauranga, Wellington region, Christchurch, and Queenstown Lakes.
Average dwelling values in Christchurch were 0.8% lower in September than they were a year ago..
However average values were continuing to rise in Hamilton, Napier, New Plymouth, Whanganui, Palmerston North, Nelson, Timaru, Dunedin and Invercargill.
"The reductions in quarterly value growth have extended from just the main centres last month to almost all the 15 major urban areas we track, with the exception of Rotorua, Palmerston North, Dunedin and Invercargill," QV national spokesperson David Nagel said.
"The year on year growth is still showing double digit gains in many of New Zealand's provincial towns, however the quarterly change shows a gradual slowing of the market in almost all city locations.
"Values are reflecting decreases in all but a few isolated pockets of Auckland, while Tauranga and Christchurch have also shown a small decline over the past quarter.
"The normal spring surge in property listings still hasn't eventuated throughout most of the country and this lack of supply has helped insulate the market from more significant falls in values," he said.
Here's a link to QV's House Price Index for September with average dwelling values throughout the country
QV House Price Index_30SEP2017-f9c73393793ae9ca566b9f32c39d62d9839c39b0 (1).xlsx
You can receive all of our property articles automatically by subscribing to our free email Property Newsletter. This will deliver all of our property-related articles, including auction results and interest rate updates, directly to your in-box 3-5 times a week. We don't share your details with third parties and you can unsubscribe at any time. To subscribe just click on this link, scroll down to "Property email newsletter" and enter your email address.
| | | | | |
| --- | --- | --- | --- | --- |
| Territorial authority | Average current value | 12 month change% | 3 month change % | Since 2007 market peak change % |
|   |   |   |   |   |
| Auckland Region | 1,039,066 | 0.8% | -0.6% | 90.1% |
| Wellington Region | 606,322 | 9.6% | -0.5% | 33.1% |
| Main Urban Areas | 758,639 | 2.1% | 0.9% | 65.2% |
| Total New Zealand | 646,378 | 4.3% | 1.1% | 56.0% |
|   |   |   |   |   |
| Far North | 409,120 | 10.5% | 0.2% | 2.7% |
| Whangarei | 500,801 | 13.5% | 1.7% | 26.4% |
| Kaipara | 515,516 | 19.1% | -1.0% | 29.9% |
| Auckland - Rodney | 939,955 | 5.0% | -1.7% | 60.3% |
| Rodney - Hibiscus Coast | 937,359 | 6.9% | 0.9% | 59.6% |
| Rodney - North | 946,744 | 3.7% | -3.9% | 57.6% |
| Auckland - North Shore | 1,195,052 | -1.1% | -0.7% | 85.2% |
| North Shore - Coastal | 1,363,735 | -0.9% | -0.9% | 81.0% |
| North Shore - Onewa | 961,224 | -1.5% | 0.5% | 93.8% |
| North Shore - North Harbour | 1,167,255 | -0.9% | -2.0% | 92.1% |
| Auckland - Waitakere | 816,408 | -1.0% | -0.9% | 92.5% |
| Auckland - City | 1,226,375 | 2.7% | -0.1% | 97.0% |
| Auckland City - Central | 1,079,348 | 5.7% | 0.6% | 89.5% |
| Auckland_City - East | 1,532,259 | 3.3% | -0.2% | 92.3% |
| Auckland City - South | 1,099,479 | -0.3% | -0.4% | 104.2% |
| Auckland City - Islands | 1,088,716 | 5.6% | -1.0% | 70.3% |
| Auckland - Manukau | 897,957 | 0.2% | -0.3% | 96.2% |
| Manukau - East | 1,158,720 | 0.3% | -0.9% | 94.4% |
| Manukau - Central | 688,487 | -0.3% | 0.6% | 83.2% |
| Manukau - North West | 771,872 | 1.0% | 0.0% | 108.9% |
| Auckland - Papakura | 679,072 | 1.7% | 0.3% | 88.8% |
| Auckland - Franklin | 663,080 | 5.4% | -0.6% | 67.6% |
| Thames Coromandel | 718,962 | 16.5% | 1.2% | 23.7% |
| Hauraki | 400,929 | 23.6% | 2.3% | 43.7% |
| Waikato | 442,066 | 9.5% | -2.5% | 46.0% |
| Matamata Piako | 436,715 | 20.1% | 4.2% | 49.7% |
| Hamilton | 546,402 | 3.2% | 1.3% | 51.1% |
| Hamilton - North East | 691,429 | 2.1% | 1.7% | 53.8% |
| Hamilton - Central & North West | 505,665 | 2.1% | 1.5% | 41.3% |
| Hamilton - South East | 494,249 | 3.5% | 0.5% | 41.4% |
| Hamilton - South West | 487,041 | 5.4% | 0.9% | 42.3% |
| Waipa | 526,055 | 13.2% | 2.2% | 59.8% |
| Otorohanga | 290,582 | 19.4% | 0.9% | 5.4% |
| South Waikato | 209,480 | 24.4% | 1.4% | 28.4% |
| Waitomo | 200,234 | 23.9% | 4.5% | -5.7% |
| Taupo | 445,623 | 9.0% | -0.2% | 11.2% |
| Western BOP | 614,822 | 6.9% | 0.4% | 36.5% |
| Tauranga | 686,759 | 6.6% | -0.1% | 42.6% |
| Rotorua | 411,544 | 16.2% | 4.5% | 40.2% |
| Whakatane | 409,953 | 12.4% | 2.7% | 17.8% |
| Kawerau | 190,312 | 26.3% | 4.7% | 19.5% |
| Opotiki | 272,953 | 3.3% | -7.4% | -4.0% |
| Gisborne | 295,010 | 16.4% | 3.2% | -0.8% |
| Wairoa | N/A | N/A | N/A | N/A |
| Hastings | 431,805 | 17.6% | 2.8% | 38.5% |
| Napier | 465,943 | 18.4% | 5.2% | 36.9% |
| Central Hawkes Bay | 285,946 | 23.9% | 1.7% | 7.9% |
| New Plymouth | 425,182 | 6.8% | 0.5% | 28.6% |
| Stratford | 253,858 | 13.8% | 7.5% | 16.1% |
| South Taranaki | 210,539 | 7.5% | 6.0% | 6.5% |
| Ruapehu | 168,292 | 14.6% | 3.0% | -6.7% |
| Whanganui | 230,098 | 13.5% | 1.6% | 2.7% |
| Rangitikei | 179,136 | 10.9% | -3.9% | -1.0% |
| Manawatu | 312,089 | 13.0% | 1.1% | 22.7% |
| Palmerston North | 366,104 | 10.4% | 2.3% | 22.7% |
| Tararua | 177,788 | 12.5% | 1.1% | 0.8% |
| Horowhenua | 287,454 | 19.8% | 3.2% | 20.8% |
| Kapiti Coast | 525,799 | 17.3% | 3.5% | 37.3% |
| Porirua | 521,385 | 15.1% | 2.3% | 36.5% |
| Upper Hutt | 457,847 | 14.0% | 2.1% | 30.3% |
| Hutt | 519,410 | 14.6% | 1.9% | 32.3% |
| Wellington | 732,708 | 10.7% | 0.8% | 37.6% |
| Wellington - Central & South | 729,323 | 10.1% | -0.2% | 30.2% |
| Wellington - East | 813,927 | 13.3% | 3.6% | 41.2% |
| Wellington - North | 643,881 | 9.7% | 0.0% | 38.1% |
| Wellington - West | 849,228 | 10.4% | 0.7% | 39.8% |
| Masterton | 312,958 | 20.1% | 3.1% | 9.5% |
| Carterton | 343,836 | 14.7% | -1.4% | 23.4% |
| South Wairarapa | 436,400 | 28.0% | 5.8% | 29.0% |
| Tasman | 539,866 | 13.6% | 0.9% | 34.4% |
| Nelson | 545,565 | 14.4% | 2.5% | 42.5% |
| Marlborough | 435,101 | 6.6% | -0.7% | 11.6% |
| Kaikoura | 385,361 | 1.9% | 0.5% | -10.8% |
| Buller | 187,053 | -3.2% | 0.5% | -9.0% |
| Grey | 208,745 | 0.2% | -1.2% | -14.6% |
| Westland | 237,354 | 1.8% | -6.1% | -1.1% |
| Hurunui | 369,031 | -0.5% | -2.0% | 18.1% |
| Waimakariri | 432,641 | 1.1% | -1.7% | 35.1% |
| Christchurch | 491,626 | -0.8% | -1.0% | 29.6% |
| Christchurch - East | 370,754 | -1.0% | -0.4% | 19.8% |
| Christchurch - Hills | 649,101 | -4.6% | -2.3% | 17.4% |
| Christchurch - Central & North | 580,029 | -0.8% | -1.1% | 31.0% |
| Christchurch - Southwest | 471,582 | 0.8% | -0.9% | 38.9% |
| Christchurch - Banks Peninsula | 513,416 | 0.0% | 1.1% | 6.9% |
| Selwyn | 542,327 | 1.2% | -0.7% | 45.4% |
| Ashburton | 345,070 | -2.2% | -0.8% | 23.3% |
| Timaru | 352,195 | 6.4% | 1.9% | 40.3% |
| MacKenzie | 486,669 | 28.3% | 5.7% | 69.9% |
| Waimate | 222,341 | 1.9% | 1.4% | 17.9% |
| Waitaki | 287,866 | 15.2% | 3.3% | 26.1% |
| Central Otago | 467,482 | 16.4% | 3.2% | 47.5% |
| Queenstown Lakes | 1,079,748 | 12.6% | 0.7% | 57.0% |
| Dunedin | 380,701 | 12.2% | 1.4% | 33.0% |
| Dunedin - Central & North | 398,393 | 11.9% | 2.5% | 32.0% |
| Dunedin - Peninsular & Coastal | 344,916 | 13.2% | -0.4% | 27.4% |
| Dunedin - South | 355,886 | 9.8% | 0.0% | 24.6% |
| Dunedin - Taieri | 398,890 | 14.5% | 2.2% | 35.7% |
| Clutha | 205,331 | 12.9% | 4.8% | 13.3% |
| Southland | 254,104 | 13.3% | 0.1% | 10.4% |
| Gore | 216,798 | 9.6% | 2.9% | 23.3% |
| Invercargill | 244,691 | 6.4% | 1.2% | 10.9% |