BNZ's Tony Alexander describes new government's ban on foreigners buying houses as 'clever', and says it 'aligns NZ with the foreign buying policies of almost all other countries'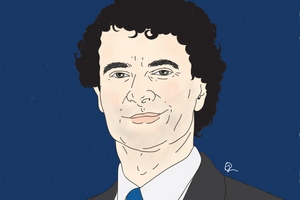 BNZ's colourful chief economist Tony Alexander has thrown his support behind the new government's move to block non-resident foreigners from buying existing houses.
Prime Minister Jacinda Ardern this week announced that residential housing will be classed as "sensitive" under the Overseas Investment Act. Ardern said this means non-residents or non-citizens - aside from Australians- can't buy existing residential dwellings. She said the move wouldn't clash with the vast majority of New Zealand's free trade agreements (FTAs), with the exception of Singapore's, which is up for renegotiation soon.
In his Weekly Overview Alexander said that, contrary to the denial by the previous National Party government that such a ban was possible, the new Labour Party-led government has "easily
found a way around" violating or renegotiating trade and investment treaties by simply reclassifying all residential land as "sensitive".
"That means in the same class as fronting water, historical sites etc. Clever," Alexander said.
"The legislation will be passed before the end of the year and means that while Kiwis and Aussies can buy what they want, everyone else who cannot attach a certificate proving they are a citizen or NZ resident is out of luck. They can of course apply for an exemption – good luck with that."
"The ban will take some foreign buyers out of the market therefore will take some upward price pressure away. This is a positive thing given the way NZ property prices have soared in recent years. It aligns NZ with the foreign buying policies of almost all other countries. And it is something I advocated before Labour adopted it as policy a few years ago," Alexander added.
"Will the change validate those forecasts floating around of Auckland house prices on average falling 13%? No. Demand growth continues to exceed supply growth."
However, he suggests the next couple of years will bring some "shuffling of property ownership" with  many investors selling because they can't find a developer to buy their land to build townhouses, they can't fund negative cash flows unable to be offset against other income in an environment when capital gains will prove elusive, or because they don't want the extra hassles for landlords coming via compulsory warrants of fitness, limitations on rent rise frequency, or increased notice for tenants to vacate.