Four bedroom bungalow on a large potentially subdividable section in south Auckland sells at auction for $475,000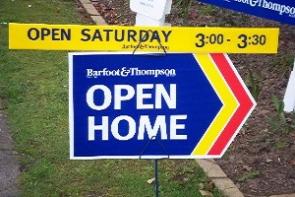 Barfoot & Thompson achieved sales on more than a third of the properties at its auctions last week.
The agency, which is Auckland's largest by far, marketed 197 properties for sale by auction and achieved sales on 75 of them, giving an overall sales clearance rate of 38%.
At the Manukau auction, where most of the properties offered were in south or eastern Auckland, the sales rate was 28%, while at the North Shore auction a 31% sales rate was achieved.
At Barfoot's head office auction rooms, where most of the properties offered were in the central Auckland suburbs, the clearance rates were generally above 40% and at the auction on 23 February where most of the properties offered were in west Auckland, the clearance rate was 30% (see chart below for the results from all of Barfoot's auctions last week).
Prices ranged from $475,000 for a four bedroom bungalow on a potentially subdividable section at Tuakau, to $3.24 million for a large, modern house with a pool at St Heliers.
Details of all the properties offered, and the prices achieved on those that sold, can be viewed on our Residential Auction Results page.
Barfoot & Thompson Auction Results 19-25 February 2018

| | | | | | |
| --- | --- | --- | --- | --- | --- |
| Date  | Venue | Sold | Not sold | Total | % Sold |
| 19-25 February | On site | 9 | 6 | 15 | 60% |
| 20 February  | Manukau | 9 | 23 | 32 | 28% |
| 20 February | Shortland St, CBD | 4 | 5 | 9 | 44% |
| 21 February | Mortgagee/High Court | 1 | - | 1 | 100% |
| 21 February  | Shortland St, CBD. | `17 | 22 | 39 | 44% |
| 21 February | Whangarei | 1 | 3 | 4 | 25% |
| 21 February  | Pukekohe | 6 | 9 | 15 | 40% |
| 22 February | North Shore | 13 | 29 | 42 | 31% |
| 22 February | Shortland St, CBD. | 9 | 11 | 20 | 45% |
| 23 February | Shortland St, CBD, | 6 | 14 | 20 | 30% |
| Total | All venues | 75 | 122 | 197 | 38% |