Mixed use character building with two shops and a big flat above and a development site at the rear fetches $825,000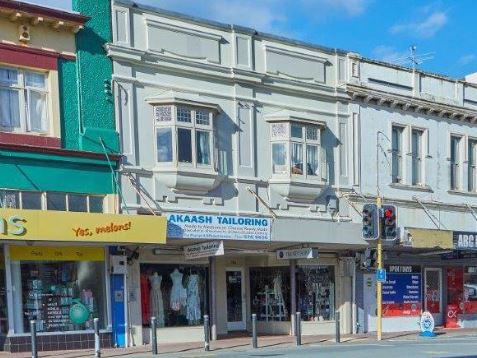 A mixed use character building on the main shopping strip at Petone in Lower Hutt attracted plenty of attention from potential buyers because it came with a 225 square metre section used for car parking at the rear.
The rear section was on its own title and could be developed separately from the established building at the front, giving investors and developers several options.
The main building had two retail premises on the ground floor with a spacious four bedroom flat above,
while the adjoining 225 square metre section behind the shops was used for parking.
All up the property was providing net rental income of $36,386 pa (plus GST), however Paul Cudby of Bayleys Capital Commercial, who marketed the property with his colleague Andrew Smith, said they believed there was potential for the rental income to be increased $66,678 pa.
However the character building would likely require additional seismic strengthening work estimated to
cost around $130,000.
Additionally the section at the rear could be developed and zoning allowed for a building up to 10 metres high with a floor plate of 175 square metres, which would allow a boutique apartment development.
Potential buyers could choose to either keep the existing building with the possibility of selling the rear section at some stage, developing the rear section or redeveloping the entire property.
Cudby said there was substantial interest in the property with half a dozen serious bidders when it went under the hammer.
It was purchased by two business partners with complementary skill sets, one who will develop a building on the rear section while the other refurbishes the character building at the front.
Details of other recent investment property sales from around the country are available on our Commercial Property Sales page.
You can receive all of our property articles automatically by subscribing to our free email Property Newsletter. This will deliver all of our property-related articles, including auction results and interest rate updates, directly to your in-box 3-5 times a week. We don't share your details with third parties and you can unsubscribe at any time. To subscribe just click on this link, scroll down to "Property email newsletter" and enter your email address.