Reserve Bank Governor Adrian Orr says if the aim is to get more people into houses, it makes sense restrictions don't apply to KiwiBuild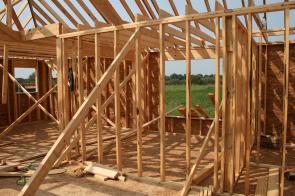 Reserve Bank Governor Adrian Orr thinks KiwiBuild homes should be exempt from loan-to-value ratio (LVR) restrictions.
Speaking to The Nation on Saturday, Orr said this makes sense as the policy is aiming to get people with lower incomes and families into homes.
"It's about adding supply [to the market] not demand."
He says it makes sense to make housing more available to these people - the quicker and less restrictive, the better.
"Whether it's an LVR exemption or some kind of income restriction, if the aim is to get affordable houses out there to people who can't afford them presently, then make [houses] more affordable."
Speaking to reporters after releasing the Reserve Bank's Financial Stability report on Wednesday, Orr said the central bank would wait until at least November before it loosened LVR restrictions further.
Speaking to The Nation, he said if inflation pressure comes out of the housing market, and credit growth remains very low, then LVRs may be able to be removed.
"Our nervousness is, if we remove them, do banks just go back to pumping the credit again?"
He says the Reserve Bank needs confidence that won't happen.
Meanwhile, Orr is leaving the door open for a Royal Commission inquiry into New Zealand's banking sector.
He had previously said one is not needed.
"Our recommendation might be, there needs to be a legislative change here."
This week, Orr and Financial Markets Authority (FMA) Chief Executive Rob Everett briefed MPs on their progress in looking into the banking sector.
"We have a pretty clear guide as to where we now need to lift the lid and say 'well they said this, is it real? If so, show us how it happened in practice,'" Orr says. 
"We need to be talking to staff, customers, chairs of the boards - and that's what we'll be doing over the next few months."
He says the regulators will be looking into the banks' governance, their code of conducts, their consumer focus and their remediation practices.
From what he has seen so far, the latter two areas don't seem to be an issue in New Zealand.