CBRE posts 20% revenue gain and doubles operating profit, while Colliers and JLL take a dip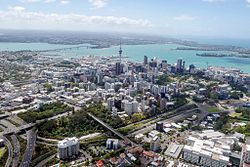 The property market has been booming but there have been ups and downs for some of the main commercial property agencies, according to their latest financial statements.
Three of the major commercial property agencies, Colliers International, CBRE and JLL, are required to publish their annual accounts because they have overseas owners.
These show that in the 12 months to the end of December last year, CBRE enjoyed a substantial increase in revenue while Colliers and JLL suffered declines.
CBRE's operating revenue increased to $55.5 million in the 12 months to December 2017 (up 20%) from $46.1 million in the 12 months to December 2016, while operating profit almost doubled to $4 million from $2.1 million.
CBRE (NZ) Executive Chairman Brent McGregor said the company had strong growth in several parts of its business last year including industrial leasing, valuations, agricultural property and residential projects.
There was also strong growth in its corporate services division which works for corporate tenants that are leasing their premises.
McGregor said the company took "quite a bit of market share" from its competitors last year and was still seeing good growth this year, particularly on the corporate valuation and agricultural property fronts.
There was also continuing strong interest in New Zealand commercial property from overseas investors, some of which were starting to look at alternative asset classes such as private medical facilities and student accommodation.
Some local investors, especially those with higher levels of debt, were taking advantage of recent capital growth and cashing up, while those with lower debt were tending to sit tight.
However some property sectors were performing better than others and retail property rents were flat as retailers faced a challenging environment, he said.
At Colliers International revenue declined last year for the first time in 10 years, from $113.9 million in 2016 to $108.2 million in 2017 (-5%).
Colliers' business is in two parts, its Auckland operation which is directly owned by its overseas parent and its franchised operations around the rest of the country.
The decline in revenue occurred in the Auckland office where it dropped form $71.9 million to $65.2 million (-9.4%) while revenue at the franchised offices was up slightly, from $42 million to $43 million.
Colliers NZ Chief Operating Officer Mark Synnott said most of the decline in revenue occurred in the company's capital markets division, which handles major transactions for corporate clients.
He said there were some very large transactions that took place in the second half of last year where, for various reasons, settlement was delayed until the first half of this year.
Because of that, last year's financial accounts understated the level of business done by the company, while this year's accounts were tending to overstate the level of business done so far.
Synnott said the company's results for this year were likely to be well above what they were in 2016.
The third major commercial agency to report their results - JLL (formerly Jones Lang LaSalle), posted a 2% drop in revenue which declined from $27.2 million in 2016 to $26.5 million in 2017.
You can receive all of our property articles automatically by subscribing to our free email Property Newsletter. This will deliver all of our property-related articles, including auction results and interest rate updates, directly to your in-box 3-5 times a week. We don't share your details with third parties and you can unsubscribe at any time. To subscribe just click on this link, scroll down to "Property email newsletter" and enter your email address.