The Minister of Housing wants to see the $650,000 Auckland price cap for KiwiBuild houses fall, as building costs drop – he 'expects' this to reduce overall average house prices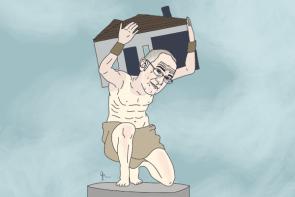 The Auckland suburb of Northcote can look forward to a sizeable new housing development, with Minister of Housing Phil Twyford announcing a 1200 home development in the area.
Of those, 400 will be classed as affordable homes, meaning their price won't exceed $650,000.
Twyford says this is the maximum price anyone will pay for a KiwiBuild home in Auckland and is expecting that price to fall as the Government gets further into ins 10-year KiwiBuild plan.
Outside Auckland, the cap is $500,000.
"These are caps, not targets; we're going to do as much as we can to drive down those prices," he told journalists at a briefing on Thursday.
He is expecting the caps to drop as building costs fall, with the help of prefabricated homes, which are cheaper to produce.
He is also expecting the injection of KiwiBuild homes will eventually help lower average house prices in Auckland.
"The whole idea of the scheme is for the Government to use its ability, our balance sheet, to finance the building of these homes and then selling them at cost to first home buyers.
"We want to drive down prices."
He says this is good news for developers and construction companies.
"We have had a lot of discussions over the years with Fletchers and lots of other members of the construction industry and development community. They want to expand the industry and build more."
He says KiwiBuild gives them more chance to meet demand.
"At the moment, the construction sector is so volatile. It goes up and down in such an extreme way that firms are very reluctant to build internal capability and take on more staff because they know the cycle is going to come and they will have to lay people off."
KiwiBuild's eve
The Government's KiwiBuild programme officially kicks off on July 1. Twyford expects over the next year, 1000 homes will be built.
In the 2019/20 year, that number jumps to 5000 before doubling to 10,000 in 2021/22.
Every year from then until 2028, 12,000 KiwiBuild homes will be built a year.
Twyford expects the first Northcote KiwiBuild home will be finished sometime next year – he could not give specifics as to what month.
On Monday, Twyford is taking an eligibility criteria to Cabinet to get the sign-off. He says a website, where people can register interest, will be set up early next month.
The Government does not want to push people out of their own communities with KiwiBuild and is looking at giving local residents at the "front of the queue" for the homes, he says.
"[It's about] making sure the people who live in those communities aren't driven out by the process of redevelopment and we want to give them the best of the opportunities to stay there."