Barfoot & Thompson achieved sales on 37% of the properties at their latest auctions, with almost half of them selling for more than their rating valuations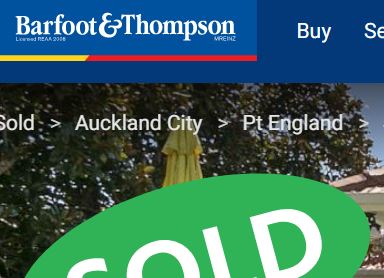 Barfoot & Thompson achieved sales on just over a third of the properties at the agency's latest auctions.
Barfoots marketed 97 residential properties for sale by auction last week and achieved sales on 36 of them, giving an overall clearance rate of 37%.
At the major auctions the highlight was the Shortland St auction on 12 September where 23 properties from a mix of suburbs including Glendowie, Panmure, Remuera, Te Atatu and New Lynn were offered and sales were achieved on 10 of them, giving a sales clearance rate of 43%.
At the Manukau auction the sales rate was 31% and on the North Shore it was 27%.
Interest.co.nz has started publishing the latest council Rating Valuations for properties sold at auction, where they are available.
This enables our readers to see at a glance how selling price compared to the Rating Valuation of a particular property.
Of the 36 properties that sold at Barfoot's auctions last week, 17 sold for more than their rating valuation, nine sold for less than their rating valuation, two sold for the same as their rating valuation and the prices were not disclosed on eight of the properties that sold.
Although the Rating Valuations in Auckland were published in July last year so are a bit out of date, they do provide a fixed point against which to measure the latest prices.
Readers should be cautious about about making assumptions about market trends based on these figures, because auction sales represent a small portion of the market and the sales figures do not take into account how much the properties that are passed in ultimately sell for.
However we hope our readers find this new feature a useful addition to the property-based data and information we provide.
Details of the individual properties offered and the prices and Rating Valuations for most of those that sold are available on our Residential Auction Results page.
Barfoot & Thompson Auction Results 10-16 September 2018

| | | | | | |
| --- | --- | --- | --- | --- | --- |
| Date  | Venue | Sold | Not sold | Total | % Sold |
| 15 September | B&T Blockhouse Bay | 0 | 1 | 1 | 0 |
| 15 September | On site | 4 | 4 | 8 | 50% |
| 11 September | Manukau | 4 | 9 | 13 | 31% |
| 11 September | B&T Shortland St, CBD. | 1 | 5 | 6 | 17% |
| 12 September | B&T mortgagee/court | 2 | 0 | 2 | 100% |
| 12 September | B&T Shortland St, CBD. | 10 | 13 | 23 | 43% |
| 12 September  | Warkworth | 0 | 2 | 2 | 0 |
| 12 September | Pukekohe | 1 | 2 | 3 | 33% |
| 13 September | North Shore | 6 | 16 | 22 | 27% |
| 13 September | B&T Shortland St, CBD. | 4 | 3 | 7 | 57% |
| 14 September | B&T Shortland St, CBD. | 4 | 6 | 10 | 40% |
| Total | All venues | 36 | 61 | 97 | 37% |