Comparing auction selling prices to rating valuations suggests prices are relatively steady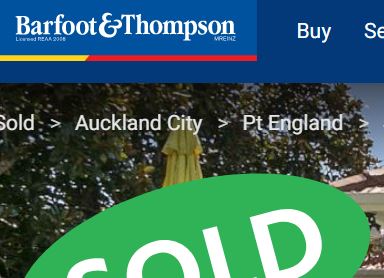 Barfoot & Thompson's latest auction results suggest an ongoing increase in auction activity while prices hold steady.
The agency, which is the largest in Auckland, marketed 200 residential properties for sale by auction last week and achieved sales on a third of them.
Of the 59 properties where interest.co.nz was able to match a property's selling price with its rating valuation (RV), 27 sold for more than their RV, 30 sold for less than their RV and two sold for the same as their RV.
Of the major auctions where at least 10 properties were offered, the highest sales rate was at the Shortland Street auction on October 11, where most of the properties offered were from a mix of west Auckland and central fringe suburbs such as Henderson, Onehunga, Glen Eden, Greenlane, Hillsborough, and Mt Wellington. The sales rate was 54%.
The lowest sales rate at the major auctions was the North Shore auction at 25%.
Barfoot's on site auctions continue to perform well with a sales rate of 44% last week, and it was 31% at the big Manukau auction.
The prices and rating valuations of most of the properties that sold are available on our Residential Auction Results page.
Barfoot & Thompson Residential Auction Results 8-14 October 2018

| | | | | | |
| --- | --- | --- | --- | --- | --- |
| Date | Venue | Sold | Not Sold | Total  | % Sold |
| 8-14 October | On site | 8 | 10 | 18 | 44% |
| 9 October | Manukau | 13 | 29 | 42 | 31% |
| 9 October  | B&T, Shortland St, CBD | 8 | 10 | 18 | 44% |
| 10 October | B&T mortgagee/High Court | 0 | 2 | 2 | 0 |
| 10 October | B&T, Shortland St, CBD | 11 | 27 | 38 | 29% |
| 10 October | Pukekohe | 2 | 2 | 4 | 50% |
| 11 October | North Shore | 11 | 33 | 44 | 25% |
| 11 October | Kerikeri | 1 | 2 | 3 | 33% |
| 11 October | B&T Shortland St, CBD | 7 | 6 | 13 | 54% |
| 12 October | B&T Shortland St, CBD | 7 | 11 | 18 | 39% |
| Total | All venues | 68 | 132 | 200 | 34% |