Investors from Auckland, Hamilton and Tauranga were kicking the tyres on a retail premises with two tenancies near Waikato Stadium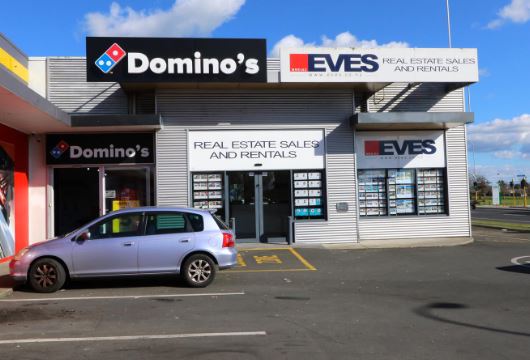 Investment Property Snapshot
 What: Retail premises with 2 tenancies
 Where: Hamilton
 Sold for: $1,540,000
 Net Rental Yield 5.87%
The retail premises at 11 Willoughby St in Hamilton had most of the features private commercial property investors look for.
With a floor area of 392 square metres, it is located in the northern periphery of Hamilton's CBD on a main thoroughfare close to Countdown and Pak'nSave supermarkets and the Waikato Stadium, and is a modern building with no seismic rating issues that had been split into two tenancies, one occupied by a Domino's pizza outlet and the other by an Eves Real Estate branch. 
The main negative for most investors was that the leases didn't have long to run, with one expiring in 2022 and the other in September next year.
Alan Pracy of Colliers International in Hamilton, who marketed the property with his colleague Justin Oliver, said 70% to 80% of the potential buyers who were interested in the property were experienced commercial property investors, with most of them based in Hamilton, Auckland and Tauranga. 
The other 20% to 30% were mostly people looking to
move money out of term deposits into higher yielding investments, or rural folk who had sold a farm and were looking to invest the proceeds.
The property was marketed for sale by negotiation and was purchased by an investor rebalancing their portfolio for $1.54 million.
The two tenancies were providing combined net rental income of $90,422 a year, providing the new owner with a net rental yield of 5.87%.
Pracy said buyers would have been prepared to pay a bit more for the property if the leases had longer to run, in which case a yield in the low 5% range would have been likely.
Details including the selling prices of other commercial properties which have been sold are available on our Commercial Property Sales page.
You can receive all of our property articles automatically by subscribing to our free email Property Newsletter. This will deliver all of our property-related articles, including auction results and interest rate updates, directly to your in-box 3-5 times a week. We don't share your details with third parties and you can unsubscribe at any time. To subscribe just click on this link, scroll down to "Property email newsletter" and enter your email address.