Around 230 more first home buyers expected to qualify for Housing New Zealand grants a year, and 10 for Welcome Home Loans under scheme tweaks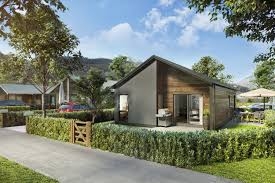 Eligible first home buyers in the regions will now be able to buy slightly more expensive new builds using Housing New Zealand grants and loans.
The Government's upping its house price caps for new builds under its HomeStart grant and Welcome Home Loan schemes from $450,000 to $500,000.
The changes are applicable to homes outside of Auckland, Queenstown, Wellington, Christchurch, Hamilton, Tauranga, and Nelson-Tasman.
Housing and Urban Development Minister Phil Twyford says the caps are being tweaked so they align with KiwiBuild price caps. In other words, so that someone who buys a KiwiBuild home for $500,000 may also be eligible for a Housing New Zealand grant and/or loan.
First home buyers buying a new home, a property bought off the plans or land to build a new home may be eligible for a $6,000 HomeStart Grant if they've been contributing to KiwiSaver for three years, $8,000 if they've been contributing for four years and $10,000 if they've been contributing for five or more years.
Under the Welcome Home Loan scheme, Housing New Zealand underwrites portions of loans issued be selected lenders, so that first home buyers can get mortgages with a 10%, rather than 20%, deposit.
Under both schemes, a single person needs to have an income of less than $85,000 a year (before tax), while a couple needs to have a combined income of less than $130,000, to qualify.
Around 60% of people who have bought KiwiBuild houses to date have incomes below these thresholds.
Twyford says increasing the house price caps is expected to result in HomeStart grants being paid for an additional 230 homes per year and an additional 10 Welcome Home Loans being drawn per year.
"The cost of this increase is estimated to be around $3 million per year, which will be funded within the existing KiwiSaver Deposit subsidy and Housing New Zealand budgets," Twyford says.
"This increase is part of a Government review of home‑ownership products to better align with KiwiBuild, support more house building and help families own their own homes."
The HomeStart and Welcome Home Loan house price caps in New Zealand's main centres are already at or above the KiwiBuild caps.