Bankrupted slumlord's ex takes battle to save her company from liquidation to the Supreme Court and loses; Chow brothers caught up in the mess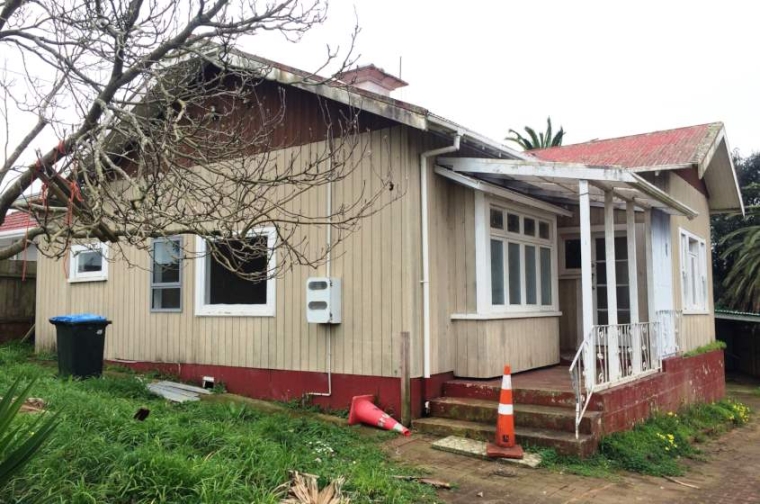 A legal dispute has linked the Chow brothers to the jailed and bankrupted Auckland slumlord, Augustine Lau.
Michael and John Chow – known for making fortunes from brothels, hotels and property deals – took on Lau's ex-partner/girlfriend, Jiawen Mao, in court over money owed to them by a company she was the director of.
The Chow brothers wanted the company, Chen Hong Co Ltd, liquidated. But Mao, under the direction of Lau, stubbornly fought to prevent this.
The Supreme Court on Tuesday ruled in favour of the Chow brothers' company, Inno Capital No.4 Ltd, saying that the company was to be liquidated.
The battle Mao put up was large, given the only property her "property development company" owned was an unsellable, asbestos-ridden place in Auckland.
This property at 88 Fairburn Road, Otahuhu, was one of a number caught up in Lau's dodgy property development scheme.
Augustine Lau's wheelings and dealings
Lau made a name for himself, talking up the booming New Zealand property market to overseas investors. He was involved in house flipping set-ups and promised to make the investors money by modifying their properties to cram more tenants on to them.
In the case of the Fairburn Road property, he had 900 cubic metres of earthworks illegally done. This left a dangerous hole, which was filled with rubbish and debris containing asbestos, close to a stream and the Tamaki Estuary.
Auckland Council remediated the property, but not to the point it could be developed. Despite being on the market for periods since mid-2017, it never sold.
The modifications Lau did to this property and five others (which included converting old classrooms to accommodation and building unsanitary sewage systems) saw him in July receive a record sentence under the Resource Management Act of two years imprisonment.
An Environment Court judge in August ordered Mao to pay a fine of $64,000 and reparations of $155,000 to Auckland Council for being a "willing participant" in wreaking havoc at the Fairburn property and another property in Flat Bush. 
The Chow brothers' connection
While Auckland Council is still chasing Mao and Lau for cash, the Chow brothers were repaid by Chen Hong Co Ltd after they first issued liquidation proceedings against the company in late-2017.
Court documents say Chen Hong Co Ltd in August 2017 become indebted to the Chow brothers' company, Inno Capital No.3 Ltd.
It agreed to pay Inno Capital No.3 Ltd the outstanding balance owing to it by a third company, Mangawhai Property Ltd.
Inno Capital No.3 Ltd held a first mortgage over properties owned by Mangawhai Property Ltd. Chen Hong Co Ltd held a second mortgage. In other words, Chen Hong Co Ltd had guaranteed debt for Mangawhai Property Ltd.
But when Chen Hong Co Ltd didn't make the payments it was supposed to, Inno Capital No.3 Ltd issued liquidation proceedings against it.
As at October 2017, Chen Hong Co Ltd owed it just over $373,000. This was later repaid.
(As an aside, the debt owing to Inno Capital No.3 Ltd was assigned to another company, Inno Capital No.4 Ltd, which also substituted Inno Capital No.3 Ltd in legal proceedings).
The Chow brothers have declined interest.co.nz's invitation to comment on how they came to lend money to Mangawhai Property Ltd, which was tied to Lau. 
The director and sole shareholder of Mangawhai Property Ltd, Yan Lin, wouldn't elaborate on the situation, but accuses Lau of being fraudulent and highlights the fact he's in jail. 
She says if it wasn't for a contractor she used who did business with Lau, "I would not be anywhere near that man". 
The fallout
According to Chen Hong Co's liquidator of Waterstone Insolvency, Chen Hong Co Ltd owes Auckland Council $565,363.
It owes Best Capital Ltd $485,507 for a mortgage on the Fairburn property, and it owes Mao's sister, Jialing Mao, $1 million.
The Court of Appeal judgement says Mao believed there was a "reasonable prospect that, given time, the company could obtain a fresh resource consent and continue with its plan to develop the Fairburn Road property".
Auckland Council, which would supposedly provide that consent, has spent in excess of $1 million on remediation and legal costs related to six properties Lau has been involved with.
Its regulatory compliance manager Steve Pearce says Mao and Lau's offending has been "amongst the most serious we have seen in Auckland".
Auckland Council has received $68,654 of the $155,000 in reparations owed to it by Mao. It hasn't been paid any legal costs, so has issued Mao a civil charging order over a property she personally owns. 
The sole shareholder of Chen Hong Co Ltd was Hong Chen, who owns a number of other residential properties around Auckland.
For more on Augustine Lau, see these stories.