There was strong bidding at the latest Auckland apartment auctions but prices on those that sold were all below their Rating Valuations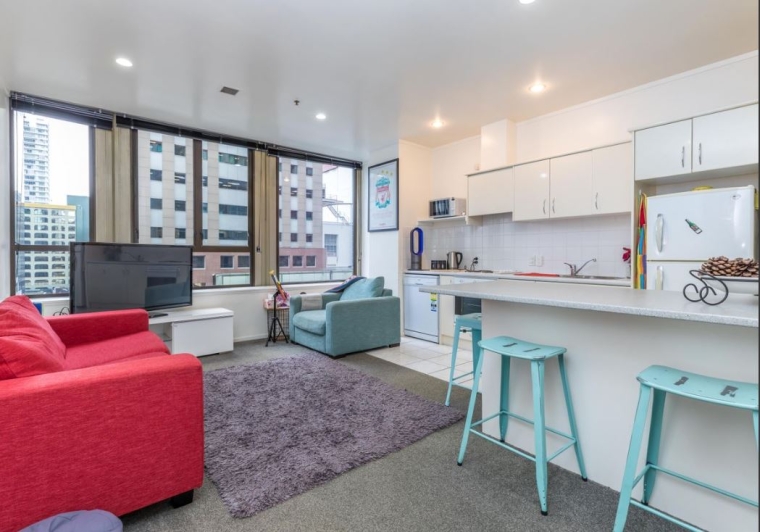 Bidding was surprisingly strong at the latest Auckland apartment auctions, given how weak the overall market in Auckland is at the moment.
At the City Sales auction on April 10, four properties were offered and there was bidding on all of them.
Two were apartments that would be more likely to appeal to owners-occupiers, a three bedroom unit in The Mews complex opposite Basque Park in Eden Terrace, and a two bedroom unit in the Chatham building in Pitt Street.
The other two were facing remediation work of some sort, one in the Docks, which is a leasehold complex near Britomart, and the other in the Harbour City tower in Gore St.
Although there were buyers for the two more upmarket properties, both were passed in, the Eden terrace unit with a top bid of $825,000 and the Pitt St unit with a top bid of $675,000. Both units with remediation issues sold under the hammer, although they achieved knocked down prices, with the Docks unit selling for $150,000 and the Gore St unit for $260,000.
At Ray White City Apartments six units were on offer at the auction on April 11, with five attracting multiple bids and one attracting a single bid. But by the end of the auction only two had sold under the hammer.
There was particularly strong bidding for a one bedroom apartment in the Manhattan building on Albert St and for another one bedroom unit in the H47 building on Hobson St. Both sold under the hammer although at discounts to their 2017 Rating Valuations (RV). The Manhattan unit sold for $345,000 compared to its RV of $360,000, while the H47 unit sold for $499,000 compared to its RV of $540,000.
Although there was active bidding on all four of the units that were passed in, the bids on three of them were so far from their reserves that the top bids before they were passed were vendor bids placed by the auctioneer to try and lift bids up to a level that made a sale more likely.
So the overall under-the-hammer sales rate from both auctions ended up at 40%.
Details and photos of all of the properties offered at both auctions and the prices achieved on those that sold are available on our Residential Auction Results page.
The comment stream on this story is now closed.
You can receive all of our property articles automatically by subscribing to our free email Property Newsletter. This will deliver all of our property-related articles, including auction results and interest rate updates, directly to your in-box 3-5 times a week. We don't share your details with third parties and you can unsubscribe at any time. To subscribe just click on this link, scroll down to "Property email newsletter" and enter your email address.