Public Policy
/
opinion
Robert McLachlan says 2021 was a year in which more ducks got in a row than ever before in the battle against climate change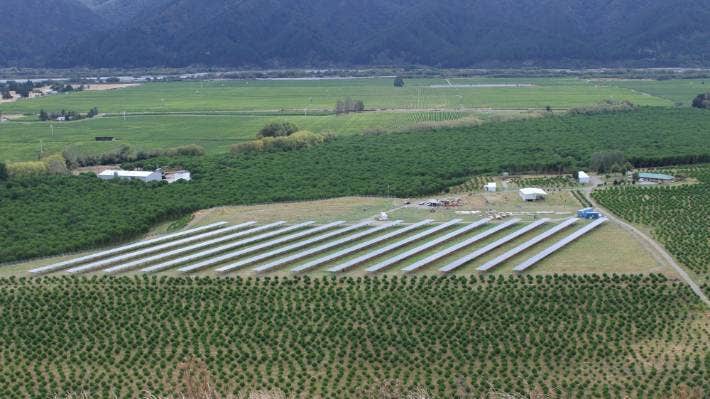 By Robert McLachlan*
2021: the fourth year of the Labour-led government; the first in which it governs alone; the second year of the Covid pandemic; the last year before the Zero Carbon Act kicks in for real. What was achieved for the climate?
In terms of actually cutting emissions, – like removing petrol cars and coal boilers – not a lot. Apart from the Covid-induced slowdown, it's unlikely that emissions have started falling. But changing the entire energy system takes time and preparation. 2021 was a year in which more ducks got in a row than ever before, some of them ducks never before seen in these parts.
Let's check out those ducks and hear them squeak.

Duck 1: Renewable energy, especially solar.
If 2019 was the end of a long wind drought, 2021 was the year in which solar power finally appeared. 
Before this year, New Zealand's largest solar farm was Watercare's 1 MW array, opened in October 2020.
Then in March, Kea Energy's 2 MW solar farm in Marlborough (with 2-sided, sun-tracking panels!) was mostly completed.
In May, Lodestone Energy announced plans for 160 MW of solar across five locations in the upper North Island, to be built over 2021–2023.
In June, Kapuni Energy's 2 MW solar farm in south Taranaki was completed.
In July, Far North Solar Farms kicked off their first 10 MW solar farm, Pukenui, in Northland, and announced plans to build 1000 MW by 2025.
In August, Genesis Energy announced a 60% stake in a joint venture for 500 MW of solar farms, to be built over the next five years. 
In December, Christchurch Airport announced a 150 MW solar farm, 30 MW of which will be built initially.
These farms are small compared to what is being built overseas, where 500 MW solar farms are now common, and small compared to what we'll need in the future – perhaps 20,000 MW by 2050, which sounds like a lot, but it's how much Australia has built in the past five years – but they are much larger than anything seen here before now. 
The combination of falling solar costs and increasing certainty that the government is determined to cut emissions seems to have finally done the trick. Solar now costs about 7c/kWh to build, about the same as new wind or geothermal power. 
Australians have been installing staggering amounts of home rooftop solar. We're not seeing that here yet, although the combination of falling costs and rising electricity prices are bound to have an impact soon. A home solar array now costs $8000, and earns about $800 a year for the owners.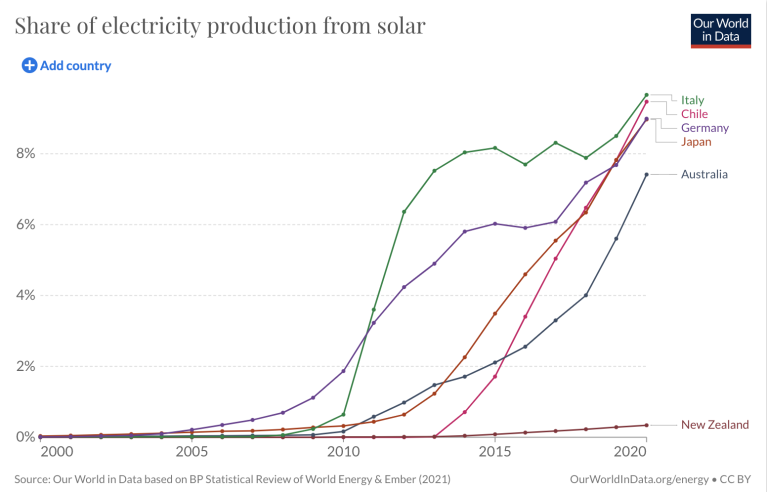 Some world leaders in rapid solar roll-out. It's possible to scale up the solar industry rapidly and cheaply to add 2% of electricity per year. For New Zealand, that would mean building about 300 MW each year.
Less was happening in other areas, although stage 1 of the Turitea wind farm was progressively switched on, and in February, Meridian approved construction of the 176 MW wind farm at Harapaki near Napier.
Also in February, Contact Energy decided to build the 152 MW Tauhara II geothermal plant. This had been suspended last year because of uncertainty over Tiwai Point closure, which in January was delayed to 2024. Although better than coal or gas, the plant will emit 170,000 tonnes of CO2 a year, a point that was scarcely considered ten years ago when consent was granted.
In November, the second offshore wind energy conference was held in Taranaki, home of plentiful wind and shallow seas. (See the slides of the talks.)
So far, none of this has led to any coal or gas plants being decommissioned. That should happen soon. 
Duck 2: Coal angst.
Mainstream and social media were fired up during the year by the massive increase in coal burning for electricity. Many pointed at the immediate cause, namely low lake levels, rather than the longer-term problem of a failure to build renewable supply and to phase out fossil fuels entirely. To the public it seemed to indicate a flaw in the whole idea of electric vehicles (Indonesian coal!!!), but at least the basic idea that coal is bad seems to have been understood.
As the lakes filled and the new wind farms switched on, the problem receded, hopefully never to return.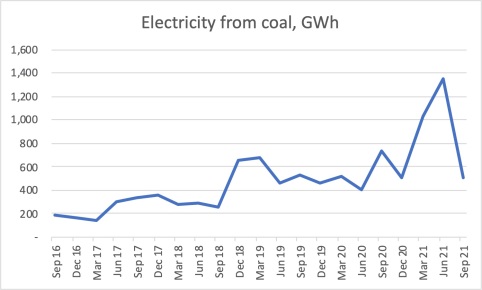 Not what you should be seeing in a climate crisis. (Source: MBIE).
Duck 3: Transition plans appearing.
In February, the Climate Change Commission released their draft advice, containing the carbon budgets out to 2035 and suggested pathways for achieving them. In November, the government responded, not with a plan as they had been required to do, but with an "Emissions Reduction Plan Discussion Document". The plan itself has been delayed until May 2022. The document was criticised as half-baked. Only the transport section was fully detailed, probably because the Ministry of Transport had been hard at work for a while, releasing "Hīkina te Kohupara – Kia mauri ora ai te iwi: Transport Emissions: Pathways to Net Zero by 2050" in May. We're starting to hear the creaking of some very large and interlocked wheels as our entire society prepares to change direction.
Each time a report like this appears, or indeed, any climate action at all is proposed, Matt Burgess from the New Zealand Initiative (formerly the Business Roundtable) comments that the suggested actions will not cut emissions by even a single tonne of CO2, because emissions are capped in the Emissions Trading Scheme. The argument is that any emissions cut in one place will be permitted to be emitted somewhere else. I wonder just what actions he thinks would in fact cut emissions, if the argument applies so universally. David Hall and I took apart his argument in a study of the international experience of emissions trading, which finds that it's just one part of the whole system and cannot work just by itself. (David also wrote this week that Matt Burgess formerly worked for Charles River Associates, an economics consultancy that played a pivotal role in weakening, defeating, and delaying US climate policy since the late 1980s.)
Just to remind you of the scale of the problem, in April the figures for New Zealand's 2019 emissions were released, and they were not good. They had shot up again, with CO2 emissions up 10%, or 3.8 million tonnes, in the three years 2016–2019.
Duck 4: Carbon price.
After years in the doldrums, the carbon price in the New Zealand Emissions Trading Scheme finally took off, reaching $65 by the end of the year. (In Europe, prices reached 91 euros, $156.)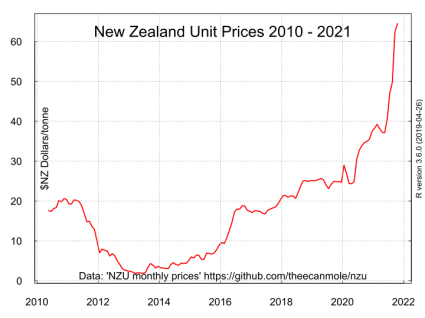 Source: Wikipedia.
The whole market is rather complicated and mysterious. Some of these units have been purchased for future use, hedging against the expectation of higher prices. However, the government can choose to release fewer units in the future depending on the size of the stockpile, which would then send prices higher again.
In August, the government agreed to progressively raise the price ceiling each year, to reach $110/tonne in 2026. If the ceiling is reached, the government can choose to release extra units. This happened for the first time on 1 September, when 7 million units (permission to emit 1 tonne of CO2) were released, all of which were sold. The government may have to "pay back" these emissions in the future, although the cap on emissions doesn't start until 2022.
In July, there was a consultation on reforming the free allocations given to certain export industries, such as tomato growers heating their greenhouses with coal.
But at a certain point, the Emissions Trading Scheme starts to make my brain hurt, so I'll stop here.
Short version: higher carbon price = good; full picture not clear.
Duck 5: Legal action.
In July, Lawyers for Climate Action New Zealand filed for a judicial review of the Climate Change Commission's advice, stating that the proposed emissions budgets are "irrational, unreasonable, and inconsistent with the purpose of the [Zero Carbon] Act". The claim will be heard in the new year.
In August, All Aboard Aotearoa sued Auckland Transport and Auckland Council over a transport plan that fails to reduce emissions.
In December, the sustainable transport group Movement filed for a judicial review of the New Zealand Transport Agency's $24 billion spending plan, on the grounds that it does not take into account their requirement to reduce transport emissions.
Duck 6: Action on car emissions, finally.
The Clean Car Plan, the brainchild of Green MP Julie Anne Genter, which was to have brought in fuel efficiency standards and a system of CO2-based fees and rebates on new cars, was famously scuppered in 2020 by coalition partner New Zealand First. Freed of that shackle by the election, it resurfaced in June 2021 with a surprise twist: the rebates were front loaded and would come into effect immediately, in July. Market share for EVs jumped from 2% to 7%.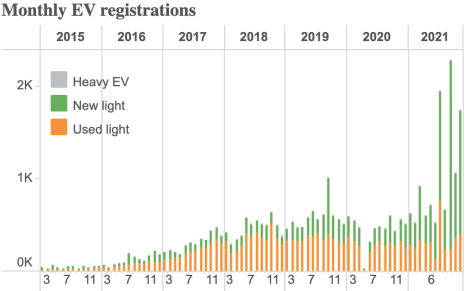 Source: Ministry of Transport.
When we got to see the whole package, there was a further surprise: new emissions targets had be added for 2026 and 2027, and they are sharply lower. They will put us on track to end the import of petrol and diesel cars by 2030. The fossil parts of the car industry complained vociferously. The bill is now in parliament's select committee, who will report back in February 2022.
Duck 7: Money for climate… next year.
Between the motorway-heavy "NZ Upgrade" programme, announced in February 2020 just before Covid, emissions-heavy Covid stimulus spending (criticised by the Climate Change Commission), and one disappointing budget after another, government spending has not reflected the government's supposed climate focus. One big win this year was the announcement in May that revenues from future auctions under the Emission Trading Scheme will be dedicated to climate change. Further details emerged this week: revenue of $4.5 billion over four years, and will go towards international climate aid, adaptation, and mitigation. Definitely a good start; in a year or two it should become clear whether emissions are tracking down fast enough.
Duck 8: Glasgow and the NDC.
Despite heaps of (sometimes confusing) media attention on COP26 in Glasgow – if you missed it, you could do worse than watch Jonathan Pie's very funny and on-point short film The World's End – there was finally an agreement on the rules for international carbon trading. New Zealand has been relying on this, as just before COP26 our updated UN pledge was announced. Climate Minister James Shaw got the headline he wanted ("emissions to halve by 2030") but the reality is somewhat different. Even Climate Change Commission head Rod Carr declined to say that the pledge met their advice.
There are so many potential problems with this, it's hard to know where to start. For one thing, it is hard to imagine New Zealand spending billions of dollars to reduce emissions elsewhere while we continue to pollute at home. If I had to look for a silver lining, it would be that the target is a big step up on what we had before, and it will serve as an additional source of pressure to cut our own emissions.
So those are my eight ducks in a row, eight mostly hopeful signs of climate action in 2021. If it was all too cheerful and positive for you, don't worry, the next post will look at some of the things we're still overlooking and which I hope will receive more attention in 2022.
---
*Robert McLachlan is a professor in the School of Mathematical and Computational Sciences, Massey University, and writes on climate and environmental issues at planetaryecology.org and in other media.