Public Policy
/
opinion
Murray Grimwood outlines why and how be believes our relationship with, and understanding of, energy must change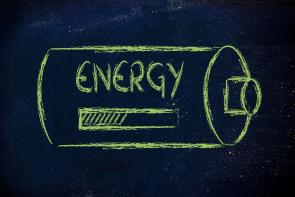 By Murray Grimwood*
Despite submissions and articles, this Government – all the way up to the PM – is still peddling hydrogen, hot air and hopium.
The official story is that we will run a growing economy on renewable energy, including using renewably-sourced energy to create hydrogen. We are even contemplating exporting this 'green' hydrogen to 'make money'. On many levels this is fantasy; it's time we discussed energy – and its relationship with money – honestly. 
Big-picture, all economic activity is dependent on energy. No energy, no work; no work, nothing done. Nothing extracted/processed/proffered, so nothing purchased/trashed. And in that scenario, money would be worth? 
Here in its simplest form, is the big picture; the real story; the true narrative: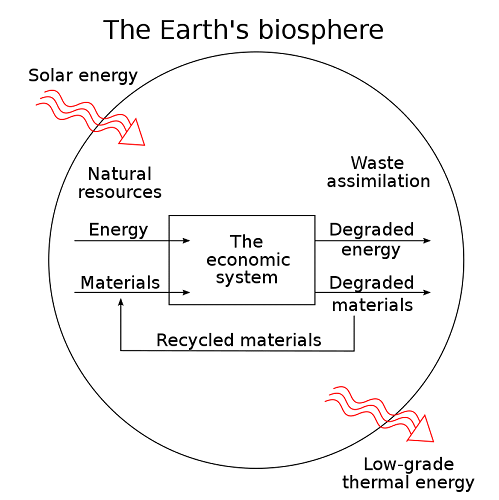 Notice that energy isn't really 'produced'; we collect it, use it, discard it. It cannot be destroyed, but every move reduces its quality. Eventually it becomes the low-grade thermal energy in the diagram; irretrievable because the retrieving would use more energy than it would return.
All life requires energy. The basics being food and a survivable temperature-range. Beyond fundamental needs there is 'surplus energy'; firewood and stored grain being humankind's earliest examples (exogenous examples that is; we've always stored energy in our body-fat).
Every stage of human progress, so often recorded as a societal and technological advancement, can be compared with a graph of contemporary energy-use; the tracks overlay almost perfectly. Put differently, every quantum step-up of human progress thus far, has piggy-backed on an energy step-up.
Now, happening for the first time at global scale, we are entering an energy step-down. We are traversing from fossilised-sunlight energy (fossil fuels, which we are rapidly drawing-down the stocks of) to renewable energy, from which we aren't going to get nearly so much bang for our buck. This is an orders-of-magnitude game-changer, exacerbated by overpopulation.
Growth
Everyone - politicians, businesspeople, bankers, the elite, the disenfranchised - wants growth. But growth is dependent on energy-supply growth – or on endless efficiency-gains; a thermodynamic impossibility - and that graph is heading down. We avoid this unwelcome possibility by hanging onto the every word of a 'discipline' which evolved to study only what happens inside the box in the above diagram: Economics. To continue validating itself, Economics has had to ever-more-stridently deny the existence of the circle outside the box. Trouble is; without the circle we are dead.
New Zealand
In blunt terms, the current level of energy-use in NZ is spilt; 60% fossil, 40% electricity. Let's not delve into how much of the electricity infrastructure was built using, or is being maintained by, fossil energy. Let's also ignore peak-load fossil energy. Roughly speaking, we are betting on a future level of activity – a rate of work – requiring an extra grid-and-a-half. We are going to have to build the infrastructure using the only energy we use to build stuff with; fossil energy. Maintained then by? Nobody has built and maintained renewable infrastructure, using renewable infrastructure. 
EROEI
The reason renewable infrastructure doesn't build infrastructure – and the problem with the likes of hydrogen - is EROEI; Energy Return on Energy Invested. It is a simply-understood equation; if a wolf chases a rabbit but the chase expends more energy than the eating of the rabbit returns, the wolf dies. No exceptions. Plump rabbits, close, are the better target; scrawny ones at a distance, not so much.
In energy terms, we stumbled on an underground store of rabbits, 200 years ago. And fed ourselves as fast as we could, plumpest/closest first. We are about half-way through that one-off store; scrawniness is showing up as fracking, tar-sands, deep-water drilling. Distance, as pipelines, tankers, and energy-sapping wars.
Simply put, it is taking more of the energy we extract, to do the extracting and delivering. In net energy input, global society has almost certainly peaked. 
Not only is it taking more energy to obtain energy; it is taking more of that energy to obtain mineral resources. Where it once took the removal of 10 tons of 'overburden' to get at a ton of copper, we are now removing 400 – using the lower-EROEI oil to do so. Litres expended per ton obtained - obviously - gets worse rapidly, being a product of both exponentially decreasing trends. 
Entropy
Entropy is the flow of energy from left to right in the diagram. It flows from low entropy (high quality) to high entropy (low quality – usually low-grade heat). You leave the air behind you a little warmer as you walk – traceable from sun to crop to food to digestion to muscles to friction/radiation/evaporation (sweat). But – and it's the but of all buts – you would expend more energy going back and scooping it up, than it would give you. 
Entropy also shows up as decay, it's why we can judge people's age visually. Decay requires parrying; meaning energy being applied to maintenance. There has never been more infrastructure on the planet, all decaying exponentially, all competing for an exponentially-reducing energy supply. The graphs cross; triage, there will be. 
Geopolitics
Geopolitically, there will be escalating conflict over energy-supplies. Our social narrative regarding conflict – too often regurgitated unquestioningly by our journalists and historians – concentrates on persona; on 'dratted others'. They were bad, we are good. The histories are largely written by the winners; the truth is that the winners get access to the best resources – which for the last 200 years, have included fossil energy. And the wish to feel good about themselves makes winners avoid inconvenient truths. 
The Holy Grail
Globally and locally, the UN Sustainable Development Goals go unchallenged. But human overpopulation, coupled  with the finite supplies of energy and resources of a finite planet, render half the SDGs unattainable, and expose at least one as a total oxymoron. There can be no guaranteed 'rights' for an unfettered population within the confines of a Bounded System; the assertion was an unfounded anthropocentric arrogance.
Money, aka forward betting
Given that global energy-supply has probably peaked, forward bets are increasingly in danger of becoming invalid; they were, after all, bets on more energy in the future, and on more future resources to apply it to. Pension-expectations, savings, investments, even cash, they're all forward bets. And if there's going to be ever-less available energy (and of lower EROEI, compounded by the ever-worse quality of the remaining resources it will be applied to) then expect increasing supply-chain disruptions.
Expect incurable inflation (for a while, at least). Expect contention as to which currency energy is traded in. (The media, blinded by economic/social thinking and thus failing to understand the primal importance of energy, has missed this global chess-game. It's: 'That dratted Putin', rather than 'Watch thou for the Petro-Ruble, our debts will be exposed.) All sounding familiar? 
Reconciling our current collection of forward bets with reality, would be better than collapse of the system. Maybe it cannot be done – but the appraisal will have to be done by folk who think beyond the box in the diagram. Which rules out the current economics-trained echelon.
Flawed narrative
In a nutshell, our entire social narrative is putting its cart before its horse. We assume business as usual will continue as usual, but it was never usual; it was never more than a temporary fossil-energised hiatus. Having made that fundamentally-flawed assumption, we have made matters worse by making heroic bets on the system growing; exponentially and forever. This within a bounded system (Earth) which is already demonstrably under stress; go figure!
Looking ahead
If we project forward, say, 50 years; NZ will be doing very well indeed if it is running on 50% of the energy it currently enjoys. Globalism – clearly disintegrating now – is gone, export and import volumes mere vestiges of the past. Physical growth is history. The biggest headache has been increasing infrastructure maintenance; all will have been triaged, much discarded, anything remaining will be locally-maintainable. Given the scarcity of energy, it will be used very carefully, very efficiently; driving kids to soccer in the SUV is… unlikely. And on what road-surface anyway? (Fossil feedstock being what roads are made of, and by). 
We will be collecting solar energy directly, and indirectly via hydro and wind. Rivers, windmills, remnant PV panels, water-heating panels, thermal mass (in buildings), food-production, timber, maybe biofuel crops; these will be the collectors. Storage will be in dams, trees, crops, thermal mass, batteries or hydrogen (the latter two being energy-losing propositions).
If we are still thinking environmentally, water-at-height (lakes, ponds, tanks) will be seen as the most benign active-energy storage option. 
Via the efficiency imperative, we will be attempting to access energy as close to its source, with as little transmission, alteration and storage, as possible. Electric and bio-diesel/electric trains are possible; private hydrogen/battery cars – reliant on global supply-chains and unlikely grid upgrades or massive local-generation build-outs – are probably not. Local solar capture – food, house-heating, water-heating, maybe electricity – is valid, meaning that three-storey urban cramming (too many people per sunlit area) is not.
A migration from urban cramming to food-producing land – the logical reverse of the fossil-energised rural-to-city migration over the previous two centuries – is inevitable. (Cities are not ecologically benign, in the same way that 'economies' don't really decouple from their impacts; both demand production and pollution 'somewhere else'. Cities are really just giant heat-engines; only economists – purloining physics terms in an attempt to self-legitimise – call them 'engines of growth'). 
Leadership
In attempting to prolong the un-prolongable, Government, aided by a substantive portion of the Green voice (think: urban cramming, electric vehicles and carbon sequestration) is advocating anything promising plug-and-play replacement for fossil energy. The impossibility of unfettered growth, the overshot state of our own species, the unprecedented degradation of our only home, go uncounted. Thus we get enthusiasm for turning water-at-height into electricity, turning that into hydrogen, attempting to contain that smallest of molecules and export it - to 'make money'. 
False conclusions are the inevitable result of beginning with false assumptions, and we are running out of time to base our assumptions on correct ones. We may, indeed, have already run out of time. Leadership in a period of status-quo is done by those who favour the status-quo.
Leadership in the face of inevitable change, requires Churchillian bravery. Covid was an ideal time for a reset; we extended and pretended. Ukraine was another; yet again, we extended and pretended.
Given the enormity of the change and the speed at which events will come upon us, we need much braver leadership. The problem has been known of for at least the 50 years since Forrester's team at Massachusetts Institute of Technology released World3 (made famous in the Club of Rome publication Limits to Growth, see below via Nate Hagens). 
The problem is simple; given the fossil energy left, we need to ascertain what living on, say, 50% less energy in a post-growth world, would look like for New Zealand. We need to ascertain what infrastructure is worth pursuing (to Onslow or not to Onslow?) – and what would be a waste of the remaining time, energy and resources.
As it is energy and resources per capita, which is the valid measure (true poverty being a lack of both), a smaller population will be wealthier individually than a large one (another point those inside-the-box economists got totally wrong). So we need to have a discussion about maximum desirable population; a reasonable assumption being that it will be less than current, due to the reduction of energy/resource inputs. Better we go there proactively, than waiting for the natural overshoot/collapse sequence. 
It is obviously better that we retain some form of social cohesion during the period ahead. The reduction of surplus energy, coupled with the ever-more of it required to maintain what we've already built, will threaten such cohesion. This too, has to be clearly understood; promise folk the undeliverable and they just get angry; at best they end up on your Parliament grounds in tents. At worst? But promise them 'Blood, toil, tears and sweat', being brutally honest about it, and they might just come with you. 
It's worth a shot; we won't get it all right, but it would better than flying blind. The discussion will be distorted/prolonged by status-quo-vested interests; Pied Pipers promising 'a joyous land…just at hand'. We need to be beyond that; we need to raise our game, see a clearer picture, have a more thoughtful societal discussion. Bring it on, we're late already. 
Useful reading:
https://advisory.kpmg.us/articles/2021/limits-to-growth.html
https://sustainable.unimelb.edu.au/about/honoraries-and-associates/honoraries/dr-graham-turner
https://www.semanticscholar.org/paper/Economics-for-the-future-%E2%80%93-Beyond-the-superorganism-Hagens/ebb923b7a032c0df0419df1c45ea20a69ac3555c
https://escholarship.org/uc/energy_ambitions
https://surplusenergyeconomics.wordpress.com/
https://peakprosperity.com/the-trouble-with-money-3/
https://consciousnessofsheep.co.uk/
 
---
*Murray Grimwood comments on interest.co.nz as powerdownkiwi.