Public Policy
/
analysis
Long-time National President Peter Goodfellow retires as President, but even his staged (partial) departure triggers internal ructions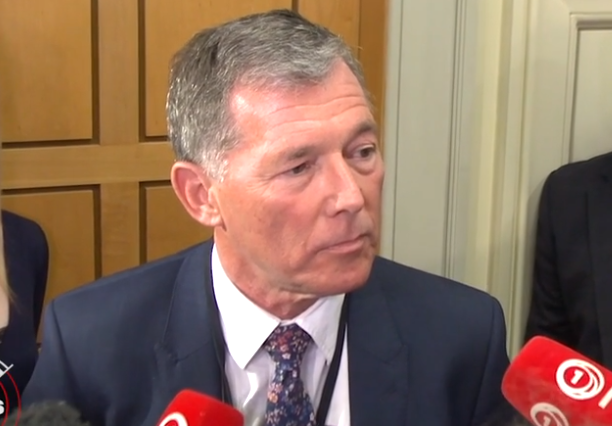 Peter Goodfellow, who has been the National Party's President for 13 years and its key fundraiser from Auckland's Chinese community, has finally retired as President, but even his staged departure has created new ructions within the party. 
Goodfellow's position as President was challenged publicly at National's annual meeting last year, its first after the disastrous 2020 election result. Then-director and former speaker David Carter challenged Goodfellow for the Presidency at the meeting, but was out-maneuvered by Goodfellow, who had been criticised over candidate selections that led to damaging resignations of MPs ahead of the election.
Carter said publicly at the time he had "zero confidence" in Goodfellow, who presided over the selections of now-departed list MP Jian Yang, disgraced former Botany MP Jamie-Lee Ross, disgraced former Rangitata MP Andrew Falloon, disgraced former North Shore candidate Jake Bezzant, and disgraced former Southland MP Todd Barclay.
Goodfellow was also criticised for a tone-deaf speech at that conference last year, accusing PM Jacinda Ardern of being a 'televangelistic' leader of a 'celebrity Government.'
Goodfellow announced his retirement on Thursday as President, but is staying on as a director after a new President is elected at the party's next annual meeting in Christchurch on August 6. Nominations for directors closed on June 21, which means that no new directors will be eligible to be elected President. Goodfellow, along with fellow directors Rachel Bird and Graeme Harrison, have been renominated for fresh three-year terms as directors.
Former National Minister Maurice Williamson was scathing in comments to the NZ Herald this afternoon. He said the process reeked of an 'old boy's network' and the board should reopen nominations.
"A lot of people didn't put their names forward because, as David Carter has found, it's impossible to get rid of him (Goodfellow). But they wait until it's all closed and then 'surprise!'," Williamson said.
"After nominations closed on June 21 and nobody could do anything about it, he has now declared he's not seeking to be president any more, but is going to stay on the board to 'give help and guidance' to whoever the new president is," he said.
"That is just internal self-management of the very worst I've ever seen. The straight process of that is shockingly internal management of keeping the old boys network running. Kim Jung Un could learn a thing or two, he really could."
Internal dissent has been growing over the last year, particularly after a speech that went down like a lead balloon to hundreds of party members at the 2021 annual conference at Wellington's Michael Fowler Centre. 
"For an opposition party, trying to hold a celebrity government to account for their decisions and policies it was suddenly a crime to ask legitimate questions for comment and daily broadcasts became televangelistic like a gospel to the masses," Goodfellow said to deathly silence.
"Democracy gave way to a time to a form of temporary tyranny; no-one should fear death threats or violence for voicing an opinion no matter how much you disagree, but that was the reality in a Jacindamania world and I'm sure you felt that too throughout the year, I certainly did."
No one clapped and the comment was met only with shifting in seats and murmurs.
Luxon thanks Goodfellow for his contribution
Goodfellow said in his departure statement now was the right time for someone else to become National's President.
"Some may remember that I intended to retire in 2016, but with the resignation of Prime Minister Rt Hon Sir John Key, I was convinced to remain in the role to help ensure a stable transition of leadership to Rt Hon Sir Bill English and to deliver our 2017 General Election campaign," Goodfellow said.
"The National Party is now going from strength to strength. We have real momentum under the leadership of Christopher Luxon and Nicola Willis. I'm confident we have the right people, processes, and plans in place to move the National Party forward, and I have every confidence National will win the 2023 General Election," he said.
Parliamentary Party Leader Christopher Luxon thanked Goodfellow for his contribution.
"Peter now feels it is a good time to stand down as President given the party's renewal has been completed with a new leadership team established, the caucus unified, and a refreshed team of political and campaign staff in place," Luxon said.