National Leader Simon Bridges calls for the Finance Minister to challenge the Reserve Bank's independence by intervening in its controversial bank capital review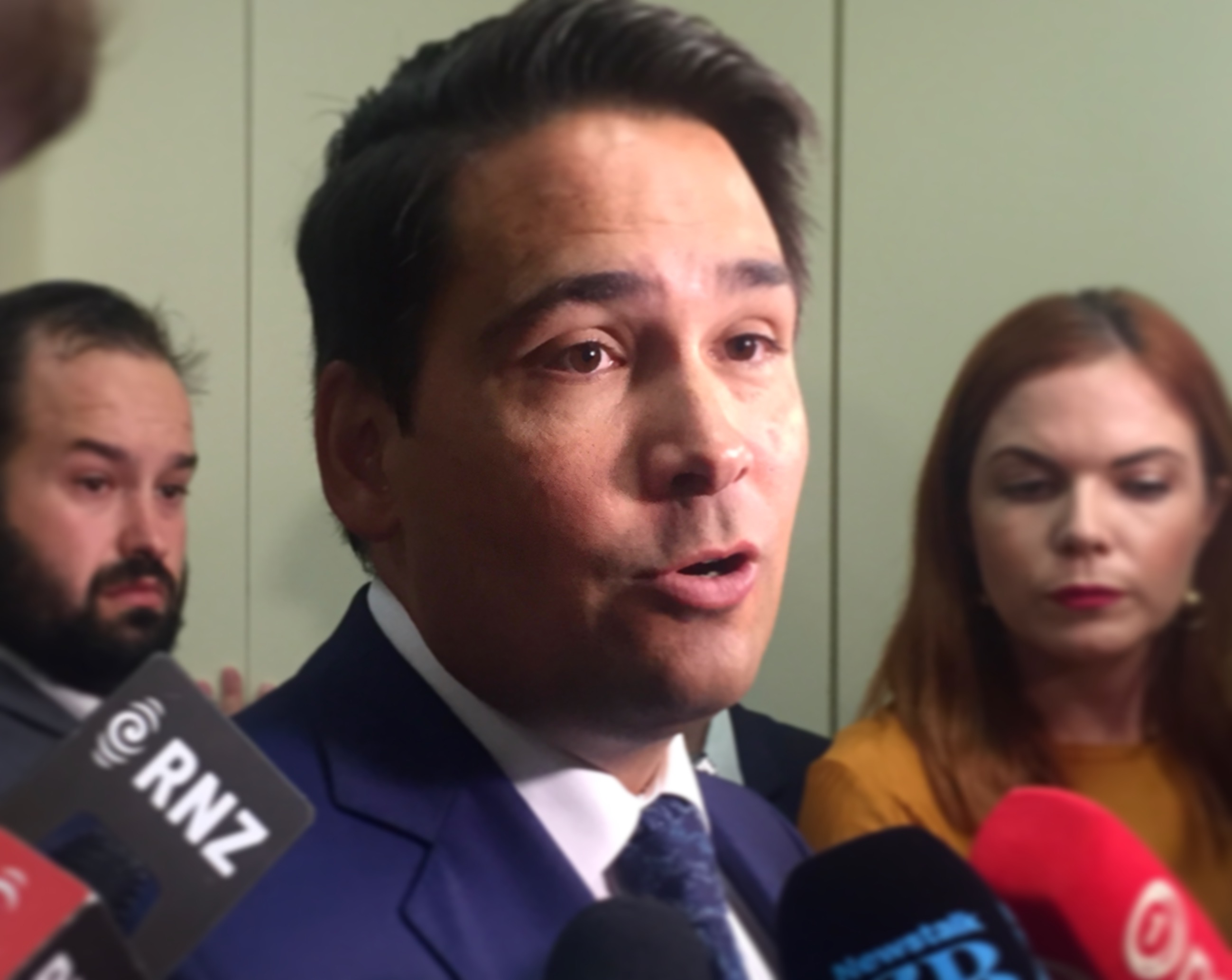 National Party Leader Simon Bridges is calling for Finance Minister Grant Robertson to get involved in the Reserve Bank review of banks' regulatory capital requirements.
Bridges said that while he respected the RBNZ's independence when it came to monetary policy (IE setting interest rates), he saw the capital review as a "regulatory function" that Robertson should get involved in.
In terms of carrying out this "regulatory function", Bridges said he didn't believe the RBNZ was "much different to say MBIE or another government department". 
The RBNZ prides itself on its independence. Under the Reserve Bank Act, it is tasked with being banks' prudential regulator.
It is responsible for "promoting the maintenance of a sound and efficient financial system" and "avoiding significant damage to the financial system that could result from the failure of a registered bank".
Bridges wouldn't go so far as to say the Act should be amended to enable the Government to get involved in the regulator's work, but still took the opportunity to advocate for Robertson's intervention.  
"It's more at the level of he [Robertson] has a relationship with the Governor of the RBNZ and that board," Bridges conceded.
"He has a legitimate role in terms of asking the questions and making sure that they [the RBNZ] are thinking through and doing the right work on the positions they take. Here [with the bank capital matter] it doesn't seem they have.
"He needs to get in and be involved in that."
Asked by interest.co.nz whether his issue was with the process the RBNZ was using to conduct its review, or whether it was with the fact the RBNZ was proposing banks be made to hold significantly more capital, Bridges said it was a bit of both.
He said if changes resulted in farmers and small business owners struggling to access capital, or pay more for this capital, then Robertson had a "real role to play".
Furthermore, Bridges believed the proposals the RBNZ put on the table went too far and weren't backed up by a proper cost-benefit analysis.
Asked whether he was making his comments off the back of being wined and dined by bankers, who the RBNZ warned Robertson would engage in "intensive lobbying", Bridges said: "I don't think I've had a single conversation with a banker on these things."
Robertson keeping a watching brief
Robertson responded to Bridges' comments, saying: "I'm clearly keeping a watching brief on the [bank capital review] situation, but the decision-making in my opinion rightfully lies with the RBNZ."
He said politicians had to be "pretty cautious" about the way they involved themselves in these matters.
Ultimately Robertson said his job was to have oversight of the RBNZ.
He pointed out Treasury was leading the second phase of a review of the Reserve Bank Act to re-look at the tools the RBNZ has as banks' and insurers' prudential regulator.
When interest.co.nz in February asked Robertson whether he was concerned the economy could take a hit if tougher capital requirements put banks under so much pressure they restricted lending and/or inflated borrowers' interest rates, he said: "Obviously I look at the health of the overall economy, and I'll continue to monitor it.
"But I don't have any advice that would suggest to me that there is a significant issue to worry about here."
Robertson also quoted RBNZ Deputy Governor Geoff Bascand saying: "While borrowing costs may increase a little, and bank shareholders may earn a lower return on their investment, we believe these impacts will be more than offset by having a safer banking system for all New Zealanders."
Asked whether this reference signalled his support for the regulator's proposals, Robertson said: "I want to make sure we've got a stable banking system...
"They [the RBNZ] make the decision [on the amount of capital banks have to hold] and I can only go on the advice that I get."
National's Finance spokesperson Amy Adams in February told interest.co.nz she believed there was a risk of a credit crunch, but unlike Bridges, didn't explicitly advocate for government intervention.