New Zealand's bank crisis management framework could benefit from making recourse to taxpayer bailouts a last resort option, RBNZ Act review consultation paper says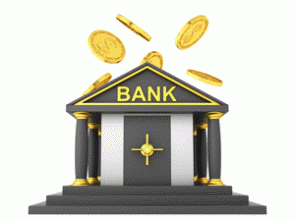 New Zealand's bank crisis management framework could benefit from making recourse to taxpayer bailouts a last resort option, a consultation paper issued as part of phase two of the Government's review of the Reserve Bank of New Zealand (RBNZ) Act says.
One potential way to help achieve this floated in the consultation paper is through bail-in powers. These would allow the RBNZ to convert unsecured liabilities into equity as part of bank resolution efforts, or convert or write-down debt instruments when a contractually specified trigger is met. There could be specific exemptions, such as insured deposits.
Bail-in powers were developed overseas in the aftermath of the Global Financial Crisis to help authorities recapitalise failing banks quickly, helping restore viability and capital ratios above regulatory minimums. Although there have been no bank failures in New Zealand in recent years, there have been banking crises in the past.
"Bail-in helps to avoid insolvency and minimises the need for taxpayer bailouts or other taxpayer support," the consultation paper says.
It notes that bail-in should be applied in a manner that respects the normal hierarchy of creditor claims. This means equity, the bank owner's stake, and other ownership instruments should fully absorb losses before eligible liabilities are bailed in.
"Using bail-in is not without its complications. It must ensure that affected creditors are treated fairly - that the bail-in, for example, the value of any securities received, represents fair treatment of their property rights as creditors. Careful valuation work is essential to mitigate the risk of subsequent legal challenges for compensation. Bail-in also requires sufficient unsecured liabilities or other instruments to be available to bail in. The incentives created by prudential requirements for banks to hold suitable quantities of bail-in-able liabilities can potentially determine whether bail-in is a credible option for a given bank," the consultation paper says.
"The availability of sufficient liabilities would therefore become part of a resolution authority's pre-crisis analysis of whether a bank is in fact resolvable. However, prudential requirements can change over time, so they should not in themselves determine whether bail-in powers should be made available in legislation. Without explicit exclusions, deposits would be 'bail-in-able' liabilities alongside other unsecured liabilities like non-covered bonds. A deposit insurance scheme would therefore become an important element to protect depositors from what might otherwise be seen as an unfair imposition of losses on those who are least able to monitor and manage the risk of bank failure."
The Government announced plans to introduce a deposit protection regime in June.
The consultation paper goes on to say that international experience with using bail-in is still in its infancy and has demonstrated both benefits and problems.
"The main benefit is the ability to recapitalise a bank while minimising the need for a taxpayer bailout. The Bank of England has noted other significant benefits, including avoiding operational challenges and legal consequences that can arise when transferring some of a failed bank's business to a purchaser."
"Issues with bail-in include the need for robust valuations before and after the event, to support the determination of whether 'no creditor worse off than in liquidation' compensation is required and to mitigate the risk of creditor litigation. Bailing in foreign-held debt instruments also relies on either a contractual, and therefore enforceable, agreement to the resolution authority's power to bail in, or recognition of the bail-in power by authorities in the jurisdiction in which the debt instrument is held," the consultation paper says.
"For New Zealand, one option for introducing statutory bail-in would be to provide for the general power in primary legislation, with eligible liabilities and exemptions set out in regulation, while options for the foreign enforcement of the power are developed further."
The RBNZ's controversial existing bank failure tool, its Open Bank Resolution (OBR) Policy, is not being reviewed as part of the RBNZ Act review. Implementing OBR would require government approval. You can see here how OBR might work should it ever be used.
Questions raised in the consultation paper include whether the RBNZ should have the power, in principle, to "bail in" specified categories of unsecured liabilities in order to recapitalise a failing "large" bank after its owners have absorbed maximum losses, and to minimise the need for taxpayer support. Details of eligible liabilities would need to be determined, and be subject to creditor property rights safeguards, the consultation paper adds.
On the property rights issue the paper asks whether the resolution authority should always be required to respect property rights, including the hierarchy of creditors in liquidation, or should it have discretion to override property rights as long as compensation is made available to creditors left worse off than they would have been in a liquidation. Additionally it asks whether no change should be made to the protection of creditor property rights.
 Other topics canvassed include whether the recapitalisation of a failing large bank should be funded through industry-wide levies, and whether any other aspects of cross-border bank resolution need to be considered in the design of New Zealand's crisis management framework especially given four Australian owned banks account for 82% of New Zealand's banking system.
In summary the consultation paper chapter on bank crisis management suggests a range of changes including:
 * Making resolution powers directly available to the Reserve Bank as resolution authority;
* Clarifying the objectives for which the Reserve Bank would be held accountable in exercising resolution powers;
* Less involvement of the Minister of Finance in routine matters and more involvement when public funds are at risk;
* Enhancing the ability to allocate losses from, and recapitalise, a failed bank without relying on taxpayer support. And;
* Providing creditors with greater certainty as to how they will be treated and comfort that their property rights will be protected.
The deadline for submissions on the consultation paper is 5pm on Friday, August 16. The RBNZ Act review is being overseen by a team jointly resourced by Treasury and the RBNZ. Finance Minister Grant Robertson announced the RBNZ Act review in November 2017.
"The current Reserve Bank Act is now nearly 30 years old. While it has served New Zealand well in general, now is the right time to undertake a review to ensure our monetary policy framework still provides the most efficient and effective model for New Zealand," Robertson said in 2017.
Phase 1 of the RBNZ Act review focused on monetary policy.
Figures 5A, 5B, and 5C below comes from the consultation paper.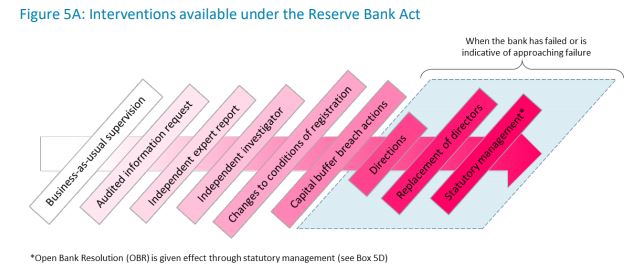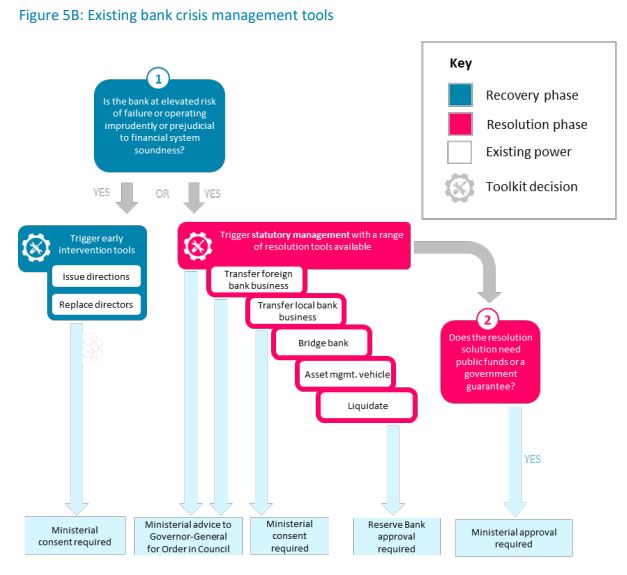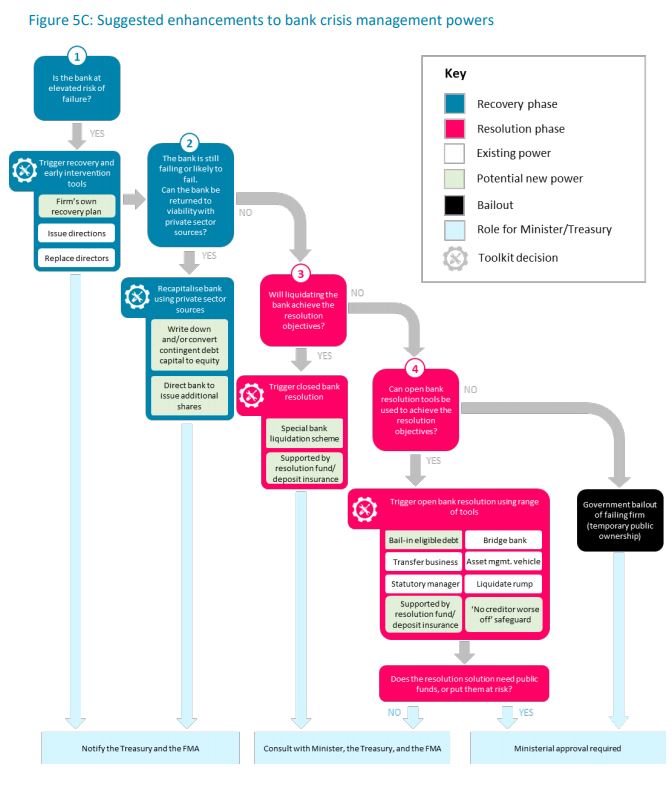 *This article was first published in our email for paying subscribers. See here for more details and how to subscribe.