Westpac Group CEO Brian Hartzer resigns as Aussie regulator investigates 23 million alleged money laundering breaches: 'It is clear that we have fallen well short of what the community expects of us, and we expect of ourselves'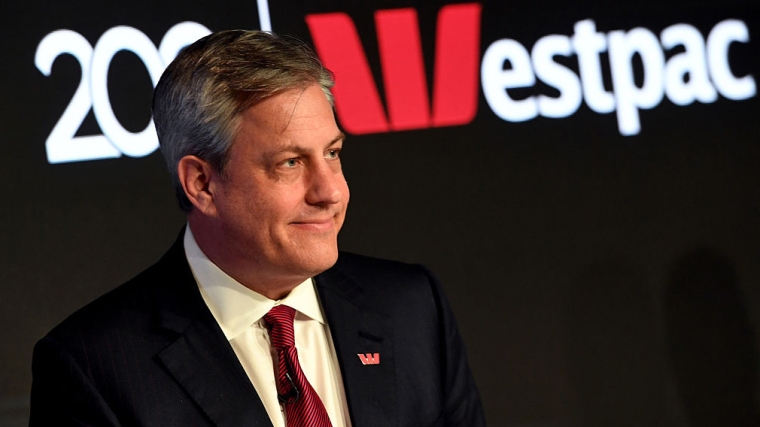 Westpac Banking Corporation's chief executive, Brian Hartzer, is stepping down in the wake of Australia's anti-money laundering and terrorism financing regulator alleging the bank contravened the law on 23 million occasions.
AUSTRAC six days ago applied to the Federal Court of Australia for civil penalty orders against Westpac in relation to "systemic non-compliance" with the Anti-Money Laundering and Counter-Terrorism Financing (AML/CFT) Act 2006.
Westpac's chief financial officer, Peter King, will become acting CEO on December 2. However, Hartzer will continue to be paid his fixed remuneration of A$2.686 million for a year. 
Chief operating officer, Gary Thursby, will fill King's role,
Westpac's chairman, Lindsay Maxsted, will bring forward his retirement to the first half of 2020.
Long-standing director, Ewen Crouch, won't seek re-election at the upcoming Westpac AGM.
Maxsted, said: "The Board accepts the gravity of the issues raised by AUSTRAC.
"As was appropriate, we sought feedback from all our stakeholders including shareholders and having done so it became clear that Board and management changes were in the best interest of the Bank."
Hartzer said: "As CEO I accept that I am ultimately accountable for everything that happens at the Bank. And it is clear that we have fallen well short of what the community expects of us, and we expect of ourselves."
Maxsted said: "Peter King has been appointed Acting CEO until a global search process for a new CEO is completed. 
"Peter has had a long and distinguished career at Westpac and has been the CFO since 2014. He is the right choice to provide stability and direction to the Bank and its people.
"The Board has asked Peter to focus on two immediate priorities: to implement the Westpac Response Plan and to continue to execute the Group's broader strategy. 
"We are determined to urgently fix these issues and lift our standards to ensure our anti-money laundering and other financial crime prevention processes are industry leading.
"We are currently working through our response to the Statement of Claim and will shortly commence the independent review. The Board will continue to provide updates on these issues.
"Brian leaves the Bank with a strong balance sheet, with each of our businesses number one or two in their markets."
Westpac NZ distances itself from Aussie parent
A spokesman for Westpac New Zealand said the bank had reviewed AUSTRAC's statement of claim against its Aussie parent to make "absolutely certain" its Westpac NZ systems and processes were robust and secure.
"The AUSTRAC proceedings relate to Westpac Banking Corporation and Australian AML/CFT laws. The proceedings do not relate to Westpac New Zealand which is subject to independent oversight by the Reserve Bank of New Zealand under New Zealand AML/CFT laws," the Westpac NZ spokesman said.
"We have a range of controls in place to identify and prevent financial crime.
"We do not offer the Litepay or Australasian Cash Management Direct Entry products in New Zealand. 
"The RBNZ supervision in New Zealand includes onsite visits and monitoring. We regularly engage with the RBNZ on these issues and will continue to do so. We are confident we are complying with relevant New Zealand laws and regulation."
The RBNZ has said it's "looking closely" at the case for any relevance for Westpac NZ.
AUSTRAC claims the Westpac Banking Corporation failed to:
1. Appropriately assess and monitor the ongoing money laundering and terrorism financing risks associated with the movement of money into and out of Australia through correspondent banking relationships. Westpac has allowed correspondent banks to access its banking environment and the Australian Payments System without conducting appropriate due diligence on those correspondent banks and without appropriate risk assessments and controls on the products and channels offered as part of that relationship.

2. Report over 19.5 million International Funds Transfer Instructions (IFTIs) to AUSTRAC over nearly five years for transfers both into and out of Australia. The late incoming IFTIs received from four correspondent banks alone represent over 72% of all incoming IFTIs received by Westpac in the period November 2013 to September 2018 and amounts to over $11 billion dollars. IFTIs are a key source of information from the financial services sector that provides vital information into AUSTRAC's financial intelligence to protect Australia's financial system and the community from harm.

3. Pass on information about the source of funds to other banks in the transfer chain. This conduct deprived the other banks of information they needed to understand the source of funds to manage their own AML/CTF risks.

4. Keep records relating to the origin of some of these international funds transfers.

5. Carry out appropriate customer due diligence on transactions to the Philippines and South East Asia that have known financial indicators relating to potential child exploitation risks. Westpac failed to introduce appropriate detection scenarios to detect known child exploitation typologies, consistent with AUSTRAC guidance and their own risk assessments.