Gareth Vaughan on champagne time in container shipping, how a banking crisis helped the Nazis, Ireland's tax haven, cryptocurrency and puppies, plus the paradox of our own ignorance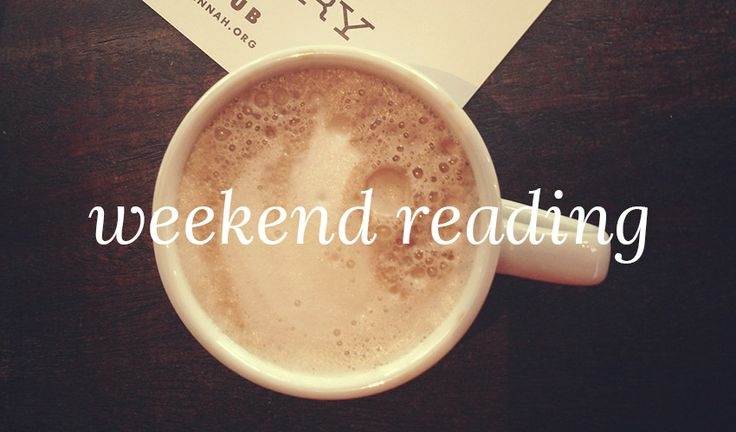 This Top 5 comes from interest.co.nz's Gareth Vaughan.
As always, we welcome your additions in the comments below or via email to david.chaston@interest.co.nz. And if you're interested in contributing the occasional Top 5 yourself, contact gareth.vaughan@interest.co.nz.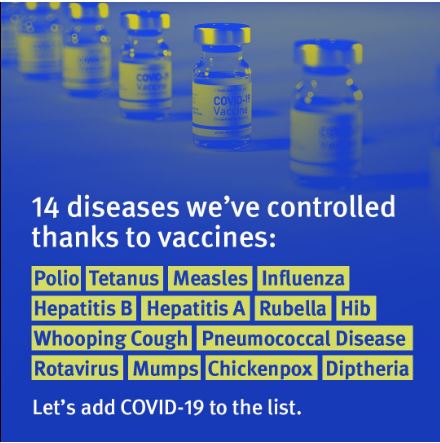 Source: Queensland Health.
1) The best quarterly financial performance by the container ship industry ever.
The global supply chain woes flowing out of the Covid-19 pandemic have caused delays, problems and higher costs for many businesses and individuals. But they haven't been bad for everyone. John McCown, founder of New York-based Blue Alpha Capital, has crunched the numbers on just how well the container shipping industry has fared. The results are mind blowing.
According to McCown, net income for the container shipping industry in the third quarter of 2021 was US$48.1 billion. As he puts it, that's a staggering US$43 billion, nine-fold increase on the US$5.1 billion profit the industry made in the third quarter last year. Interesting that third quarter 2020 figure was already nearing record highs. The sector has now delivered record earnings for four straight quarters. (Sounds a bit like New Zealand's banks!)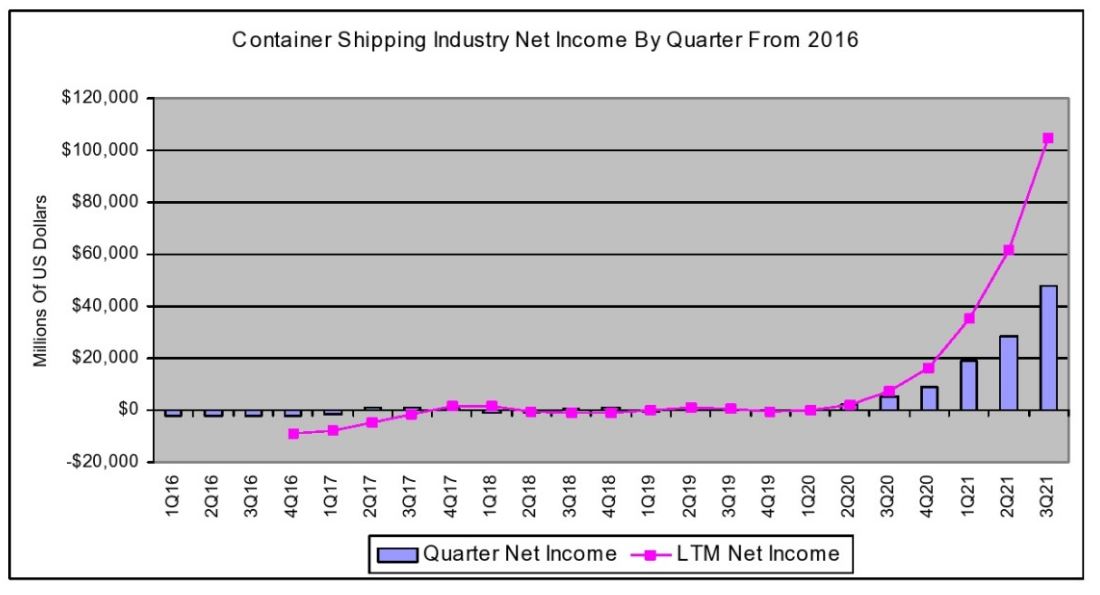 McCown points out that these results are far from what was expected at the beginning of the pandemic. So what has happened?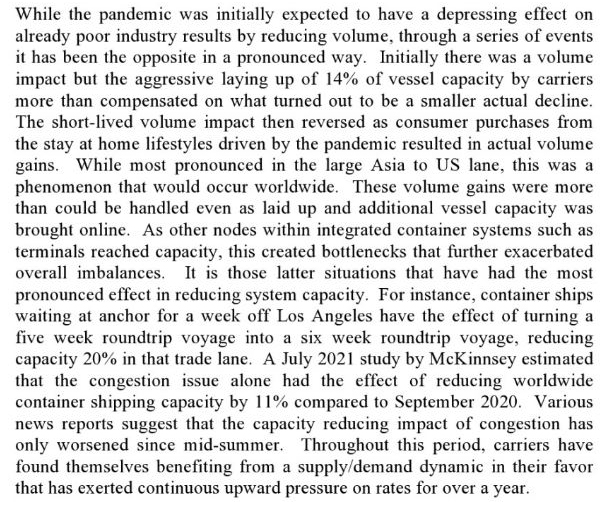 2) How a banking crisis helped usher the Nazis into power.
Economic upheaval has long been associated with the rise of radical and extreme politicians. In recent times the Global Financial Crisis, when banks blew up the financial world, is often touted as a factor in the rise of Donald Trump, for example.
Going back a lot further fallout from the Great Depression is associated with the rise of Adolf Hitler and the road to World War II. Now, a working paper from the Bank for International Settlements, the central banks' bank, looks at the role of failing banks in the rise of the Nazis.
In Financial crises and political radicalization: How failing banks paved Hitler's path to power, the paper's authors, Sebastian Doerr, Stefan Gissler, José-Luis Peydró and Hans-Joachim Voth, look at whether financial crises radicalise voters. They look closely at the impact of the collapse of Danatbank, Germany's second-largest bank.
We study Germany's 1931 banking crisis, collecting new data on bank branches and firm-bank connections. Exploiting cross sectional variation in pre-crisis exposure to the bank at the center of the crisis, we show that Nazi votes surged in locations more affected by its failure. Radicalization in response to the shock was exacerbated in cities with a history of anti-Semitism. After the Nazis seized power, both pogroms and deportations were more frequent in places affected by the banking crisis. Our results suggest an important synergy between financial distress and cultural predispositions, with far-reaching consequences.

While different factors contributed to the financial crisis during the summer of 1931, in the public's eye it became largely synonymous with the collapse of Danatbank, Germany's second-largest bank. Following a banking crisis in Austria earlier in May, German banks had endured major foreign deposit withdrawals and interbank deposits declined. Danatbank itself faced unsustainable losses when one of its borrowers, a large textile firm, defaulted. In July 1931, it failed. Newspapers at the time quickly singled out Danat and its leading manager, Jakob Goldschmidt, as key actors during the crisis. As central bank support was limited because of depleted reserves and the political conflict between Germany and France over World War I reparations, Danatbank's troubles triggered a bank run by retail depositors, followed by a system-wide banking crisis.

We show that the German banking crisis not only reduced output, but also had important political consequences. It boosted the electoral fortunes of the Nazi Party through both economic and non-economic channels. We collect historical information on bank branch networks and bank connections for the universe of 5,610 joint stock firms. These novel data enable us to reconstruct pre-crisis cross-sectional variation in exposure to failing banks for all major German municipalities. Our empirical strategy exploits that the biggest German banks lent countrywide and that the German economy was heavily bank-based, with persistent bank-firm relations.

We establish that municipalities more exposed to collapsing Danatbank suffered sharper economic declines. Their incomes during the crisis fell by 7.8 percentage points (p.p.) more than the average 14 p.p. decline across cities. Crucially, bank distress bolstered the Nazi Party's performance at the ballot box - localities affected by Danatbank's failure voted significantly more for the Hitler movement. Figure 2 [below] summarizes our key finding: in locations exposed to Danatbank there was a clear upward shift in voting for the Nazis. It added up to 2.9 p.p. to the party's votes between September 1930 and July 1932, equal to 15% of its mean vote gain and 37% of the standard deviation.

Our findings are robust to a wide range of alternative specifications. We examine whether the memory of the hyperinflation (1921-23) or cities' export exposure could account for changes in voting patterns and find no evidence.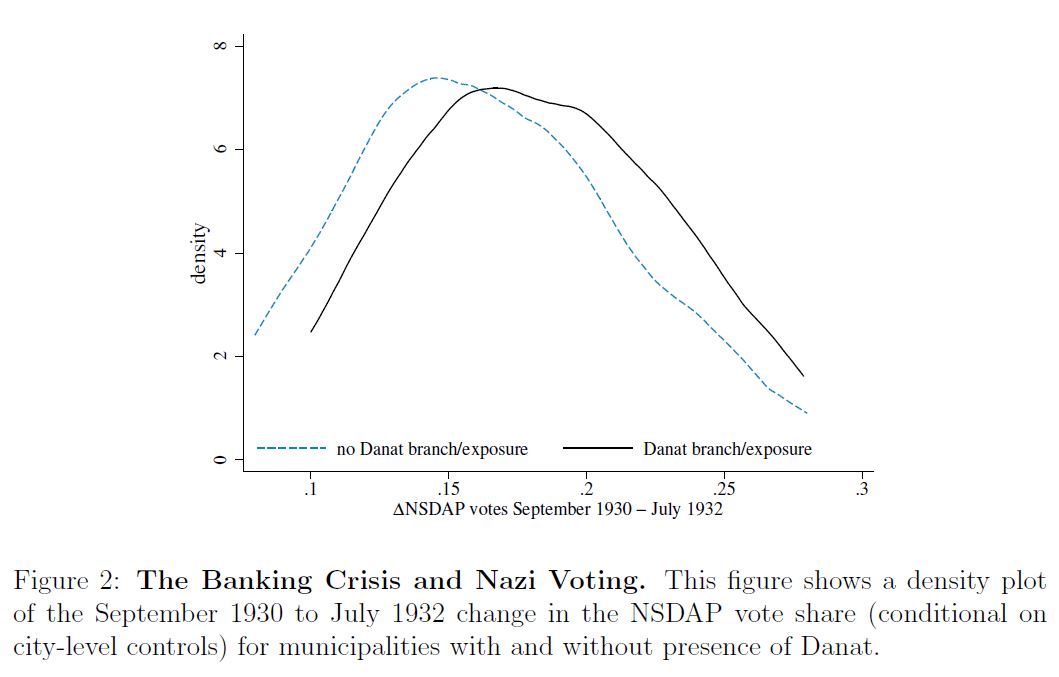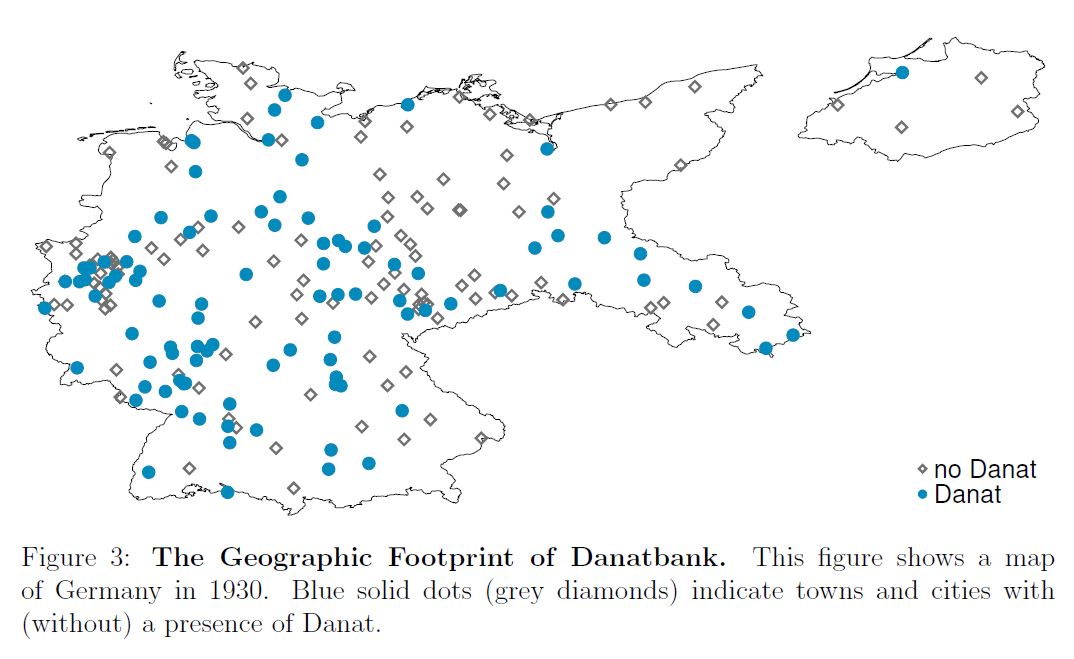 Pre-Global Financial Crisis the Irish "Celtic Tiger" economy got a lot of good international press, and was talked up by the likes of John Key. These days, however, it's probably best known as a tax haven for multi-nationals. 
Remember the bizarre scenario in 2016 when Apple was ordered to pay Ireland €13 billion in back taxes in a court case brought by the European Commission and the Irish Government opposed the ruling? (Apple and the Government had this ruling over turned last year and the European Commission is now appealing).
In a podcast the Tax Justice Network's Naomi Fowler speaks to the authors of a new book, Tax Haven Ireland. The authors are Kieran Allen of the School of Sociology at the University College Dublin, and Brian O Boyle, lecturer in economics at St Angela's College.
Here are a couple of excerpts from the podcast.
Naomi: "Do you have examples of things that you noticed as citizens really, of things going bad that kind of really alerted you to all not being well in Ireland?"

Brian: "One was in 2016, there was an expose where a whole series of vulture funds, or, you know, international property funds were all simultaneously declaring their taxes as 250 euros per annum. And we were saying, what's this about? So that would be one, it's think the Apple case was the other one."

Kieran: "Yeah. I mean, what's interesting about the Apple case is, is one of the biggest corporations in the world, has savings about 200 billion, but when it was set up in Ireland in 1980, initially it came in on the basis that it wouldn't be paying tax and then what you find over the years is that it's paying a tax rate of around 2%, but then Apple think that's far too much. And you have these periodic meetings, which the EU Commission eventually gets the minutes of, and you find they keep pressurising to reduce the tax rate down below 1%. The Irish Government won its appeal on this issue, but it's only won the appeal on the basis that Apple is not unusual! We don't give preferential treatment to Apple, this happens to a lot of multinationals. And certainly when you look at the tax, the actual tax rates that are paid by multinationals, you find that generally speaking, they're down at around 2, 3% and sometimes less."

Brian: "Yeah, I think the Commission is going to appeal that judgement."

Naomi: "Right. And, and Ireland famously refusing to take the taxes that it was owed is also a really bizarre situation for a nation state to be in!"

Brian: "Absolutely."
And;
Naomi: "So, so just briefly, what, what would you say to those in Nairobi, Kigali, Johannesburg, and other places that are busy kind of expanding and setting up their own centres?"

Kieran: "I would say they're going down the wrong road, I mean, it's a fool's game, I mean this is a model of development that's promoted across the world, you know, set up an export processing zone, set up a financial services centre. But as every country's doing that, there's a sort of race to the bottom where you have to offer some even more tax incentives, more deregulation. And ultimately it's a loser's game, basically."
(As I was working on this a report emerged saying Google's Irish subsidiary has agreed to pay €218 million in back taxes to the Irish Government).
4) Cryptocurrency mania boosts demand for puppies.
Last November my family got a Labrador puppy. He's now 14-months old and a big dog. But he's still really a puppy and our kids have lots of fun with him. Apparently we are part of an international Covid-era trend of more and more people getting dogs.
In the US there's a quirky twist to this and a sign of the times. This, Bloomberg's Claire Ballentine reports, is an increase in demand for shiba inus, the dog breed that inspired the Dogecoin and Shiba Inu cryptocurrencies.
Not surprisingly Elon Musk, the world's richest man, has played a role in this. He has been tweeting pictures of his shiba inu puppy, Floki.
Seth Johnson, who works in IT in northern Mississippi, is one of the proud new owners of a shiba inu, purchased in June with $2,500 in U.S. dollars. (His breeder did not accept crypto.) He didn't know much about the dogs until Dogecoin took off, and the more recent hype over Shiba Inu coin only heightened his interest. Johnson is a big believer in an obscure coin called EverRise, which became the name of his new pet.

Even with so much of our daily lives taking place in online worlds, it's still unsettling to see the physical manifestation of a digital trend. Whenever I take my one-year-old cocker spaniel, Riley, to a dog park in New York City, there's always at least one shiba inu there, alongside the dozens of other puppies purchased during the lonely days of lockdowns. Crypto is in everything from music to fashion to fast food; it's now also barking at me.

For those who had shiba inus even before the meme coin madness, the newfound attention is profoundly strange. "People will ask to take a picture with her," says Allyson Kazmucha, about her shiba inu, Kaya. "They'll say, 'Is that the Doge dog?'" Kazmucha, an engineering programs manager in San Jose, got her dog in 2012 before Dogecoin was created. "They seemed to be the perfect size and not super clingy or high maintenance," she says. "I definitely didn't realize that crypto would be a thing when we got her." Eventually the meme became so inescapable that she decided to buy some Shiba Inu coin herself. "It felt very on-brand," she says.

The collision of the crypto and canine worlds is confounding small breeders. Inquiries have more than tripled at Rodel Shibas in Aspers, Pa., says co-owner Sandra Rolenaitis. "You've got Elon saying he got a shiba inu, and then it snowballs." She now receives about 150 to 200 applications a month for her dogs. 
Floki Frunkpuppy pic.twitter.com/xAr8T0Jfdf

— Elon Musk (@elonmusk) October 4, 2021
5) The paradox of our own ignorance.
When I was younger I often thought people in social settings with strong, decisive opinions that they were keen to share were knowledgeable and impressive. Over the years my outlook has changed somewhat. Without wanting to generalise too much, I now realise some of these people are just confident types, and some others are blowhards. (Of course there are some who are both knowledgeable and confident).
These days, of course, social media provides a soapbox to anyone who wants one.
Self-help author Mark Manson covers all this and more in an article about the Dunning-Kruger Effect. This occurs when a person's lack of knowledge and skills in a certain area causes them to overestimate their own competence. In contrast, this effect also causes those who excel in a given area to think the task is simple for everyone, and underestimate their relative abilities as well. Manson reckons we all do this.
Perhaps the most frustrating thing about the Dunning-Kruger effect is that it's incredibly difficult to overcome. And that's because it's wrapped in contradiction.

How do you get someone—or yourself—to look for something they can't even see? How do you correct an error if you don't even know you made one?

This is the paradox of trying to overcome our own ignorance: The very thing that would help us see our mistakes is the same thing that would keep us from making them in the first place.

You can't reason with a conspiracy theorist precisely because they didn't form their beliefs with reason. Had they the ability to change their beliefs based on reason and evidence, they wouldn't have believed in wild conspiracy theories in the first place. In fact, they think they're the only ones being reasonable to begin with.

Part of the problem is that there is comfort in the feeling of knowing. People don't like uncertainty. And so settling on a belief helps us feel like we've made more sense of the world. When we can make sense of the world, we feel safe. Whether that belief is true or not doesn't matter—it just has to give us some relief from the anxiety of not knowing.
The point about uncertainty is a very good one in this Covid dominated world awash with uncertainty. Many people really struggle with uncertainty, especially when they're not used to it. Thus they're keen to grasp onto any certainty they can find. Even though it may turn out not to be certainty at all.