Opinion: Hey Hanover and Allied Farmers, stop fighting and give the NZ$5 million to ex-Hanover investors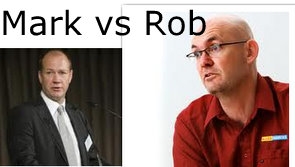 Dear Mark Hotchin & Rob Alloway,
As you both well know, your lawyers are due in court at the end of next month in yet another chapter in the sorry twin, but very much related, demise of Hanover Finance and Allied Farmers.
This particular scrap is over a NZ$5 million payment Allied Farmers was supposed to make to Hanover on June 30 last year as the final settlement of the December 2009 debt-for-equity swap. That was the deal, remember, whereby Allied Farmers swapped 1.9 billion of its now near worthless shares for Hanover debentures held by thousands of retail "ma & pa" investors.
Rob, you have refused to pay this NZ$5 million claiming Hanover hoodwinked you and are countering with claims of your own that you say exceed NZ$5 million.
Mark, Hanover is sticking to its guns and seeking summary judgment against Allied Farmers for the NZ$5 million. The case is due in court on May 30 and June 1.
Now, one of our readers, who we know only as Ivan, raised what I think is a very good and fair idea in a comment on a recent story about Allied Farmers' continuing struggles with debt.
Ivan's suggestion is that the two of you stop fighting over the NZ$5 million and, as a goodwill gesture, pay it out to beleaguered ex-Hanover investors.
Last week I made calls and sent emails seeking comment from you both on Ivan's idea. Thus far my queries have been met by a deafening silence. However, I'm all ears if you do have something to say.
Because let's face it. Both of your respective companies have dismally failed thousands of Hanover investors who put their trust in you to look after, or recover, their hard earned savings.
A quick reminder here of just what their lot has been over the past three years.
Hanover - owned by you Mark and ex-pat playboy Eric Watson - froze NZ$554 million owed to 16,500 investors in July 2008 after you guys over exposed Hanover to a dramatically weakening property development market. Investors' subsequently approved a moratorium proposal in December 2008 that pledged to pay them back all their capital over five years. Then a year later, and after getting back just 6 cents in the dollar, Hanover investors were offered - and narrowly agreed - to swap their Hanover debentures for shares in Allied Farmers that were then valued at 20.7 cents each.
Mark and Rob, you were both adamant that it was a great deal. But let's face it, it was never going to be a great deal for Hanover investors. They were, after all, swapping debt in a defunct finance company for shares in another firm teetering on the brink that had recently breached its Westpac banking covenants. I was working at Fairfax at the time and as Chalkie put in The Independent, one of Fairfax's newspapers, the deal was the equivalent of two drunks offering to drive each other home from the pub.
Mark, once the deal was done you couldn't get away fast enough. I remember all the information on the Hanover website was quickly pulled and replaced with a simple message that those with any questions should now contact Allied Farmers. All we heard of you for the next couple of years was of a partially built Paratai Drive mansion and plush and expensive overseas holidays in places like Hawaii.
So Rob, where was the hope?
And as for you Rob, those shares that you dangled in front of Hanover investors with "hope" written all over them, are now worth just 1.1 cents each. The "assets" you inherited from Hanover in late 2009 - allegedly then worth NZ$396.2 million - are now valued at less than a third of that. You have, however, managed to flick on some Hanover properties but alas, none of the money received from these sales has found its way into Hanover investors' pockets. Rather, it has been used to pay down Allied Farmers' crippling debt.
On top of this, Allied Farmers' finance company subsidiary, Allied Nationwide Finance, collapsed into receivership last August whilst covered by the Crown retail deposit guarantee scheme. Thanks to the taxpayer that worked out okay for the 4,500 Allied Nationwide secured debenture holders and their NZ$128 million. But receivers McGrathNicol are now striving to recover the money for the taxpayer, and this includes about NZ$19.2 million that Allied Farmers owes to Allied Nationwide.
Indeed, in its just released second report, the receiver notes that it still doesn't know how much money the taxpayer will get back. Just NZ$17 million has been repaid to the Crown so far.
Frankly, the Allied Nationwide receivership showed bad business management. You guys simply took on two much Crown guaranteed money - when other finance companies were more conservative - and left trustee Guardian Trust with no choice but to pull the plug due to NZ$70 million worth of money due for repayment before October 31 last year and a debenture reinvestment rate of just 29%.
And just before I move on from Allied Nationwide, whatever happened to the NZ$50 million of "quality loan assets" you expected to transfer across from Hanover as an injection of capital into Allied Nationwide?
Now back to the NZ$5 million Rob. I recall that last time we spoke you said Allied Farmers would be defending the summary judgment claim. You also pointed out that Hanover is under investigation by both the Securities Commission and the Serious Fraud Office. You also said that "a lot of the things we're talking about" are subject to those investigations.
Given the Securities Commission says it's likely to wrap up its investigation this month, we may hear the result of this - which includes the possibility of criminal charges against Hanover directors - from its successor the Financial Markets Authority before the NZ$5 million court case is heard.
So Mark, are you nervous?
You've certainly come out firing over the past couple of months with a relaunched Hanover website lambasting Allied Farmers' stewardship of the Hanover "assets" and an interview on TVNZ's Close Up where, among other things, you claimed Hanover had been hoodwinked by Allied Farmers. I guess having your assets (the ones in New Zealand at least) frozen by the courts at the behest of the Securities Commission and not being able to take your Porsche and Mercedes to the Gold Coast, can make a man pretty angry.
But really, what's your game with this PR campaign? Did you actually think you could resurrect your business reputation in New Zealand? If so, that dream must surely be dead now after the revelation last week, which you claimed to welcome, that you lost NZ$224,766 in a Ponzi scheme promising to return 160% over two months. Mark, didn't you ever learn that if something sounds too good to be true, it probably is?
And then there's the controversial NZ$45.5 million worth of dividends Hanover paid in the year to June 30, 2008. Now sure, Mark not all of this money found its way into your and Eric's pockets as you've been keen to point out. But who controlled the related parties whose borrowings you used the dividends to reduce?
The Tooth Fairy?
But I digress, back to the NZ$5 million.
Now come on guys. This whole Hanover-Allied Farmers deal was supposedly about trying to get the Hanover investors some of their money back, wasn't it? You say you want this Mark, and so do you Rob.
So here's a grand opportunity to do something concrete about that. I know NZ$5 million dollars in the scheme of investors' losses here isn't a fortune, but it's a lot more than they've got back so far. In fact, split between the 16,5000 investors it would amount to about NZ$303 each and looks pretty good next to the Allied Farmers share price.
This could be a nice Easter present to a group of people who have, in a financial sense, suffered enormously. So for once gentlemen, please do the right thing.
Regards,
Gareth Vaughan
Interest.co.nz