Opinion: Treasury's ambulance at the bottom of the Crown retail deposit guarantee scheme cliff wasn't good enough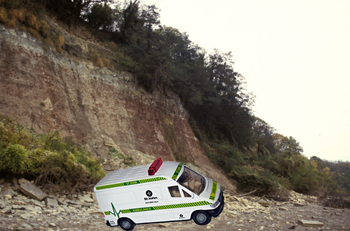 By Gareth Vaughan
Auditor General Lyn Provost's revelation that minimising the bill to the taxpayer wasn't as big a priority as it could have been to Treasury's boffins during their stewardship of the Crown retail deposit guarantee scheme is damning on a number of levels and smacks of idealogical, dogmatic thinking when pragmatism was required.
Provost's audit report on the implementation and management of the scheme outlines a Treasury busy parking an ambulance at the bottom of the cliff, waiting to pick up the pieces when companies failed, rather than getting their hands dirty at the top of the cliff in an attempt to minimise the taxpayers' bill.
This bill, remember, totals NZ$1.97 billion in payouts to investors' in failed firms. Of this NZ$900 million is expected to be recovered after receiverships and liquidations, although fees paid by companies in the scheme, totalling NZ$237 million up to June 30, 2010, will offset the losses a bit.
Provost notes that, before the global financial crisis, New Zealand was the only Organisation for Economic Co-operation and Development country without any form of statutory depositor insurance or depositor preference arrangement. Thus introducing a deposit guarantee scheme represented a major departure from this country's long-standing approach to supervision and regulation, which favoured minimal intervention in the financial system and market based solutions.
With Treasury having championed minimal intervention and market-based solutions for the past 30 years, this particular government body and the Crown guarantee scheme were probably destined to be awkward bedfellows and so it proved.
Mascot's early warning signal
The first outward signs of problems came on March 2, 2009 with the receivership of Mascot Finance, whose application to join the scheme had been approved as recently as January 12, 2009. Mascot was a property lender in wind down mode that Westpac had withdrawn a NZ$650,000 standby loan from in June 2008. It's demise saw NZ$70 million of taxpayers' money paid out to investors.
Then there was Equitable Mortgages, which Treasury let into the scheme despite the Reserve Bank's view that the property lender, which ultimately failed whilst holding about NZ$178 million in Crown guaranteed deposits, wasn't eligible because it primarily provided financial services to a related party.
As Provost points out, Treasury didn't begin to intensively monitor individual companies until March 2009, when Mascot fell over. That's even though the nine finance companies that ultimately collapsed whilst in the scheme, or its successor scheme in Equitable Mortgages' case, started gaining approval from November 2008.
Provost rightly says Treasury should have established stronger governance and reporting frameworks.
We found no evidence of formal senior management oversight, such as a steering committee, to provide senior strategic direction and to ensure that all aspects of the Scheme's implementation were addressed. More formal frameworks would have included clear roles and responsibilities for implementation and clear accountabilities for making decisions. We expected a gap in documentation in the hectic early weeks after the Scheme was introduced, but the documentation deficiencies continued for too long.

Some initial planning took place, but we saw little evidence of formal implementation planning discussions or documentation of important decisions and processes. No applicant was refused in the first few months of the Scheme based on the "other factors", such as credit worthiness or business practices. Although we accept the need to process applications quickly, we consider that the Treasury should have made further inquiries about some financial institutions before accepting them into the Scheme. We did not see evidence that the Treasury sought additional information in the early days of the Scheme, even though there may have been some indications in the material considered that additional review was warranted.

We are not suggesting that these institutions should have been immediately declined, but further review would have placed the Treasury in a better position to understand the risks presented by these institutions. Although it was consistent with the supervisory model, we were surprised by the degree of reliance on the advice of trustees.

The Treasury was responsible not only for implementing the Scheme but also for giving ongoing policy advice to Ministers on possible ways of enhancing the Scheme. Although there were ongoing discussions with Ministers about policy settings, we did not see evidence of strategic analysis of the range of options alongside the unfolding risks. In particular, we consider the evidence of increasing deposits and liability should have prompted more policy work.

For example, early in the Scheme, the Treasury could have considered whether it might need additional powers to ensure the effectiveness of the Scheme. These might have included powers to issue directions, restrain activities, require extra capital, or improve risk management practices.

We understand that imposing constraints on weak institutions to stop them making their financial exposures worse was a common feature of deposit guarantee schemes in other countries.
South Canterbury Finance allowed to continue borrowing and grow lending
South Canterbury Finance (SCF) was the big kahuna of the scheme, from a taxpayer loss perspective, comprising NZ$1.58 billion of the NZ$1.97 billion in payouts.
In the four months after the guarantee was put in place, SCF's deposit base grew by a quarter and its loan book increased in the early part of 2009, with many loans made to property developers with capitalising interest and second mortgages, thus increasing SCF's risk profile in a sector where other property financiers such as Hanover, Bridgecorp and Strategic, had already hit the rocks.
So by the time SCF applied to join the extended Crown retail deposit guarantee scheme in January of last year, (it gained approval appropriately on April Fool's Day 2010), Treasury knew it was more than likely the company would fail and trigger the guarantee. But if the guarantee extension wasn't granted, Treasury's probably correct opinion was this would kill the company. So Treasury decided to rubber stamp its application thinking while SCF continued to operate there was the opportunity for a "private sector solution" to emerge to reduce taxpayer liability.
What about statutory management?
Instead of granting SCF the extended guarantee, Treasury could've pushed for statutory management. We know that government agencies were talking statutory management of SCF at least as early as October 2009 before ultimately deciding to put its owner Allan Hubbard into statutory management in June 2010, driving a nail into SCF's coffin as it was left to stagger on.
As for the hoped for private sector solution, this ultimately failed. To give Treasury credit where it's due, it did knock back the assortment of opportunists and bottom feeders, out to privatise the profit whilst leaving the risk with taxpayers, who emerged to pick over SCF's carcass. See more here in Alex Tarrant's story.
What about the Viaduct Capital option?
Another thing Treasury could've done with SCF, which it did with another firm accepted into the guarantee scheme in Viaduct Capital, is to have withdrawn the guarantee but still covered deposits made up to a certain date. This was done to Viaduct because its business was being conducted in a manner believed to be inconsistent with the intentions of the Crown. Surely SCF was just as guilty on this front? SCF was able to offer 8% annual interest rates, well in excess of rivals, to punters who knew, thanks to the taxpayer guarantee, they'd get their money back plus the promised interest.
Then there were speculators who bought up SCF's NZX debt market listed bonds cheaply ahead of the receivership, and were handsomely rewarded by the taxpayer funded bailout.
Including finance companies in the scheme in the first place meant the New Zealand taxpayer guaranteed a broader range of financial institutions with a higher risk profile than in most schemes elsewhere in the world. This increased the potential cost to taxpayers and encouraged depositors to shift money to finance companies where interest rates were higher. The Government apparently decided, however, that leaving finance companies out of the scheme altogether could've caused the failure of a sector seen as important to the diversity of the financial system. As we now know few finance companies of substance survived anyway.
No objective of minimising the taxpayer's liability
Meanwhile, Provost points out that the objectives of the Scheme, which was effectively cobbled together on the evening of Sunday October 12, 2008 in a hasty reaction to news of Australia's scheme, didn't refer specifically to the need to minimise taxpayers' liability. The scheme's primary purpose was to maintain the confidence of depositors and the public in the financial system. No banks failed and there was no run on bank deposits. But Treasury, as manager and guardian of the Crown (read taxpayer's) finances, ought to have had more focus on limiting taxpayers' liability.
Provost says even when Treasury started closely monitoring companies seen as risky - after Mascot's demise - it was largely only doing so to prepare for potential payouts.
It did not see itself as able to interact with a finance company to attempt to moderate that behaviour, even when it could see the Crown's potential liability increasing markedly. The view appeared to be that it was better to recover what funds it could after an institution failed, than try to influence events before a failure.
So Treasury was being reactive rather than proactive when if ever there was a time to proactively intervene in the affairs of private companies this was it. After all, it was taxpayers who were guaranteeing them and they who ultimately paid the bill when nine companies met their Waterloo.
This article was first published in our email for paid subscribers this morning. See here for more details and to subscribe.