Commerce & Consumer Affairs Minister Kris Faafoi off to Sydney to talk open banking as he mulls whether there's a govt role in 'opening up NZ's banking regime further'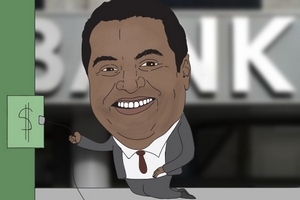 Commerce and Consumer Affairs Minister Kris Faafoi is off to Sydney on Friday to talk open banking, as he strives to "progress open banking options for New Zealand consumers."
Faafoi's to meet with Scott Farrell, who chaired the Australian Government's open banking review, Katharine Kemp, a law professor with an open banking focus on consumers, and staff at Macquarie Bank, which has pioneered open banking in Australia.
Open banking allows consumers to choose to share their banking data to access new or improved products or services. This could include financial or budgeting advice, dashboards displaying a range of financial information in one place, more streamlined and personalised loan applications, and different ways of making payments.
"Open banking is already a requirement in the UK and other countries are following suit," Faafoi says. "In New Zealand, trials are underway and Australia recently announced it will be introducing a consumer data right that will give customers access to open banking."
"I want to see that work while I am considering whether there is a role for the New Zealand Government in opening up New Zealand's banking regime further. My meetings will inform this thinking, including how we deal with important issues like privacy, data security and consumer empowerment," says Faafoi.
"New Zealand has the advantage of being able to learn from other countries who are already implementing open banking. This means there's opportunity for business in the open banking space as well as advantages for consumers able to benefit from new and innovative products," Faafoi says. 
In New Zealand Payments NZ, which is bank-owned, is leading work on a standardised application programming interface (API) framework with a set of common payments related API standards. In June Faafoi said he wanted to see the progress under the pilot to that point accelerated, with "tangible examples of banking data being accessed and used by third-parties within the next year."
"In the future, we will be testing whether there is more of a role for government in facilitating some form of open banking. But the role we play is, in part, up to you. I encourage you to all be proactive. Speed is of the essence. I do not want to see New Zealand left behind in respect of the outcomes that open banking could deliver in terms of economic development and benefits for consumers," Faafoi said at a Payments NZ conference in June.