Commerce and Consumer Affairs Minister Kris Faafoi says reciprocity key to preventing open banking from seeing the big four tech companies gazump banks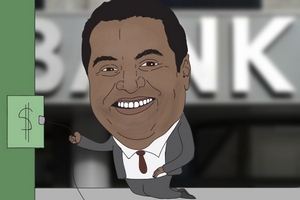 Commerce and Consumer Affairs Minister Kris Faafoi has signalled his support for a principle of reciprocity to underpin open banking.
He says a safeguard for banks engaging in open banking could be for them to require the third parties they share their data with to reciprocate by likewise sharing some of their data.
"Leaning heavily" on work Australian regulators have done on open banking, Faafoi says "a similar safeguard would be good here".
Open banking is the process of banks sharing their customers' data with accredited third parties, should their customers request this.
The purpose of enabling financial technology firms to essentially sit on top of banks' infrastructure to carry out banking services like payments and budgeting, is to increase competition.  
While authorities in the UK and Australia are forcing banks to engage in open banking, Faafoi has given banks until mid-2019 to show they're setting themselves up with the technology and a framework to engage in open banking.
However, the UK-based financial services consultant, Dave Birch, is among those concerned open banking will be lapped up by the incumbent tech companies, rather than the local start-ups.
His fear is it will give the likes of Google, Amazon, Facebook and Apple more muscle, creating an even less un-even playing field, as they could end up with more data on their users than banks have on their customers.
Yet having met with Scott Farrell, who chaired the Australian Government's review into open banking, a couple of months ago, Faafoi says: "Their [the big tech companies] traditional stance has been to hold their data extremely close to their chests.
"So the assumed – and probably somewhat informed – opinion across the Tasman is that the likes of Google and Facebook would fundamentally be opposed to the reciprocity principle there, so [would] not necessarily want to get involved in open banking."
Faafoi admits he doesn't know this for certain, but imagines a principle of reciprocity might also prevent the big tech companies from taking part in open banking "in any major way" in New Zealand.
Faafoi is waiting for the bank-owned organisation, Payments NZ, to come back to him with a framework or set of standards for open banking. If he isn't happy with what the industry does on its own volition, he will regulate.
He says another way to safeguard banks from the large international tech companies is to encourage New Zealand-based companies to get involved in open-banking by providing New Zealand-based solutions.
The company Jude, founded by Ben Lynch, formerly of Xero, is an example of this. Jude's proposition is to be a one-stop shop (or mobile phone app) that people can use to manage their bill payments, KiwiSaver, peer-to-peer payments, and so on.
While Lynch is still trying to get banks connected to Jude, he's working with local power companies, phone companies, KiwiSaver providers, etc whose services New Zealanders use – something an international tech company might not have the inclination to do.  
Asked how New Zealand can regulate the giant tech companies when it comes to data sharing, Faafoi says his "genuine answer" is "question mark".
"If you look at what's happening in the media at the moment, regulating both Facebook and Google in terms of advertising and the effect they're having on the media shows you just how much of a detrimental effect that those sites can have."
Some of Faafoi's comments have been included in this open banking themed episode of Two Cents' Worth – a RNZ/Newsroom podcast Jenée Tibshraeny is a presenter on.