Auckland Council reports NZ$233 mln annual loss after tax; Has now lost NZ$343 million after tax in its first 20 months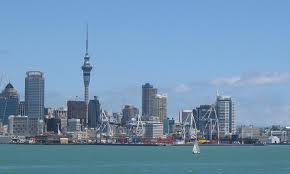 The Auckland Council lost NZ$233 million after tax in its first full year of operation with the lion's share of the loss blamed on unrealised costs stemming from fixing future interest rates at current low levels. The council has now lost NZ$343 million after tax in its first 20 months of operation.
The council said costs hitting its bottom line, for the year from July 1, 2011 to June 30, 2012, include NZ$167 million from the unrealised cost of contracts to fix future interest rates at current historic lows, NZ$83 million for asset impairments, legacy costs and provisions including a NZ$62 million provision for leaky homes.
The Auckland Council was established on November 1, 2010 through the amalgamation of eight councils in the Auckland region, - the Auckland Regional Council, Auckland City Council, Franklin District, Manukau City Council, North Shore City Council, Papakura District Council, Rodney District Council and Waitakere City Council. The establishment of the "Super City" was an initiative led by the then Minister of Local Government, Rodney Hide. See an article from Hide here on the reasons behind the amalgamation.
The council lost NZ$110 million after tax in the first eight months of its existence covering the period to June 2011.
The results are for Auckland Council Group, including its seven council-controlled organisations (COOs) which are Auckland Council Investments Ltd, Auckland Council Property Ltd, Auckland Tourism, Events and Economic Development Ltd, Auckland Transport, Auckland Waterfront Development Agency Ltd, Regional Facilities Auckland, and Watercare Services Ltd.
A council spokeswoman told interest.co.nz the NZ$167 million hit to the bottom line from interest rate swaps on loans stemmed from a combination of new swaps and swaps inherited from legacy councils. She described the contracts as "forward starting fixed rate paid (borrowing) interest rate swaps."
"The contracts are spread across a number of banks as you would expect with a diversified portfolio. The physical debt portfolio is currently NZ$4 billion in size and projected to increase to NZ$8.5 billion in size. It is prudent to hedge a portion of this increase in projected debt to reduce council's risk to an increase in interest rates," the spokeswoman said.
Meanwhile, total annual comprehensive income, which comes after property, plant and equipment revaluations and tax, losses on cash flow hedges, share of associates reserves, and gains on revaluation of financial assets classified as held for sale, was NZ$278 million, down from NZ$1.295 billion in the eight months to June 2011.
Income up, but costs up more
The council's total income rose NZ$1.1 billion, or 59%, in the year to June 2012 versus the eight months to June 2011 to NZ$2.98 billion. However, total expenditure rose NZ$1.26 billion, or 64%, to NZ$3.26 billion.
"Continued slow economic growth across the Auckland region reduced non-rate revenue from property developer contributions and vested assets," the council said.
The Group's assets increased in value by NZ$1.5 billion to NZ$35.7 billion as a result of buying and building new assets such as libraries, roads and playgrounds, and revaluating existing assets. Total liabilities rose NZ$1.1 billion to NZ$7.4 billion. See Auckland Council's full financial statements here.
In a statement Auckland Council chief executive Doug McKay said it had been a year of "consolidation and achievement" for Auckland Council.
"While there has been some tidying up of legacy council accounts, we have put in some excellent building blocks for success in the years ahead," said McKay. "The total value of council's assets has gone up and the value of our land and buildings have improved. We introduced one consistent accounting practice across the council group, including for our CCOs," McKay added.
Net tangible assets per NZ$1,000 of listed bonds at June 30 stood at NZ$28,690 up from NZ$28,440 a year earlier. See Auckland Council's bond issuer page here.
The council said it has started implementing the Auckland Plan during the period, which involves ongoing dialogue with central government agencies, infrastructure network providers, other private sector organisations, and communities.
"We adopted the City Centre Masterplan, Waterfront Plan (prepared by Waterfront Auckland) and council's Economic Development Strategy, which sets the roadmap for how Auckland does business over the next 10 years. We also signed off on our 2012-2022 Long-term Plan ('LTP'). This ten-year plan for NZ$59 billion of operational and capital expenditure outlines how Auckland Council intends to keep its books firmly in balance."
"Some NZ$1.7 billion in savings are identified within this plan," the council said.
Standard & Poor's (S&P) looked at the council's budget assumptions within the LTP and retained its credit rating at AA, which is higher than the AA- ratings on the big local banks. However, S&P did initially consider a downgrade.
"This credit rating has now been supported by a similar view from Moody's Investors Service."
The council said it had completed one of the largest transitions in New Zealand history, put in place a new governance model and planning regime, hosted the Rugby World Cup 2011, and revalued 510,000 homes and business premises.
(Update adds further detail).