How HSBC became the 'preferred financial institution for drug traffickers and money launderers' yet escapes any criminal prosecution in a classic 'moral hazard' case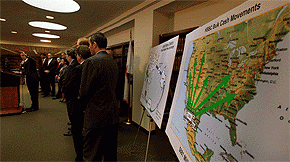 One of the world's biggest banks has been fined in the US for willful and "dangerous practices" by blatantly ignoring anti-money laundering laws in a number of countries.
It is accused of allowing drug cartels to recycle money from Mexico to the US, and helping "rogue states" like Iran, and terrorist organisations, move funds safely in contravention of various laws.
US federal authorities have fined it US$ 1.9 billion. UK authorities are yet to announce penalties.
Earlier the bank disclosed it had provided US$ 1.5 billion for these expected penalties.
HSBC has assets of US$2.652 trillion. It has a market capitalisation of US$ 118.7 billion.
It reported a profit of US$12.9 billion for the first half of 2012.
After the announcement its shares rose in London trading to US$54.84 per share, up 0.56%.
It is rated A+ by Standard & Poor's, Aa3 by Moody's, and AA by Fitch.
One reason the US regulators gave for not filing criminal charges was that to do so would have seen it banned from doing business with many state and federal agencies, potentially causing a failure of its US operations and jeopardising about 20,000 jobs. HSBC is one of 28 entities on the official "too big to fail" list, or global list of systemically important financial institutions.
Readers should refresh their understanding of this definition.
HSBC and Standard Chartered had both been vigorously warned at the very top levels of management about their exposure to these issues, and previously fined for similar offences. They say they are sorry and they won't do it again.
HSBC has 60 million customers and operations in 84 countries, including New Zealand. It has 271,500 employees worldwide.
Here's what the BBC said about the case:
The US said "dangerous practices" at HSBC allowed the bank to pass money to "drug kingpins and rogue nations", as it fined it $1.9bn (£1.2bn). HSBC agreed the fine, the largest of its kind, earlier on Tuesday.

A US Senate investigation said the UK-based bank had been a conduit for drug barons and nations such as Iran against which it had sanctions, making it illegal to do business there.

HSBC admitted having poor money laundering controls and apologised. 

US Assistant Attorney General Lanny Breuer said in a statement: "HSBC is being held accountable for stunning failures of oversight - and worse - that led the bank to permit narcotics traffickers and others to launder hundreds of millions of dollars through HSBC subsidiaries. Another official said it was implicated in "willful and dangerous" practices.

The news followed the announcement of a similar but much smaller settlement with UK-based Standard Chartered bank, which will pay $300m in fines for violating US sanctions.

[HSBC's] Mexican bank had transported $7bn in US bank notes to HSBC in the US, more than any other Mexican bank, but had not considered that to be suspicious.

It had circumvented US safeguards designed to block transactions involving terrorists drug lords and rogue states, including allowing 25,000 transactions over seven years without disclosing their links to Iran.

[It was] providing US dollars and banking services to some banks in Saudi Arabia despite their links to terrorist financing.

In less than four years it had cleared $290m in "obviously suspicious" US travellers' cheques for a Japanese bank, benefiting Russians who claimed to be in the used car business.
Here's the Reuters story:
In February 2008, Mexican authorities told the CEO of HSBC Holdings Plc's Mexico unit that a local drug lord referred to the bank as the "place to launder money," U.S. prosecutors said on Tuesday, as they announced a record $1.92 billion settlement with the British bank.

Lax money laundering controls at HSBC allowed two cartels - one each in Mexico and Colombia - to move $881 million in drug proceeds through the bank over the second half of the last decade, according to prosecutors and federal court documents.

So rampant was the practice, prosecutors said, that on some days drug traffickers deposited hundreds of thousands of dollars at HSBC Mexico accounts. To speed things along, the criminals even designed "specially shaped boxes" that fit the size of teller windows at HSBC branches, according to the documents.

Prosecutors said a multi-year, multi-agency probe into such transactions revealed how HSBC had degenerated into the "preferred financial institution" for drug traffickers and money launderers. And on Tuesday, that culminated in a far-reaching deferred prosecution agreement with HSBC.
Here's what the NY Times reported:
NY Times Federal and state authorities secured a record $1.92 billion payment from HSBC on Tuesday to settle charges that the banking giant transferred billions of dollars for nations under United States sanctions, enabled Mexican drug cartels to launder tainted money through the American financial system, and worked closely with Saudi Arabian banks linked to terrorist organizations.

The case represents the conclusion of a multi agency investigation that spanned years.

Lanny A. Breuer, the head of the Justice Department's criminal division, ... defended the decision to opt for a settlement, rather than seeking an indictment against the bank, calling the action "a very just, very real and very powerful result." The deal, which required HSBC to admit the accusations leveled by the government agencies, extends for five years. If it errs and violates the terms of the agreement, prosecutors can move to immediately indict the bank. HSBC, based in Britain, has also agreed to pay the Office of the Comptroller of the Currency, one of the bank's central regulators, an additional $500 million as part of a civil penalty. The Federal Reserve will be paid a $165 million civil penalty.

"We accept responsibility for our past mistakes," Stuart Gulliver, the chief executive of HSBC, said in a statement. "We have said we are profoundly sorry for them, and we do so again. The HSBC of today is a fundamentally different organization from the one that made those mistakes."

Despite a chorus of warnings from federal banking regulators about the vulnerability of HSBC's operations throughout the world, the bank didn't fortify its controls, the Senate report found. One HSBC branch in the Cayman Islands, the Senate report said, had virtually no oversight despite holding roughly 50,000 client accounts in 2008. Alarmed, an HSBC compliance officer complained, asking if practices at the bank were part of "the School of Low Expectations Banking."
And here is some of what The Guardian reported:
The reputation of Britain's banking industry took a fresh battering when HSBC was slapped with a record $1.9bn (£1.2bn) fine by US regulators for money laundering and sanctions busting, the first arrests were made in the Libor-rigging investigation, and nationalised Northern Rock handed the taxpayer a £270m bill to compensate customers affected by a mistake in its paperwork.

The US department of justice (DoJ) detailed how HSBC, Britain's biggest bank, allowed drug traffickers to launder billions of dollars in the US and billions more to be moved across borders to countries facing sanctions, such as Burma, Cuba and Libya.

The department spared HSBC a criminal prosecution only because it considered the bank too big to prosecute. Listing a catalogue of mistakes by HSBC over almost a decade, the DoJ admitted that "collateral consequences" were a factor in its decision not to pursue criminal charges.

Those consequences, it said, could have included a ban on doing business in the US, resulting in huge job losses.

The embarrassment heaped on HSBC came just hours after close rival Standard Chartered, based in London, was forced to pay out a total of £415m to US regulators for breaching sanctions with Iran. The Serious Fraud Office announced on Tuesday it had arrested three British men, aged 33, 41 and 47, in connection with its criminal investigation into the rigging of the benchmark interest rate. The investigation was sparked when Barclays was fined £290m by regulators in June for Libor manipulation. None of the three men arrested worked at Barclays.